April 16, 2018
10 min read
Reliance on antibiotics hinders ENT infection treatments
We were unable to process your request. Please try again later. If you continue to have this issue please contact customerservice@slackinc.com.
Although ear, nose and throat infections account for a sizable portion of pediatric health care visits, accurate diagnoses and proper antibiotic use are a major concern. Findings published in JAMA found that of the 221 antibiotic prescriptions given per 1,000 patients, only 111 were deemed appropriate as treatments for the patients' diagnoses.
Between 2010 and 2011, the most frequently reported diagnosis related to prescribing antibiotics was sinusitis, with 56 prescriptions made per 1,000 patients, followed closely by suppurative otitis media and pharyngitis.
A separate study demonstrated that although broad-spectrum antibiotics have become used more frequently, children experienced a diminished quality of life and were more likely to have adverse events. The researchers of that study, also published in JAMA, suggested that narrow-spectrum antibiotics should be considered for the majority of children when treating acute upper respiratory tract infection; and only when bacterial diseases are diagnosed.
"There are pretty clear guidelines from the AAP, the Infectious Diseases Society of America and the CDC reinforcing that antibiotics should not be used for apparent viral respiratory infections," Deborah Lehman, MD, professor of clinical pediatrics at the David Geffen School of Medicine at the University of California, Los Angeles, told Infectious Diseases in Children. "That includes pharyngitis, but also sinusitis and pneumonia. There is guidance for children with evidence of viral infection, including runny nose, cough and hoarseness, that suggests testing for streptococcal bacteria should not be done."
An estimated 27.4% of children with an acute respiratory tract infection have a bacterial illness, but 56.9% were prescribed antimicrobials, according to research published in Pediatrics.
To examine how diagnostic accuracy and prescribing practices for ear, nose and throat (ENT) infections in the pediatric population contribute to current antimicrobial resistance, Infectious Diseases in Children spoke with pediatricians, ID specialists and nurse practitioners about diagnostic criteria, the challenges associated with treating these infections and the potential for antimicrobial efficacy.
Diagnostic criteria and accuracy
"Most children will have an episode of acute suppurative otitis media [AOM]; nearly 70% will have AOM before their first birthday and almost all by 3 years of age," Alejandro Hoberman, MD, chief of the division of general academic pediatrics at the Children's Hospital of Pittsburgh of UPMC, said in an interview.
PAGE BREAK
According to a guideline issued by the AAP in 2013, it is of utmost importance to distinguish fluid in the middle ear or otitis media with effusion from AOM. Although redness of the tympanic membrane and middle-ear fluid may cause pain or discomfort, treatment is not justified without a bulging tympanic membrane. A study referenced in the guideline noted that this sign is often associated with bacterial infection.
"The area I would focus on most would be increasing diagnostic accuracy, particularly being certain that the child truly has a bulging tympanic membrane," Hoberman said. "In the absence of bulging, we generally do not treat [with antibiotics]. I would be more inclined to watch and followup with a child within 23 to 48 hours even though they may be fussy, cranky or experiencing a cold. Even if there is middle-ear fluid, I am not going to use antibiotics."
If a patient experiences three episodes of AOM in 6 months or four episodes within 1 year, this may point to recurrent AOM. According to Ellen R. Wald, MD, chair of the department of pediatrics and ID specialist at the University of Wisconsin School of Medicine and Public Health, these infections are expected in the pediatric population; however, an ENT or ID specialist should be consulted if they hit these targets or if an immunodeficiency is suspected based on a simultaneous infection, such as pneumonia or a central nervous system infection.
Although the clinical features of viral and bacterial pharyngitis may be similar, viral infection should be suspected if symptoms include rhinorrhea, cough, oral ulcers and/or hoarseness, according to the IDSA guidelines for the diagnosis and treatment of group A streptococcal pharyngitis. The organization does not endorse testing for children or adults if signs strongly suggest a viral infection. If rapid antigen detection testing is performed and is negative, a secondary throat culture is recommended for children and adolescents.
"The quandary is when a child comes in with a slight fever, sore throat and runny nose," Lehman said. "About one in five children carries streptococcal bacteria in their throat. If you test all these children, you are going to pick up a lot of carriers, but they do not necessarily have a bacterial infection that needs to be treated with antibiotics."
The diagnosis of acute bacterial sinusitis may be more difficult because imaging is not recommended to differentiate the illness from a viral infection, according to the most recent guidelines issued by the AAP in 2013.
PAGE BREAK
The organization suggests that a diagnosis of a bacterial infection should be made if the patient presents with an acute upper respiratory tract infection that meets three criteria: persistent illness with nasal discharge, daytime cough or both lasting longer than 10 days without improvement; double sickening; or severe illness at onset of infection, defined as concurrent fever (temperature 102.2°F or higher) with purulent nasal discharge for a minimum of 3 days.
It may be difficult for parents to distinguish when a common cold or viral illness has caused an ENT infection.
"Parents really cannot tell an uncomplicated cold from a complicated cold or one that is accompanied by otitis media," Wald said. "Common things like fever or ear tugging really do not discriminate. You can see those very same signs and symptoms in children who have a cold who do not have otitis media."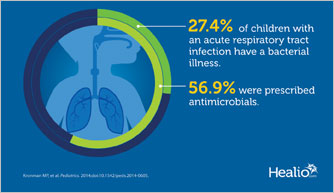 Proper diagnosis is the first step in judicious prescribing of antimicrobials; however, prescribing practices for these infections are not always consistent.
Treatment and prevention methods
The AAP recommends antibiotic treatment for children with AOM in those 6 months or older who have severe illness, including moderate or severe otalgia or otalgia for a minimum of 48 hours or fever (temperature 39oC [102.2oF] or higher). Antibiotic treatment is also recommended for children 6 through 23 months of age with bilateral disease without severe signs or symptoms. Either antibiotic treatment or observation with close follow-up based on joint decision-making with parents is recommended for children with unilateral disease without severe signs or symptoms.
"If the child has a history of recurrent AOM which has not responded to amoxicillin, has received amoxicillin within 30 days or also has purulent conjunctivitis, then amoxicillin-clavulanate should be used to combat the bacteria that cause these infections, like Streptococcus pneumoniae, Haemophilus influenzae and Moraxella catarrhalis," Hoberman said. "The two most common bacteria are H. influenzae and S. pneumoniae. Of Haemophilus strains, about one-third produce beta-lactamase and may not be responsive to amoxicillin alone."
When treating children 6 to 23 months of age with acute otitis media, reduced-duration antimicrobial treatment (5 days) resulted in less favorable outcomes than standard-duration treatment (10 days); in addition, neither the rate of adverse events nor the rate of emergence of antimicrobial resistance was lower with the shorter regimen.

Ellen R. Wald

A study published in the Pediatric Infectious Disease Journal found that 55.5% of AOM episodes were bacterial, with the majority caused by H. influenzae (29.1%) and S. pneumoniae (23.6%). When children had received heptavalent pneumococcal conjugate immunizations, they were less likely to be infected with S. pneumoniae and more likely to be infected with H. influenzae.
PAGE BREAK
"Over the last decade, especially in the era of the pneumococcal conjugate vaccine 7 and 13, the number of cases of AOM due to S. pneumonia has decreased," Wald said. "At the same time, the number of cases attributable to H. influenzae has increased. Some of these strains are also beta-lactamase-producing, and I think in that context, amoxicillin potassium clavulanate is a reasonable choice because of the increasing prevalence of these infections."
For the treatment of acute bacterial sinusitis, the AAP suggests antimicrobial therapy in children who present with severe onset of illness or a worsening course. Two options are available for the observation and treatment of this infection. Watchful waiting for 3 days in the case of persistent infection may be appropriate. If antibiotics are prescribed, AAP recommends amoxicillin or amoxicillin clavulanate.
The IDSA also has created specific guidance for prescribing antimicrobials in cases of group A streptococcus pharyngitis.. The organization recommends that most patients should receive penicillin or amoxicillin treatment for approximately 10 days if they do not have an allergy to the medications.
If patients are allergic to penicillin, the IDSA suggests the use of a first-generation cephalosporin for 10 days if the patient has no anaphylactic sensitivity. Additionally, clindamycin or clarithromycin for 10 days or azithromycin for 5 days may be used as alternatives to penicillin or amoxicillin.
Pediatric specialists also advise that ENT infections can be prevented through simple hygienic measures that can be easily taught and reinforced in both younger and older children.
"The average child has up to six viral infections per year. Because these kids are in school or in day care, they are really setting themselves up for exposure," Wendy L. Wright, FNP, FAANP, FAAN, FNAP, adult and family nurse practitioner at Wright & Associates Family Healthcare, PLLC,, said in an interview with Infectious Diseases In Children. "However, good hand hygiene, sneezing into their arms and other strategies we try to teach kids to prevent the spread of germs to others can also be helpful in preventing these infections."
Proper diagnosis and treatment methods are not only important in improving the health status and quality of life of the child experiencing an ENT infection. Increasing antimicrobial resistance has forced physicians to reconsider the way in which they combat these infections in their patients.
Pediatric infections and antimicrobial resistance
According to a study published in BMC Pediatrics, 34% of pediatric visits in an ambulatory setting in 1998 received broad-spectrum antibiotics for the treatment of AOM. By 2004, this percentage increased to 45%. The researchers noted that 8% to 15% of the increase was attributable to an increase in the prescribing of amoxicillin clavulanate, and 9% to 15% of the increase was related to a higher likelihood of prescribing macrolides.
PAGE BREAK
Although broad-spectrum antibiotic use has become more prevalent in the pediatric setting for bacterial ENT infections, the researchers also observed that the prescribing rates of narrow-spectrum antibiotics, such as amoxicillin and cephalosporins, remained stable throughout the study period.
The CDC notes that antibiotic-resistant bacteria are responsible for the deaths of at least 23,000 people annually. The development of new antibiotics to eradicate these bacteria has stalled despite the growing prevalence of strains within the community. Antimicrobial stewardship efforts have attempted to combat this threat in both inpatient and outpatient settings, but more work is needed in this field.
"If you look at the studies on antimicrobial stewardship, there really has not been a big movement or change despite everything that we are trying to do with educational measures and the CDC's push to not prescribe antibiotics when they are not needed," Wright said. "I think it is really disconcerting because I have heard a couple of experts say that if we do not make these changes, we will approach the end of the antibiotic era. That is truly frightening."
Hoberman mentioned that in his institution, steps are being taken to promote antibiotic stewardship in the pediatric outpatient setting.
"We have been pretty aggressive regarding antimicrobial stewardship, and this has been happening in many places nationwide to decrease unnecessary use," Hoberman said. "In some ways, stringency of diagnosis, and when necessary prescribing the right medicine, followed by getting the word out, and then measuring and showing clinicians results of what is happening in their own practice is the best way to create change."
Staff need to be aware of the importance of using "the right antibiotics on the right patients and not giving them if they are not needed," Wright said. She mentioned that in many cases, clinicians may prescribe antibiotics for ENT infections even when strep cultures from patients were negative as a precautionary measure.
Parental choice of treatment may be a determining factor on their child's treatment ENT infections. Findings published in the International Journal of Pediatric Otorhinolaryngology demonstrated that parents believe their child's AOM is a burden to both the child and the family, with specific references to the pain a child may experience, disrupted sleep schedules and parental ability to attend work. In nearly all instances in the 12 countries included in the study, antibiotics were consistently prescribed.
"Pediatricians have to be more persistent than the parent," Wald said. "We want these kids to be better yesterday, and I feel this way about my children and grandchildren, too. For parents, it sometimes means missing work, but the issue is that if they do not have a condition that is responsive to antibiotics, prescribing antibiotics is not going to be helpful. As a pediatrician, you have to do the best that you can to explain to the parent what you are seeing and why you do not think antibiotics are indicated in any given situation."
PAGE BREAK
Lehman mentions that these instances are an opportunity for physicians to use their communication skills to educate and steer the conversation toward the proper use of antimicrobials and appropriate treatment methods.
"These conversations can take a long time, which can be a hindrance for pediatricians and others who treat children, but I think the amount of effort that goes in the first time you encounter [parental decisions on treatment] from a family will really do wonders going forward," Lehman said.
Wright said that in her organization, a review is conducted annually to focus on the different infections that are commonly treated. The latest guidelines are then referenced to determine what health care providers ought to be using and when they should be using them. This, according to Wright, prevents stress within an organization or practice, because clinicians are all on the same page.
"I recommend that everyone get together and come up with a united plan on how they are going to tackle this from the inside," Wright said. "Then, there needs to be quality improvement projects because everyone thinks that they are doing things the right way. If you are not looking at your numbers and you are not examining how many people left with an antibiotic for a viral infection, you are never going to know what you are doing as an organization." – by Katherine Bortz
References:
Barber C, et al. Int J Pediatr Otorhinolaryngol. 2014. doi: 10.1016/j.ijporl.2013.11.030.
Coco AS, et al. BMC Pediatr. 2009. doi: 10.1186/1471-2431-9-41.
Demirijan A, et al. MMWR Morb Mortal Wkly Rep. 2015. 64(32);871-873.
Fleming-Dutra KE, et al. JAMA. 2016; doi:10.1001/jama.2016.4151.
Gerber JS, et al. JAMA. 2017. doi: 10.1001/jama.2017.18715.
Hoberman A, et al. N Eng J Med. 2016; doi:10.1056/NEJMoa1606043.
Kronman MP, et al. Pediatrics. 2014. doi: 10.1542/peds.2014-0605.
Lieberthal AS, et al. Pediatrics. 2013. doi: 10.1542/peds.2012-3488.
Shulman ST, et al. Clin Infect Dis. 2012. doi: 10.1093/cid/cis629.
Wald ER, et al. Pediatrics. 2013. doi: 10.1542/peds.2013-1071.
Van Dyke MK, et al. Pediatr Infect Dis J. 2017. doi: 10.1097/INF.0000000000001420.
For More information:
Deborah Lehman, MD, can be reached at the David Geffen School of Medicine at UCLA, 10833 Le Conte Ave. Los Angeles, CA 90095; Email: Enrique Rivero, erivero@mednet.ucla.edu
Alejandro Hoberman, MD, can be reached at the Children's Hospital of Pittsburgh of UPMC, 4401 Penn Ave. Pittsburgh, PA 15224; Email: Andrea Kunicky, andrea.kunicky@chp.edu
Ellen R. Wald, MD, can be reached at the University of Wisconsin School of Medicine and Public Health, 750 Highland Ave. Madison, WI 53726; Email: Emily A. Kumlien, ekumlien@uwhealth.org
Wendy L. Wright, FNP, FAANP, FAAN, FNAP, can be reached at Wright & Associates Family Healthcare, PLLC, 282 NH-101 Amherst, NH 03031; Email: WendyARNP@aol.com
Disclosures: Hoberman reports holding a patent related to automated diagnosis of otitis media and a pending patent on the reduced concentration of clavulanate for treating children with acute otitis media. Lehman reports serving on the editorial board of The New England Journal of Medicine, Journal Watch and Knowledge Plus. Wald and Wright report no relevant financial disclosures.