March 29, 2018
2 min read
More than 7,000 full-term infants die annually in the US
We were unable to process your request. Please try again later. If you continue to have this issue please contact customerservice@slackinc.com.
In the United States, more than 7,000 infants born full term experience mortality annually, with sudden unexpected infant death, congenital malformations and perinatal conditions contributing to most of these deaths.
"Despite some progress made in recent years, infant mortality rates in the U.S. continue to be high compared to other high-income countries," Neha Bairoliya, PhD, from the Harvard Center for Population and Development Studies, and Günther Fink, PhD, from the Swiss Tropical and Public Health Institute and the University of Basel, Switzerland, wrote.
"According to the latest estimates, the U.S. ranks 44th among 199 countries of all income levels, with an infant mortality rate of 5.6 deaths per 1,000 live births in 2015, about three times the rate observed for countries at the very top of the ranking," the researchers continued.
To asses the main causes of mortality among infants born full term, Bairoliya and Fink examined data collected from linked birth and death records between 2010 and 2012. This information was used to recognize the state-level and cause-specific burden of mortality experienced by infants born between 37 and 42 weeks' gestation.
The researchers used multivariable logistic models to examine how maternal and birth characteristics were related to differences in full-term infant mortality, and differences in infant mortality by state and their contributions to full-term infant mortality were analyzed using random effects models. Furthermore, Bairoliya and Fink calculated proposed mortality outcomes as if all states had a survival rate of the best-performing states.
Of the 10,175,481 full-term infants born in the U.S, the researchers observed a mortality rate of 2.2 per 1,000 live births overall. Variations in mortality rate ranged from 1.29 in Connecticut (95% CI, 1.08-1.53) to 3.77 in Mississippi (95% CI, 3.39-4.19). When compared with six European countries that experience low infant mortality rates, no states were able to achieve these rates, which were less than 1.25 per 1,000. Furthermore, the researchers observed a full-term infant mortality rate of more than 2.75 per 1,000 in 13 states.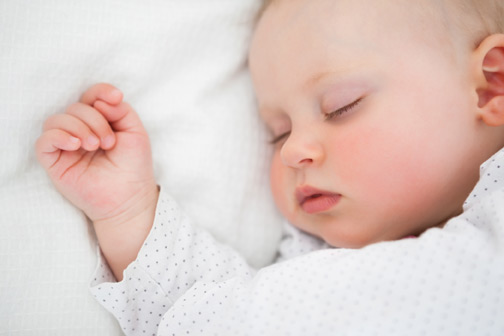 Source: Shutterstock
The most commonly reported causes of infant mortality in full-term infants within the U.S. were sudden unexpected infant death (SUID; 43%), congenital malformations (31%) and perinatal conditions (11.3%). Bairoliya and Fink observed the major differences in infant mortality characteristics by state concerning SUID, especially for deaths attributable to sudden infant death syndrome (SIDS; OR = 2.52; 95% CI, 1.86-3.42) and suffocation (OR = 4.40; 95% CI, 3.71-5.21).
When the researchers used fully adjusted models, the significant variation in infant mortality persisted despite that a partial explanation was provided by maternal education, race and health (SIDS: OR = 1.45; suffocation: OR = 2.92).
"Globally, WHO estimates suggest that 330,000 children die annually during the neonatal period due to congenital malformations, which corresponds to a risk of approximately 2.5 deaths per 10,000" Bairoliya and Fink wrote. "Taking these global estimates as a benchmark suggests that children in the U.S. face about three times the risk of death due to malformation [than] in other countries.
"In practice, the extent to which the differences reflect differences in screening and termination policies rather than differences in medical care across states and countries is not clear," the researchers continued. "Further research investigating the reach and effectiveness of early screening programs across countries and states will be needed to better understand these current gaps." – by Katherine Bortz
Disclosures: The authors report no relevant financial disclosures.