BLOG: Knee pain and stiffness after MPFL reconstruction
We were unable to process your request. Please try again later. If you continue to have this issue please contact customerservice@slackinc.com.
The patient is a 24-year-old woman who presented to the initial treating physician with a complex history of patellofemoral symptoms in the left knee beginning in 2011. At that time, she was playing softball with a Division 1 scholarship and was experiencing repeated patellar instability events with at least one event being a traumatic dislocation that required reduction in the ED. At that time, she underwent an isolated tibial tubercle osteotomy for treatment of her patellar instability. She continued to experience pain and patellar instability, which led her to seek further treatment in April 2014.

Adam B. Yanke

At that time, diagnostic arthroscopy revealed a ruptured medial patellofemoral ligament (MPFL) according to the operative reports and she underwent hardware removal to help her pain component. In May 2015, she underwent repeat surgical intervention to treat patellar instability with an MPFL reconstruction, vastus medialis obliquus advancement and medial retinacular reefing. Postoperatively, she developed knee stiffness and underwent a manipulation under anesthesia in August 2017. She continued to have pain and stiffness which prompted an MRI that revealed medial femoral condyle marrow edema, as well as a prominent patellar anchor at the site of her MPFL reconstruction. In October 2017, she underwent subchondroplasty of the medial femoral condyle, as well as a hardware removal and release of the distal limb of the MPFL. Postoperatively, she developed a surgical site infection which was treated with a surgical washout and oral antibiotics.
She then presented for a second opinion with continued knee stiffness and pain. She continues to engage in physical therapy, but the pain interferes with her sleep. Her pain is exacerbated with increased activity that causes shooting pain along the bone. Despite continuing with physical therapy, she experiences stiffness in her knee with occasional locking and a pulling sensation on the medial aspect of her knee, where she states she never felt like she fully regained motion after the MPFL reconstruction. She also states she can feel a tight band of tissue specifically on the medial side of her knee that continues to limit flexion.
Physical examination and diagnostic studies
Evaluation of the left knee with the skin exposed demonstrated quadriceps atrophy and no significant effusion. She had mild tenderness to palpation at the site of prior surgical incisions, but these are well healed. Motion was limited to 5° to 80° (compared to 0° to 130°) and she was able to do a straight-leg raise with a 5° lag. Her patellofemoral exam reveals pain with patellofemoral grind and a half quadrant of lateral translation with apprehension, and 1A medial translation without apprehension.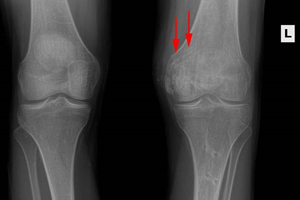 Four-view radiographs were obtained that showed post-surgical changes in the left knee. Anteroposterior (AP) and skier's view radiographs showed prior tibial tubercle osteotomy with evidence of hardware removal. There was mineralization in the soft tissue medial to the medial femoral condyle which may represent heterotopic ossification of the MCL or extravasation of the subchondroplasty material with no evidence of tibiofemoral arthritis. There was also evidence of disuse osteopenia and the proximal MPFL interference screw (Figure 1A). The lateral radiograph of the left knee revealed evidence prior MPFL reconstruction and a Caton-Deschamps ratio of 1.11. Her MPFL location is also proximal and anterior to standard radiographic landmarks (Figure 1B). The sunrise view radiograph shows no evidence of patellar or trochlear dysplasia or patellofemoral arthritis (Figure 1C).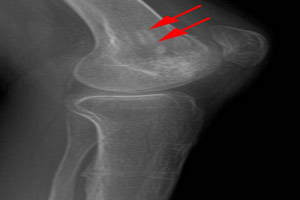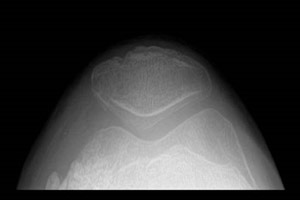 Treatment
The clinical decision-making process in this case was complex and required considering several angles including the following: What is the source of her pain and stiffness? When did this truly begin, and are there technical aspects that can be performed to work on improving her current symptoms? Due to developing stiffness after the MPFL and based on the tunnel placement on radiographs, there was concern that she had a graft that tightened significantly in flexion. This can lead to over-constraint and increased forces in the patellofemoral joint which may contribute to continued chondral wear. Similarly, the medial femoral "bone marrow edema" that was visualized could have been an osseous response to the over constraint which was the "smoke not the fire."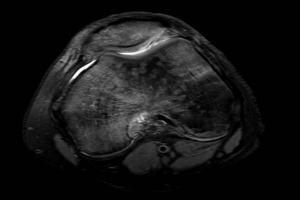 Based on these findings, it was suggested that we move forward with arthroscopic examination, as well as examination under anesthesia with possible graft excision and lysis of adhesions. Examination under anesthesia demonstrated 1A lateral translation and no patellar tilt. Arthroscopic findings visualized medial trochlear cartilage wear (Figure 3) with the remaining proximal band of the MPFL reconstruction intact. Based on these findings along with her clinical exam findings, it was decided to completely release her prior MPFL reconstruction and focus on obtaining full-knee range of motion and possibly resulting in an unstable patella that would require a revision MPFL in the future.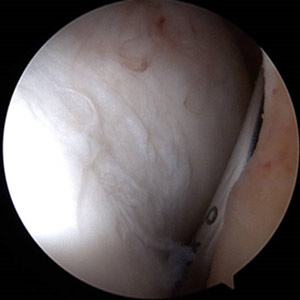 This case highlights several important points, the most pertinent to this topic is a properly placed MPFL. Grafts that tighten in flexion place the patient at risk for arthrofibrosis and tensioning of even a well-placed graft can result in the trochlear chondral changes seen here. As treatments move more toward reconstructions over reefing and repairs, it is crucial to focus on technique and the potential downsides can often be irreversible.
Adam B. Yanke MD, PhD, is assistant professor of orthopedic surgery and assistant director of the Cartilage Restoration Center at Rush University Medical Center in Chicago.
Disclosure: Yanke reports no relevant financial disclosures.