October 01, 2018
1 min read
Change to kickoff rule linked with reduced concussion rates among Ivy League football players
We were unable to process your request. Please try again later. If you continue to have this issue please contact customerservice@slackinc.com.
Recently published results showed a reduction in concussions among Ivy League football players after implementation of a kickoff rule change that moved the kickoff line from the 35-yard to the 40-yard line and the touchback line from the 25-yard to the 20-yard line.
Douglas J. Wiebe, PhD, and colleagues identified concussions in the Ivy League concussion surveillance system that occurred during regular season in-conference games from 2013 to 2017. Researchers evaluated each concussion for what type of play it occurred in and analyzed annual concussion rates during kickoffs compared with other play types before (2013 to 2015) and after (2016 to 2017) the 2016 rule using a difference-in-differences approach.
Results showed 159 concussion occurred during the 68,479 plays from 2013 through 2017, of which 126 occurred before and 33 after the rule. This yielded an overall concussion rate of 2.3 per 1,000 plays, according to results. Researchers found an increase in kickoffs resulting in touchbacks from a mean of 17.9% annually before the rule change to 48% after the rule change.
"The mean annual concussion rate per 1,000 plays during kickoff plays was 10.93 before the rule change and 2.04 after," Wiebe told Healio.com/Orthopedics.
Other play types also had a decrease in concussion rate, according to results, from a rate of 2.56 before the rule change to 1.18 after the rule change. After the rule change, researchers found 7.51 fewer concussions occurred for every 1,000 kickoff plays in the difference-in-differences analysis.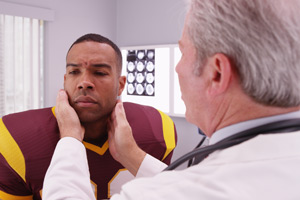 "The action taken by Ivy League leadership based on epidemiologic evidence demonstrates how a simple but strategic policy change can reduce sport-related concussion," Wiebe said. – by Casey Tingle
Disclosures: The authors report no relevant financial disclosures.