September 14, 2018
2 min read
Medicaid expansion did not lead to increased presentation of hand trauma patients
We were unable to process your request. Please try again later. If you continue to have this issue please contact customerservice@slackinc.com.
BOSTON — Although Medicaid expansion has helped improved patient health care coverage, results presented at the American Society for Surgery of the Hand Annual Meeting showed it did not improve resource utilization and appropriateness did not increase among patients with upper extremity trauma.

Charles Andrew Daly

"In fact, [appropriateness] decreased among non-transfer patients and patients with Medicaid" in Maryland, Charles Andrew Daly, MD, said, here. "This may represent an over utilization of emergency services by newly insured patients; however, it may also indicate that patients who otherwise would not have received care at all are now willing to seek it, which may improve their overall health status."
Daly and colleagues captured more than 12,000 patients treated for upper-extremity trauma at Maryland's Level 1 hand trauma center before and after the Medicaid expansion and categorized patients based on insurance type — self-pay, Medicaid or commercial payer. Daly noted 3,000 of these patients were transferred from another institution.
"The acuity of each patient's presentation was classified using our state designated system as appropriate or inappropriate," Daly said. "As the severity matrix is unique to the Maryland state trauma system, we also utilized patients' disposition on the day of injury as a secondary measure of appropriateness."
The results showed 66% of transfer patients had appropriate indications for referral compared with 40% of non-transfer patients. A significant increase was seen in the percentage of patients with Medicaid from 15% to 24% after Medicaid expansion, as well as a decrease in the percentage of patients with no health insurance from 31% to 24%, Daly said.
"We had initially surmised that the appropriateness of transfer patients post-expansion would increase due to these patients now being able to find care for similar problems closer to home," Daly said. "The gap between the appropriateness of non-transfer patients and transfer patients did widen but as a result of a decrease in the appropriateness of non-transfer patients, while the appropriateness of transfer patients remained relatively stable."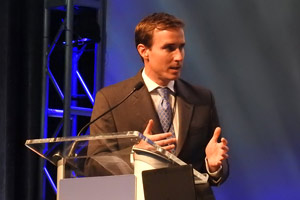 When transfer patients were divided by insurance category, all insurance categories remained stable in terms of appropriateness post-expansion, but Daly noted the Medicaid group decreased in appropriateness in a non-statistically significant manner.
"A similar analysis of non-transfer patients by insurance demonstrates a significant decline in appropriateness which was similar between all insurance categories with the common theme of self-pay patients being the most appropriate and Medicaid patients the least," Daly said.
He noted similar findings to the appropriateness score with the severity matrix when researchers examined the probability of discharge from the ED with or without surgical intervention as a secondary indicator of necessity of transfer.
PAGE BREAK
"Transfer patients were required to travel significantly further for care than non-transfer patients, 25 miles vs. 7 miles," Daly said. "With Medicaid expansion, travel distance remained unchanged, unfortunately." – by Casey Tingle
Reference:
Daly CA, et al. Paper 01. Presented at: American Society for Surgery of the Hand Annual Meeting; September 13-15, 2018; Boston.
Disclosure: Daly reports no relevant financial disclosures.