Study: Bio-inductive collagen scaffold patch improves healing rates of large, massive rotator cuff repairs
We were unable to process your request. Please try again later. If you continue to have this issue please contact customerservice@slackinc.com.
SAN DIEGO — Use of a bio-inductive collagen scaffold patch may improve healing rates of large and massive rotator cuff repairs as new tendon formation was shown on ultrasound and MRI, according to data presented at the American Orthopaedic Society for Sports Medicine Annual Meeting.

Stephen Thon

"This patch should be considered at least safe and effective, and it may show promise in improving the union rates of these large and massive tears. However, more work is needed to establish clear indications as no randomized trials have been undertaken yet," Stephen Thon, MD, said.
In the prospective, proof-of-principle study, Thon and colleagues enrolled patients during 18 consecutive months. Overall, they studied 23 patients who underwent repair of large or massive rotator cuff tears augmented with a bio-inductive collagen patch. The bio-inductive collagen scaffold patch has highly porous type 1 bovine collagen and is designed to induce remodeling and revascularization at the site of tendon repair, he said.
The mean patient age was 58 years. Eleven patients had large rotator cuff tears and 12 patients had massive rotator cuff tears. Overall, 16 patients had previous failed rotator cuff repairs. Minimum follow-up was 2 years. Researchers obtained postoperative ultrasound to assess tendon thickness at 3, 6, 12 and 24 months, and MRIs confirmed healing and tendon thickness at least 6 months postoperatively. Final outcome measures included healed tenon on ultrasound and MRI, final tendon thickness and final ASES scores. Researchers defined failure as failed tendon to heal, conversion to reserve shoulder arthroplasty or any complication due to the implant.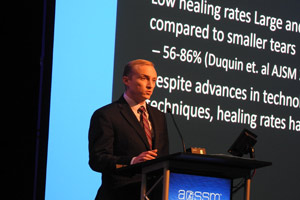 Thon said there was a 96% healing rate on ultrasound and MRI and the researchers considered 91% of patients to have had successful outcomes. Mean rotator cuff thickness was 7 mm on ultrasound and was 5 mm on MRI. There were no differences in final tendon thickness or repair type. No failures in the primary group and no adverse reactions to the patch were observed. – by Kristine Houck, MA, ELS
Reference:
Thon S, et al. Paper 126. Presented at: American Orthopaedic Society for Sports Medicine Annual Meeting; July 5-8, 2018; San Diego.
Disclosure: Thon reports no relevant financial disclosures.