Stop by the EFORT Plaza at the 19th EFORT Annual Congress in Barcelona
We were unable to process your request. Please try again later. If you continue to have this issue please contact customerservice@slackinc.com.
This year, during the 19th EFORT Annual Congress, EFORT replaces its traditional congress booth with the EFORT Plaza located in the exhibition area of the Barcelona congress, which covers a space of 300-square meters and where educational highlights, activities and presentations will take place.
Make a note and visit the new EFORT Plaza where you will have the opportunity to learn more about EFORT, its products and educational programs.
Highlights
Educational activities:
EOTEP: courses & fellowships
eScience: (on-line access to previous congress science).
EFORT Open Reviews (EOR) corner: on line journal - catch up with the editors.
Membership: discover the new EFORT membership concept.
EFORT Board lounge: meet and learn about EFORT's strategy from the leadership.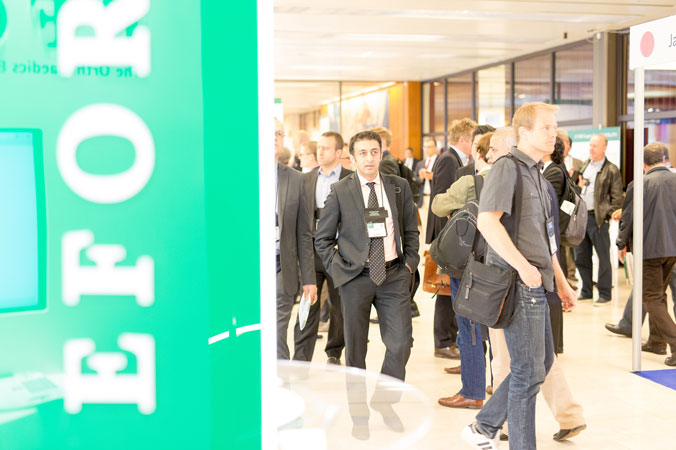 Activities
Charging stations for electronic devices.
Seating area – a relaxing environment to network with colleagues.
Program (Forum)
The Forum will be a semi-closed area with a maximum of 30 seating cubes, including a podium hosting presentations covering EFORT activities and the new lifelong learning platform – European Orthopaedics & Traumatology Education Platform (EOTEP).
Key features in education presentations, one-to-one discussions and group debates.
A professional moderator will encourage interaction and discussion among the audience.
The objective is to encourage delegates to participate in the Forums and learn more about the EFORT activities.
EFORT PLAZA Forum
Listen to what EFORT offers within its lifelong learning Education Platform (EOTEP), go to the exhibition area to attend presentations and take part in debates hosted by a professional moderator.
European Orthopaedics & Traumatology Education Platform (EOTEP)
EFORT "Jacques Duparc Awards" Ceremony
Discover the EOTEP Roadmap with our founding champion.
Fellowships learn about our Visiting, Travelling and Mark Paterson Fellowships.
Hear about a fellow's viewpoint, a host center "what to expect," a partner's vision and how to apply.
Courses: EFORT ExMEx annual course and Flap Course 2019
eLearning: eScience, Basic Research Online Course, webinars
Specialty Society Courses: eg, EPOS courses managed by EFORT and other courses
Summer Schools: organized by FORTE in collaboration with supporters and sponsors
EBOT: the importance of the interim exam
EFORT Open Reviews (EOR): open access publishing and orthopaedics, how to write a paper and peer review process.
The O&T Eastern Convention: Poznan, Poland 6-8 December 2018
Swiss Foundation for Innovation and Training in Surgery (SFITS): EOTEP accredited training center in Geneva, Switzerland
Education Partners: learn about EFORT fellowship partners.