February 14, 2018
10 min read
CES take-home message: Leverage digital health technology to empower patients, providers
We were unable to process your request. Please try again later. If you continue to have this issue please contact customerservice@slackinc.com.
Editor's Note: For several years, Living in Digital Time has organized and held a Digital Health Summit in conjunction with the Consumer Electronics Show — CES — to address what is becoming a rapidly growing sector within health care. The Digital Health Summit is the intersection of key opinion leaders, disciplines and technology. After the meeting, Healio.com/Orthopedics interviewed orthopedist Aenor Sawyer, MD, who moderated the Big Changes Ahead: Hospital, Pharma and Physicians session at this year's Summit. Sawyer, who is Director, University California, San Francisco (UCSF), Skeletal Health Service and leads Health Innovation & Technology in Orthopaedics, discussed her views on the meeting, how technology can advance medicine, and digital health innovations that will impact patients and health care personnel.

Aenor Sawyer

Healio.com/Orthopedics: What were the most interesting topics related to health care discussed during CES?
Aenor Sawyer, MD : One important area was brain health and the intersecting of cognition and behavior sciences with general health and well-being. Technology solutions were presented that addressed specific conditions, such as Alzheimer's, Parkinson's disease, depression and addiction. One speaker, neuroscientist Adam Gazzaley, MD, PhD, has an interesting way of integrating technologies, such as wireless electroencephalogram, MRI and custom interactive computer games, to make more quantitative assessments of brain and peripheral neurologic function. Gazzaley addressed how can we leverage technology to also provide treatment and improve brain functions impaired by aging or illness, such as multitasking, and that these tests and interventions can be created as mobile tools. He demonstrated how technology allows the creation of interventions in health care that may replace or complement the typical pharmacologic treatments. The work of Gazzaley and his team represent the unique value of innovative solutions being developed in academic settings to generate evidence-based solutions. In addition to presentations at the Digital Health Summit, several exhibits focused on technology solutions addressing neuromuscular deficits, such as tools to track and compensate for tremors of Parkinson's or to predict, not just detect, falls in patients with balance disorders. The neuro-focused technologies have great application to orthopedics ranging from cognitive assessment to improving functional status and fall prevention.
It is exciting to see more "closed-loop solutions" being developed that both assess and assist, allowing for more targeted and dynamic interventions. The long-term impact of these technologies still needs to be understood, but it is essential to explore ways we can support people with these deficits to help them maintain optimal function, dignity and choice. Across all disease states, there were examples of evolving concepts in digital health: digital biomarkers, biometrics and digital therapeutics. Digital therapeutics were highlighted, which is an interesting concept being used now. Digital therapeutics leverages technology to provide either standalone interventions or ones that accompany more traditional treatments, like medications or in-person therapy. It is important to consider these from the standpoint of opportunity, as well as responsibility. It is essential that we look at effectiveness in care, as well as cost, with each of these interventions, especially as we start to put labels on them, such as "therapeutics." It will also be critical to combine any new digital therapeutics with appropriate assessment tools to ensure we are using them for the right indications.
PAGE BREAK
Healio.com/Orthopedics: Did you notice any crossover between industries of the concepts and technologies presented at CES?
Sawyer: Cross-pollination was uniquely conveyed at CES, where all sectors are represented. Each year the health section of the meeting grows exponentially. My colleagues and I spent time outside of the health exhibit area looking for ways in which the technologies in the non-health section could be applied to health and trying to understand how those sectors look at human needs and experiences. We looked for crossover themes in concepts of connective living in Internet of Things, artificial intelligence (AI) and the personalization of security, and how they may transfer to the health care setting. A good example of this on-stage and the exhibit floor is voice-activated technology, such as Alexa and Google Home, in health care, from guiding and monitoring elders in home settings to hands-free activation of processes in clinical care settings. Combined AI-voice activated technologies hold great promise in health care and clinical trials.
Another example was the number of high-tech and telecomm companies establishing health care verticals or partnering with established leaders in health care. The panel led by health economist advisor Jane Sarasohn-Kahn, MA, MHSA, illustrated how Johnson & Johnson, Nokia Health Solutions and Teladoc are engaging individuals in the development of health solutions.
Healio.com/Orthopedics: What are some newer technologies that may play a critical role in orthopedic practices in the future?
Sawyer: Many hardware and software solutions that show promise, but an area we are seeing potential for significant impact is sophisticated computing, such as machine learning and AI. Orthopedics has traditionally been a data-driven field focused on data collection. With new high-performance computing capabilities and learning systems, we have much more capacity to utilize the information we gather to generate new insights, implement predictive models and adaptive solutions. AI technology is transforming many opportunities that now exist in this space that will improve work flow and care directly.
The same is true for 3-D printing, which has just begun to surface in health care. We also saw security camera systems used to track work flow, patient/facility use patterns and for patient navigation.
Imaging and visualization technologies are important to orthopedists. A host of new technologies are available including digitally acquired and analyzed medical images advanced by GE, augmented reality in patient care and education settings by Microsoft, and virtual reality in pain management for decreasing use of narcotics and anxiolytics, such as demonstrated by AppliedVR. There are also exciting advances in capturing and sharing surgical training, such the S.W.I.S. Surgical Video System technology developed by orthopedic surgeon Ryan J. Grabow, MD, who modified the capacity of existing technology into a streamlined hardware/software-combined product to allow plug-and-play capability for video capture in the OR.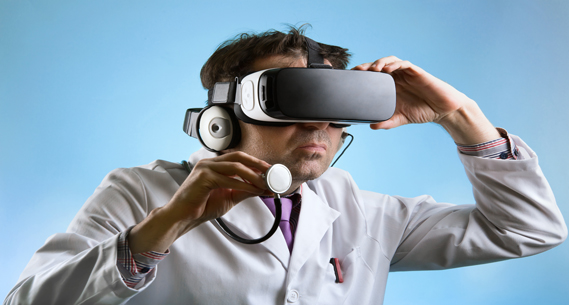 PAGE BREAK
Healio.com/Orthopedics: From the presentations in your session and others at CES, what immediate changes do you foresee for hospitals and health care? What changes are further on the horizon?
Sawyer: We are in an era of patients as more engaged and informed partners in their health care. As providers of health care, we would benefit from understanding and embracing that concept, even helping our patients become more empowered by guiding them to reliable online sites or vetted mobile apps. Another shift to is that in most other aspects of their lives, the patients' needs are met in a more real-time way, whether seeking information or a service. This is a consequence of technologies available that provide the right information at the right time to optimize a person's choice or allow immediate action to be taken. Examples are Ways, Lyft, Open Table, Kayak or even Amazon Prime. There is a growing expectation of this in the health care experience. Examples can already be seen in progressive orthopedic practices, including online scheduling, patient portals, clinic kiosks and telerehab platforms. However, most patients still consider health care to be lagging in this area. Beyond improving convenience and experience, these technologies can support a needed shift to more distributed care models which have the potential to improve access while decreasing costs. With a priority in measuring and optimizing outcomes, we can develop a distributed, but not diluted model of innovation, in which we are still providing the highest level of care we can, but it is scaled out to more people and in more convenient ways. This will require innovation. Examples of technologies being implemented in orthopedic practices include care extension platforms, like Health Loop and FORCE Therapeutics, patient-reported outcome tools, such as OBERD and CODE Technology, and a host of physiologic monitoring technologies, such as biometrics capabilities that range from consumer wearable, such as Fitbit and Fossil, to remoted medical-grade sensors combined with AI from Qardio to Omron and Philips.
Healio.com/Orthopedics: How does that translate into changes in the patient experience and within orthopedic practices?
Sawyer: We need to work on platforms and work flows that support the continuum of care for patients with acute musculoskeletal needs, not just the continuum of care management around chronic disease, but also around episodic patient management. To create a more connected experience across the entire perioperative journey and optimize our own work flow requires attention to the less glamorous aspects of health technology: connectivity, interoperability, privacy and security, analytics. Attending to the background infrastructure is critical to creating a seamless experience, but it is also important to prioritize patients' and providers' adoption and implementation of these new technologies. Although many orthopedic surgeons incorporate subjective PROs, we rely heavily on clinical assessments. Passive sensing devices (activity and physiologic trackers) are allowing the remote collection of quantitative and qualitative patient data, which is referred to as patient-generated data (patient-reported data plus sensed patient data). As it becomes easier to assess people in their environments using mobile PRO tools, passive sensing technologies, data integration and visualization tools, we will better describe individualized outcomes in real-world settings. This will be key in a successful shift to value-based care.
PAGE BREAK
Healio.com/Orthopedics: Big data and informatics fuel evidence - based medicine more than ever today. What indications of that trend were evident at the meeting?
Sawyer: Data is the new currency in health care. We have seen the power of data utilization transform other industries and there are lessons being ported to health care. Some of the big lessons are: we need new technologies and work force capabilities to handle a more data-driven environment to fully leverage informatics in clinical care, research, business intelligence and education. New technologies are available, but we also need to staff our orthopedic departments and hospitals with informatics specialists and train up the next work force in health care. Finally, we need to bring existing providers up to a basic fluency in informatics, in the importance of data and its benefits for decision support, optimizing schedules/resources and tracking outcomes. This vision assumes cultural shifts within orthopedics and our enterprises, and a commitment to building informatics engines within our institutions.
Healio.com/Orthopedics: What aspects of CES should physicians keep on their radar? What should they most definitely know about going forward?
They should keep meetings that are useful on their radar. There are probably two or three digital health meetings held in a major city every week. A good way to start is to curate the meetings that are going to be most beneficial. The Digital Health Summit, Health 2.0, HIMSS, Connected Health Care Conference and Digital Medicine are important meetings. There are also specialty-specific meetings, such as the Digital Orthopaedic Conference hosted by Stefano A. Bini, MD, in San Francisco. Sessions for these meetings are usually available afterwards in video. This is a rapidly-evolving field. Select some feeds from conferences or online curation sites to get continually refreshed on new capabilities in health care, just as you would do with your orthopedic knowledge.
It is helpful to consider how to get up to speed in this information space. As practicing orthopedists, we update our knowledge continually. The same is true for technology and informatics. Try to embrace it as a part of health care, even though parts of it may add friction or be overwhelming at times. How can you embrace the terminology, etc., so that it feels like a new tool in your tool belt rather than something being imposed on you? One approach is to leverage your own capacity for innovation, involve yourself in it and maybe test, advise or partner with companies in the field to co-develop solutions. Most orthopedists I know are innovative, but just need mechanisms to help us follow through on our ideas.
PAGE BREAK
Healio.com/Orthopedics: What are some take home messages from the session you moderated?
The panel I moderated was focused on how to facilitate care more outside the brick-and-mortar. It was important because Philips, which is embedded in traditional care with their medical-grade monitoring devices and imaging, has moved into leveraging health information technology in terms of cloud services and specific health care software platforms. Philips partnered with Teledoc, a pioneer and leader in telemedicine or telehealth, to form an important partnership that brings together two well-established organizations with complementary strengths. They are both involved in innovations to transform health care but have unique contributions to that. We are going to see more strategic partnering within the digital health and health innovation space. To move to integrated information systems in health care we cannot keep developing standalone apps and point solutions. We need solutions that serve an end-to-end journey be it preop to postop and long-term follow-up or getting a case booked, getting the right equipment there and ensuring the team is well-informed. We need solutions that are integrated. Hospitals have been left to figure out how to integrate solutions they want to implement. With more strategic partnerships, such as Philips and Teladoc, and even more compatibility between companies, it will become easier to test and implement new solutions. Beyond company-to-company partnering, solutions, such as Redox, will help with integration and interoperability challenges and intersect with electronic medical records.
Besides solving integration problems by strategic partnering, such as the example seen in this panel, there will be new capacities generated. Though many orthopedists are embracing telehealth for parts of their practice, there are still concerns about best approaches to obtain the quantifiable information we need, such as wound inspection, range of motion, strength, vitals, activity tolerance, fall risk, etc. By combining Philips medical-grade sensing and imaging capabilities with well-established work flow and telehealth technology capacities, we now have the potential to build out truly comprehensive remote orthopedic visits with interviews and exams that will approximate the gold standard in-person visit.
Healio.com/Orthopedics: Is there anything you would like to add?
It is challenging to introduce new technology in health care in an efficient and responsible fashion with so many new technologies presented to us daily. In our experience, the digitization of an orthopedic practice is best served by a proactive strategy, which means identifying the needs of the department for which there may be a tech-enabled solution, clearly defining the requirements/criteria and looking at solutions that may work. We also need to keep in mind validation, which is critical as we continue to strive and maintain a scientific rigor about any of these assessments or therapeutic tools, no matter what medium they are in.
PAGE BREAK
There is a hot bed of activity around building evidence for what is referred to as digital therapeutics. Academic medical centers and organizations are focusing on identifying evidence-based therapeutics, including Scripps Institute, Mount Sinai, NODEHealth, Center for Connected Health Policy and Murdoch Children's Research Institute in Melbourne, Australia. Private centers have also sprung up, such as Evidation, each of which is helping move the needle in the direction of building evidence that will advance the use of these technologies in providing care and facilitating needed research, as well.
Reference:
Sawyer A. Big changes ahead: Hospitals, pharma and physicians. Presented at: Digital Health Summit at Consumer Electronics Show; Jan. 9-12, 2018; Las Vegas.
For more information:
Aenor Sawyer, MD, can be reached at University of California, San Francisco, 1500 Owens St., San Francisco, CA 94158; email: aenor.sawyer@ucsf.edu.
Disclosure : Sawyer reports no relevant financial disclosures.