February 02, 2018
1 min read
EFORT Open Reviews indexed in Emerging Sources Citation Index
We were unable to process your request. Please try again later. If you continue to have this issue please contact customerservice@slackinc.com.
EFORT and Bone & Joint Publishing are delighted to announce that EFORT Open Reviews has been accepted in the Emerging Sources Citation Index (ESCI), which is part of the Web of Science core collection.
All papers published in EFORT Open Reviews (EOR) from the beginning of 2017 onward are now discoverable in Web of Science. The ESCI is described as containing "high-quality, peer-reviewed publications of regional importance and in emerging research fields by key opinion leaders, funders and evaluators worldwide," and the inclusion of EOR in it will significantly increase the discoverability of the journal among the international orthopaedic community. Journals in the ESCI have their citations monitored with a view to selected titles then migrating to the Science Citation Index, and hence obtaining an impact factor.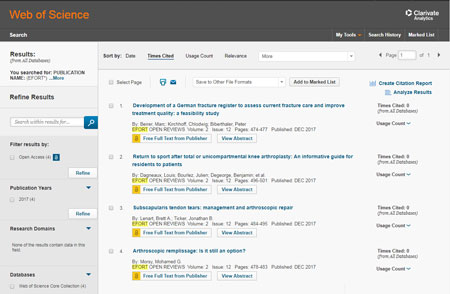 Do you have a review article to submit to EOR?
EFORT Open Reviews is a "gold" open-access journal and the official journal of EFORT, meaning that published articles are widely read by the EFORT network, practicing surgeons and trainees.
As well as being indexed in ESCI, EOR is indexed in PubMed with free full text provided in PubMed Central. It is also indexed in Google Scholar and included in the Directory of Open Access Journals, and has been submitted for indexing in Scopus.
There are no article publication charges for members of EFORT-affiliated national associations.
EOR accepts review papers across the whole spectrum of orthopaedics and traumatology.