January 02, 2018
3 min read
Cell therapy in orthopaedic surgery featured in program for 19th EFORT Congress
We were unable to process your request. Please try again later. If you continue to have this issue please contact customerservice@slackinc.com.
Each year, the EFORT Annual Congress puts forward a renowned member of the international orthopaedic and trauma community during the Michael Freeman Honorary Lecture, which is planned for the third day of the meeting. In Barcelona, EFORT will be honored to welcome one of the most distinguished French stem cell researchers within the orthopaedic field, Prof. Philippe Hernigou, who is chief of orthopaedic surgery at the Henri Mondor Hospital, East University in Paris. To reflect his extensive 30-year experience, Hernigou will present a summary of his medical career and compile, in a few minutes, the multitude of results he has achieved within the cell therapy research field.

Between 1985 and 1990, Hernigou initiated a novel medical and academic path dedicated to the use of autologous bone marrow grafts to treat osteonecrosis and several orthopaedic pathologies. Indeed, after his first trials to address nonunion fractures, he proved the technique was effective and safe in different orthopaedic situations. In 1992, the term "regenerative medicine" was introduced to describe medical principles based on stem cell technology and tissue engineering. Suddenly, replacing human tissues and restoring their function appeared as possible. In the following decades, research on stem cells emerged as one of the most promising advances of modern medicine, giving Hernigou even more reasons to develop his studies around bone marrow grafting despite the regulations against human application.
The use of adult stem cells instead of embryonic stem cells raises less ethical concerns and their use for autologous cell therapies avoids significant immune responses. Mesenchymal stem cells are extremely promising candidates because of their differentiation potential toward cartilage, tendon or bone cells. These can also be isolated easily from patients, directly from the bone marrow, fat or synovial membranes.
In 2013, Hernigou and his colleagues published what can be considered as the most important scientific study within the orthopaedic cell therapy field. In this work, entitled "Cancer risk is not increased in patients treated for orthopaedic diseases with autologous bone marrow cell concentrate," the research team followed up tumor development at the site of treatment in 1,873 patients treated with bone marrow concentrate (BMC) and compared the cancer incidence of this group to the frequency and distribution of the French population. The magnitude of the cohort and the length of this large-scale study (at least 5 years of follow-up, an average of 12.5 years) are, without a doubt, unequaled parameters. Two fundamental conclusions can be drawn from their findings: There is no evidence of tumor formation at the site of BMC treatment; and patients receiving autologous BMC therapy do not have a higher cancer incidence. Hernigou proved therefore the safety of autologous cell-based therapy and heralded a change for acceptance by medical regulatory authorities.
PAGE BREAK
Friday 01 June 2018 | 12:15 – 12:45
Cell Therapy in orthopedic surgery: 30 years of experience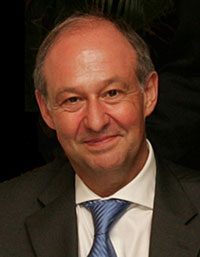 Hernigou consults with his patients 1 day a week and continues to be active in the OR by practicing hip and knee surgeries, as well as by treating osteonecrosis cases. He keeps substantially participating through current research in many fields of orthopaedics as proven by his more than 280 publications referenced in PubMed. He is professionally involved everywhere, as member of the International Hip Society, as treasurer of the International Society of Orthopaedic Surgery and Traumatology (SICOT), as member of the French Academy of Surgery, as president of the French Japanese Orthopaedic Association and vice-president of the Association Research Circulation Osseous (ARCO). He also greatly contributed to the development of his own national orthopaedic society as the 2016 President of the SOFCOT (Société Française de Chirurgie Orthopédique et Traumatologique).
He has received countless distinctions and awards in his fields of expertise as he continues to take part in all the large, educational orthopaedic meetings worldwide. His recognition is justified by his huge contribution to the stem cells research within the team Inserm n°10 from the Institut Mondor de Recherche Biomédicale, by his medical commitment toward his patients at the Henri Mondor Hospital, as well as by his educational vocation, which is reflected in his constant sharing with the young orthopaedic generation.
Take the opportunity to attend one of the most complete and up-to-date overviews of the orthopaedic cell therapy advances of the last 30 years at our upcoming congress in Barcelona. Attendance at the Michael Freeman Honorary Lecture is included in the full congress registration. Visit our registration platform as of January 2018 for details and rates.