December 08, 2017
10 min read
Painful knee OA continues to present treatment challenges
Viscosupplementation debate underscores need for better knee OA treatments.
We were unable to process your request. Please try again later. If you continue to have this issue please contact customerservice@slackinc.com.
For the past 20 years, several viscosupplementation or hyaluronic acid injection products with differing molecular weight, sources, concentrations and volumes have been approved in the United States to treat knee osteoarthritis. In this Cover Story, orthopedic surgeons discuss the benefits and downsides of using viscosupplementation to treat symptomatic knee OA and whether the clinical practice guidelines for viscosupplementation products have affected their treatment decisions.
Clinical practice guidelines (CPGs) for using viscosupplementation products to treat knee OA have been in a state of flux. According to some sources, the American Academy of Orthopaedic Surgeons' CPG for hyaluronic acid (HA) injections published in 2009 provided an inconclusive recommendation for use in patients with knee OA. The AAOS then changed its position as conveyed in the modified CPGs for this indication released in 2013.
Although the AAOS found HA injections had statistically significant improvements compared with placebo, Elizabeth G. Matzkin, MD, who was a member of the 2013 CPG workgroup, told Orthopedics Today those results were not clinically significant.
"After [AAOS] relooked at everything, they concluded ... that they cannot recommend using [viscosupplementation] for symptomatic OA of the knee," Matzkin, chief of women's sports medicine at Brigham and Women's Hospital in Boston, said. "I think the problem is the studies we have demonstrate there is no clear evidence that viscosupplementation injections work."
The CPGs from other organizations, however, do not concur with the latest AAOS guidelines, according to Louis F. McIntyre, MD, director, strategic development Westchester for Northwell Health and an Orthopedics Today Editorial Board Member.
"The guidelines are all over the map," McIntyre said. "For example, the American College of Rheumatology (ACR) has no specific recommendation on HA. Osteoarthritis Research Society International (OARSI) has an uncertain recommendation."
Restrictive inclusion criteria
A 2015 literature review by Roy D. Altman, MD, and colleagues in which CPGs that made recommendations on the use of intra-articular HA injections for knee OA were assessed, showed the National Institute for Health and Care Excellence and the National Collaborating Centre for Chronic Conditions also did not recommend HA injections for knee OA.
In contrast, Altman and colleagues found OARSI, Veterans Affairs/Department of Defense and Agency for Healthcare Research and Quality all provided an uncertain recommendation about HA use for knee OA. They also found the American Academy of Family Physicians and the Royal Australian College of General Practitioners recommend its use for consideration and the ACR and European League Against Rheumatism provided no recommendation, but acknowledged the potential efficacy of viscosupplementation.
PAGE BREAK
"Certainly, there are several good studies that show that, especially higher molecular-weight viscosupplementation has significant improvement in pain over placebo ... The AAOS CPGs are restrictive in their data synthesis inclusion criteria," McIntyre said. "They only used 14 studies of the hundreds that are available on this and they applied a metric known as minimal clinically [important] improvement, or MCII, as a determinant for whether something is clinically efficacious."
The MCII and minimal clinically important difference metrics developed by Felix Angst, MD, MPH, and colleagues, are "intended to be used as a measurement of treatment difference within a group, not between groups," McIntyre said.
However, the AAOS CPG used this metric to determine efficacy between groups, and Angst has stated it was used inappropriately in this instance, McIntyre said.
"We have discussed this, but the metric is still used in the CPG process," he said. "It is unfortunate because it has led to the strong recommendation in the CPG against use of viscosupplementation, which in turn has led to several non-coverage determinations."
Insurance coverage
Decrease in coverage of viscosupplementation by insurance companies poses not so much a problem for surgeons as it does for the patients who then face limited treatments. For them, viscosupplementation injections can become expensive, John C. Richmond, MD, professor of orthopedic surgery at Tufts University School of Medicine and staff surgeon at New England Baptist Hospital, said.
Patients pay $600 to $1,000 out of pocket for the treatment when it is not covered by insurance, he said.
"If you have a patient who is an appropriate candidate for viscosupplementation and, for whatever reason, their insurance will not cover it, then they are unlikely to get it because it is fairly expensive. Then, there is one less thing you can do for the treatment of a chronic disease with no known cure," McIntyre said.
Regression of the mean
Some orthopedic surgeons are not opposed to the AAOS' stance on the use of viscosupplementation for knee OA, including Thomas A. Einhorn, MD, professor of orthopedic surgery and director of clinical and translational research at NYU Langone Health. He told Orthopedics Today he was disappointed with the way the injections performed in his patients.
"I used viscosupplementation for a number of years when it first came out and was disappointed in its performance, and around that time a number of well-done, systematic reviews and randomized, controlled trials were published, and they more or less said there is little, if any, effect, and the placebo effect may be greater than the therapeutic effect indeed," he said.
PAGE BREAK
Gregory A. Brown, MD, PhD, who co-chaired the 2013 AAOS CPG workgroup, believes in regression of the mean, in which a patient's OA is going to improve regardless of whether the patient receives an injection. In fact, he said, physician bias may be more at play than the placebo effect.
"What that means is that most people who have arthritis are doing well. They have a flare, their knee hurts and if you give it some time, the knee just gets better on its own and then maybe several months down the road you have another flare," Brown told Orthopedics Today. "If you have mild knee arthritis and you have a flare and you go in and you get a shot of viscosupplementation and get better, surgeons or providers attribute that to the shot."
McIntyre said because there are limited treatment options of varying efficacy for knee OA, we should not want physicians and patients to be restricted in their choice of treatment, especially if there is evidence a particular treatment works.
"We should not be limiting the treatment options for this disease. We should be trying to expand them, especially as the patient population ages and the incidence of this disease process increases significantly over the next 20 years," McIntyre said.
Despite the current limitations of the AAOS CPGs, with viscosupplementation being a treatment that is not recommended, Matzkin encourages physicians to first prescribe treatments that show efficacy. For example, she encourages patients with early knee OA to maintain a healthy weight and work on strengthening exercises.
"First and foremost, we clearly know the most important thing that [patients] can do is lose weight or watch their weight and keep their proximal muscles strong," she said. "That is hands down the most important thing to manage symptoms in someone who has early knee OA."
In addition to physical therapy and activity, Richmond told Orthopedics Today he first prescribes oral anti-inflammatories in patients who have no contraindications to these.
"If there is a reason not to use the oral anti-inflammatories, then I will usually, if they are naïve to cortisone, ... give them a cortisone injection because it has a faster onset than the viscosupplementation and surprisingly, some people may get lasting relief out of it," Richmond, who was a member the 2009 AAOS CPG guideline workgroup, said.
If patients show positive results with corticosteroid injections, Einhorn said they should continue with that.
PAGE BREAK
"Patients who have had a beneficial response to corticosteroid would be better off with continuing with corticosteroid injection periodically than HA injections because I think it is more efficacious," he said. "It is not a permanent fix, but I think [there is] more evidence to support a beneficial use of corticosteroids."
Steroid injections and more experimental options, like biologics, platelet-rich plasma and bone marrow aspirate, may prove beneficial for patients with knee OA, according to McIntyre.
In patients with medial or lateral OA, Richmond will prescribe a brace early on as a noninvasive treatment, and leave viscosupplementation as the last step in his prescribed course of conservative care for knee OA.
If the nonoperative knee OA treatment modalities recommended by the AAOS do not reduce the patient's pain, Brown said surgeons should then speak to the patient about a corticosteroid injection, especially if the patient's OA is not severe enough for total knee arthroplasty.
"If you tried the treatments that have good evidence for their being effective and the patient is still having pain with arthritis, then talk to the patient and see what their preferences are and what other medical conditions they may have ... that may prevent use of some of those other treatments, and then talk to them about corticosteroid injections," Brown said.
For surgeons who decide to use viscosupplementation in patients with knee OA, McIntyre noted the results have been better in patients with lower grade Kellgren-Lawrence radiographic changes. Furthermore, viscosupplementation seems to be more effective anywhere from 24 weeks to 2 years after the onset of symptoms. However, its use may be contraindicated during periods of active inflammation or in patients with grade 4 OA, McIntyre said.
"[Viscosupplementation] is most beneficial in mild to moderate osteoarthritis, so if somebody gets to the stage of having severe osteoarthritis with significant areas of bone-on-bone, it is less effective," Richmond said. "It is more effective in the earlier phases," he said.
Surgeons must also decide whether to use low-, moderate- or high-molecular-weight HA. Some sources for this article have observed significant improvement among patients who received high-molecular-weight HA. However, a study in The Journal of Arthroplasty in October 2017 showed no significant difference in the likelihood of surgical intervention after the use of low-, moderate- or high-molecular-weight HA among 30,417 patients with knee OA.
One vs multiple injections
Dosing is another factor to be considered. Some manufacturers produce viscosupplementation injections that can be administered as one dose or multiple doses that are given during a number of weeks. The type of insurance a patient has may dictate what type of viscosupplementation they are allowed to receive and how often, according to McIntyre, who said there is no difference between one injection and multiple injection treatment.
PAGE BREAK
Richmond said, "There is no clear-cut definition as to which works better. The limited studies that are done comparing one [injection] to three injections show them to be comparable."
Based on his experience, Richmond noted one-time injections do not last as long as multiple injections, but that is not a "hard and fast rule" that he mentions when he counsels his patients.
"[People's lives are] complicated and it is hard to get into the doctors 3 weeks in a row, or they are needle-phobic and do not love injections. Those people are up for the single ones and other people may go for the three, but I do not think there is a strong 'one type is better,' whether it is multiple vs. single," Richmond said.
Risks, benefits of HA
Viscosupplementation comes with some risks, including a small risk of infection that Brown said is associated with any type of injection. Furthermore, after the second series of viscosupplementation injection patients may be at risk for inflammatory reaction.
"It may be related to the way the hyaluronic acid is processed," Brown said.
A contraindication for viscosupplementation for some patients is the possibility of an allergic reaction to the substances used in the formulations, which are avian or bacterial in origin, Richmond noted.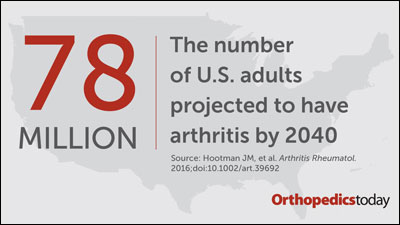 Despite these risks, Richmond uses viscosupplementation regularly in his patients with knee OA. It results in a benefit of about 30% on the VAS for pain and function, which is "comparable to virtually any other noninvasive treatment for osteoarthritis," he said.
Although viscosupplementation is not known to substantially change the biology of the knee, that amount of pain and functional improvement may help delay partial knee arthroplasty or TKA in some individuals, Richmond said.
"The pharmacological action is that it does serve as a joint lubricant for up to 2 days after it is injected, and then after that it also has an anti-inflammatory effect," McIntyre said. "But its real mechanism of action is that it promotes the secretion of higher molecular-weight joint fluid from the synoviocytes of the knee joint, which is its long-term effect."
Large, well-done studies showing viscosupplementation is efficacious and cost-effective in knee OA may lead AAOS to revisit and update the CPGs, and look at some of the newer stem cell-type treatments that are being used, according to Matzkin. However, she said it is hard to say when this may happen.
"I do not know if that is in 1 year or 10 years," Matzkin said.
PAGE BREAK
In its recommendation, the AAOS noted future research on viscosupplementation in knee OA should include clinically relevant outcomes, sub-group analyses and controls for bias.
"If the manufacturers of the viscosupplementation want to prove that this is an effective treatment, then they should compare it against another effective treatment and show that it is just as good or better," Brown said.
Although some advocates of viscosupplementation, like Richmond, believe the data already available adequately prove the efficacy of viscosupplementation for knee OA, others say more level 1 studies are needed to help change the AAOS viewpoint.
"We need level 1 studies using the AAOS CPG metrics to show efficacy so that the strong recommendation against viscosupplementation can be revised based upon the evidence," McIntyre said.
Beyond providing better evidence, Einhorn noted that if the efficacy of viscosupplementation is proven in future studies, that research should also demonstrate how and why viscosupplementation works.
"There are manifestos written by experts who think they have the answer, but as far as I know there is no clear, definitive information that would explain, if viscosupplementation works, how it works," he said. – by Casey Tingle
References:
Altman RD, et al. Semin Arthritis Rheum. 2015;doi:10.1016/j.semarthrit.2015.04.013.
Bhadra AK, et al. Cartilage. 2017;doi:10.1177/1947603516662503.
Jevsevar D, et al. J Bone Joint Surg Am. 2015;doi:10.2106/JBJS.N.00743.
Johal H, et al. JBJS Rev. 2016;doi:10.2106/JBJS.RVW.15.00098.
Richmond JC, et al. J Am Acad Orthop Surg. 2009;17:591-600.
Shewale AR, et al. J Arthroplasty. 2017;doi:10.1016/j.arth.2017.04.041.
Treatment of osteoarthritis of the knee, 2nd edition. Available at: www.aaos.org/CustomTemplates/Content.aspx?id=6396&ssopc=1. Accessed Oct. 26, 2017.
For more information:
Gregory A. Brown, MD, PhD, can be reached at 4525 S. 19th St., Tacoma, WA 98405; email: brown061@gmail.com.
Thomas A. Einhorn, MD, can be reached at 301 E. 17th St., Suite 1401, New York, NY 10016; email: thomas.einhorn@nyumc.org.
Elizabeth G. Matzkin, MD, can be reached at Brigham and Women's Hospital, 75 Francis St., Boston, MA 02115; email: ematzkin@bwh.harvard.edu.
Louis F. McIntyre, MD, can be reached at 755 North Broadway, Suite 530, Sleepy Hollow, NY 10591; email: lfm@woapc.com.
John C. Richmond, MD, can be reached at 40 Allied Dr., Dedham, MA 02026; email: jrichmon@nebh.org.
Disclosures: Einhorn reports he is a paid consultant for Bioventus and received a grant from Orthofix. Richmond reports he is a consultant for DePuy Mitek. Brown, Matzkin and McIntyre report no relevant financial disclosures.
Click here to read the
, "What noninvasive or minimally invasive procedures, excluding injections, are effective in patients with low-grade knee OA?"