November 30, 2017
2 min read
19th EFORT Congress in Barcelona: Your work at the core of the congress
We were unable to process your request. Please try again later. If you continue to have this issue please contact customerservice@slackinc.com.
On behalf of the EFORT leadership, we would like to thank our abstract submitters, the more than 8,100 authors from all over the world, who sent their work for possible inclusion in the scientific program of our upcoming congress in Barcelona.

This year, the EFORT community has again demonstrated an extremely high interest in sharing orthopaedic knowledge on a European level by putting forward 3,220 free papers, posters and clinical reports in our three main categories as follows: orthopaedics 62%; trauma 30%; and general topics 8%.
It is worth highlighting herein the top five topics and top five submitting countries. The most popular topics were Orthopaedics - Pelvis, Hip & Femur 18%; Orthopaedics - Knee & Lower Leg 17%; Trauma - Hip & Femur 8%; Orthopaedics - Shoulder & Upper Arm 5%; and Musculoskeletal Tumors 4%.* The most active countries were the United Kingdom 24%; Portugal 8%; Spain 7%; Italy 6%; and Japan 5%.*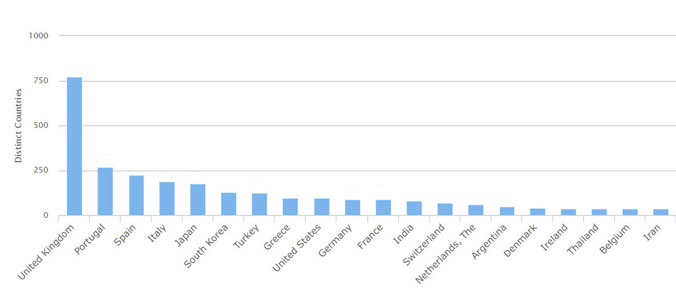 The main theme of the upcoming 2018 Congress in Barcelona seems also to have drawn the attention of submitters from all the subspecialties, as the number of abstracts directly linked to "Innovation & New Technologies" has increased considerably.
All the submitted abstracts will now be scored by expert reviewers under the supervision of the EFORT Scientific Advisors and allocation of presentations will be performed to embed all the accepted abstracts in our overall scientific program.
The abstract submission for our upcoming 19th EFORT Congress in Barcelona, which will be held from 30 May to 1 June 2018, is now closed and the allocation of all the work received is being processed. All authors who have a special query, such as changes in affiliation or contact details of authors, updating of conflict of interest disclosures, minor spelling corrections, etc., should directly contact the abstract team by sending a message to scicom@efort.org.
On Thursday 1 February 2018, EFORT will notify all authors and co-authors about the acceptance status of their submitted abstract(s), as well as give a preliminary schedule for their presentation(s).
The presenting author of a selected abstract must undertake to attend the congress and present the abstract in the session and at the time designated by the scientific committee. For further details on registration fees and attendance, please consult our registration platform as of January 2018. Good luck to all and see you in Barcelona.
Key dates are as follows:
Abstract Review start: 1 December 2017
Notifications to authors: 1 February 2018
Online scientific program: 15 March 2018
*Percentages given are based on the total number of abstracts.