August 01, 2017
2 min read
EFORT Travelling Fellowship Report 2
We were unable to process your request. Please try again later. If you continue to have this issue please contact customerservice@slackinc.com.
The EFORT Spring Travelling Fellowship 2017 was held in Finland from 23 to 28 April in three cities —Vantaa, Tampere and Helsinki. It was great opportunity for 12 young surgeons in their final year or who just finished their residency to visit Finland. The surgeons were from Lithuania, Macedonia, Malta, The Netherlands, Poland, Portugal, Romania, Serbia, Sweden, Switzerland, Turkey and Ukraine.
I am honored because I was elected from Serbian Orthopaedic Association (SOTA) to go to the EFORT Spring Travelling Fellowship Course 2017, which was held in Finland.
Sunday 23 April
Arrival — flight to Helsinki via Frankfurt. I was excited because it was my first visit to this beautiful country. Accommodations were in the Scandic Simonkenttä Hotel in the central part of Helsinki. I took a nice walk through the city center and there was water everywhere. It was enchanting.
After a welcome reception and introduction speech of Prof. Ilkka Kiviranta, we enjoyed a tasty dinner and were introduced to each other. The atmosphere was friendly and little shy, but we were at the start.
Monday 24 April
We finally started the Spring Travelling Fellowship April 2017. The first stop was Vantaa, a smaller city next to Helsinki, where we visited Peijas Hospital and Helsinki University Hospital. Thanks to our host Dr. Teemu Helkamaa. We were full of impressions, especially because we had opportunity to assist in surgery in OR.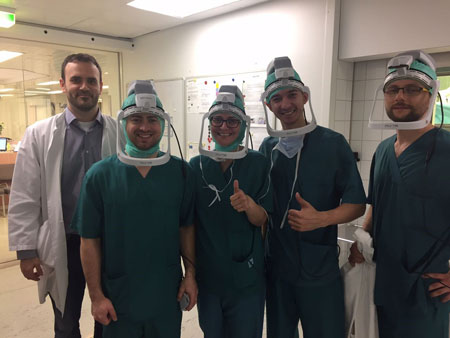 At the end of the day, we went with our host to have excellent Japanese food and cheerful conversation.
Tuesday 25 April
Wake up, breakfast, new day and new city. Our 12-player team started together. We took a train to Tampere. Dr. Minna Laitinen was our host in Tampere University Hospital. This was in a little town, but it was an impressive hospital with lectures about research and upper extremity issues. There was an exciting end to the day at the sauna and icy lake. What an invaluable experience. We were thrilled!
Wednesday 26 April
The second day was in Tampere. We had the opportunity to visit the one of most elegant hospitals —Coxa Hospital for Joint Replacement. What an impressive and magnificent place!
Also, we were honored because Prof. Per Kjaersgaard-Andersen, EFORT Second Vice President, came to meet us. At the end of the day, we took the train to Helsinki.
Thursday 27 April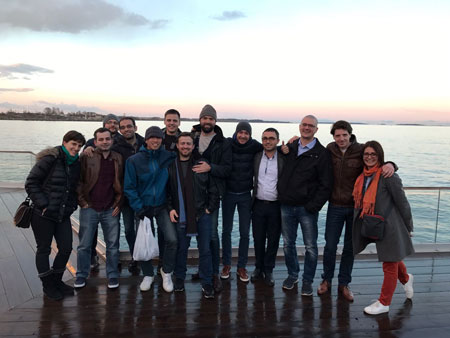 We visited Töölö Hospital, Helsinki University Hospital – the most important trauma hospital in Helsinki – with Dr. Tim Söderlund, our friendly host. There were interesting lectures about elbow dislocation and prostheses. Afterward, we had opportunity to go to the OR. I chose an OR with patient with wrist trauma to meet a hand surgery team. For me, this was interesting because it is one of my main fields of interest.
PAGE BREAK
I had free time in the afternoon and I walked the city. I had dinner in a Löyly restaurant with a magnificent terrace with a view of the sea.
Friday 28 April
The last day at Töölö Hospital included good lectures about trauma and then it was time to go. We said goodbye to each other. I will never forget this fellowship and the people I met.
Conclusion
This was an amazing experience. Thanks to the Finnish Orthopaedic Association and the organizing committee for perfect accommodations, to the faculty for their hospitality and engagement and to the dear fellows for this wonderful week.
For more information:
Ivana Glisovic Jovanovic, MD, is an orthopedic surgery and traumatology resident from the Clinic for Orthopaedic Surgery and Traumatology, Clinical Centre of Serbia, in Belgrade.
Disclosure for EFORT Travelling Fellowship Reports: The author reserves the right not to be responsible for the topicality, correctness, completeness or quality of the information provided. Liability claims regarding damage caused by the use of any information provided, including any kind of information which is incomplete or incorrect, will therefore be rejected.