April 12, 2017
5 min read
A 41-year-old man in rural Malawi with left thigh pain
We were unable to process your request. Please try again later. If you continue to have this issue please contact customerservice@slackinc.com.
A 41-year-old man presented to Kamuzu Central Hospital in Malawi with a 9-month history of left thigh pain after he was struck by a local minibus. Upon initial injury, he was transported to a local district hospital, where initial examination showed a closed fracture without any other concomitant musculoskeletal injuries. The patient was neurovascular intact distal to the site of injury and had no significant past medical or surgical history. A radiograph film showed a left simple AO/OTA 32 femoral shaft fracture. He was placed on 12 weeks of skeletal traction.
A check radiograph was done after 12 weeks and the patient was referred to Kamuzu Central Hospital (KCH) for surgical management. The patient stayed there 2 weeks on skin traction while awaiting surgery. After 2 weeks, he was discharged after it was clear that no OR space was available at KCH. He was instructed to return when the queue of orthopedic surgical candidates for the hospital's only orthopedic OR had diminished, a timeline that is unpredictable at best.
Twenty-four weeks after discharge, the patient returned to KCH using a cane. New anteroposterior (AP) and lateral radiographs were obtained (Figure 1).
On exam, the patient had tenderness to palpation of the mid-left thigh and mild swelling. There was no erythema or fluctuance present. The patient was unable to tolerate full weight-bearing with the left leg.
What is your diagnosis?
See answer on next page.
PAGE BREAK
Femoral shaft nonunion
The estimated annual incidence of femoral shaft fractures from road traffic accidents worldwide is 1 million to 2.9 million, a burden that is significantly higher in low-income and middle-income countries than in high-income countries. Although operative treatment of femoral shaft fractures is the gold standard of care, providers in resource-limited regions, like rural Malawi, frequently elect for nonoperative treatment. Fracture care is provided at three levels of health care facilities: primary care is provided in health centers; secondary care in the district hospitals (which are typically rural); and tertiary care in referral hospitals.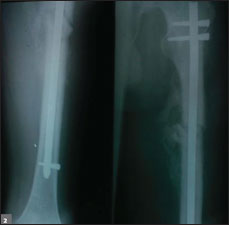 There are four central hospitals and one faith-based specialist orthopedic hospital, all based in the four cities of Blantyre, Zomba, Lilongwe and Mzuzu. Trained, specialized fracture care providers in Malawi include clinical officers, trained to diploma and bachelor's degree levels, and specialist orthopedic surgeons. Currently Malawi has 12 specialist orthopedic surgeons, only four of whom are indigenous Malawians. All are based at tertiary referral centers. There are 12 orthopedic clinical officers in clinical practice based predominantly in the district hospitals, thus providing the majority of fracture care in 28 district hospitals in Malawi. The reasons for continued use of nonoperative method are multifactorial and include the lack of expertise, theater space and implants due to the perceived insurmountable cost of the implant. For instance, intramedullary (IM) nailing at Muhimbili Orthopaedic Institute in Dar Es Salaam, Tanzania, is estimated to cost $530.87 per patient. Additionally, many district hospitals in Malawi lack infrastructure for orthopedic procedures that involve implants. Thus, most fracture surgeries are performed in the Central hospitals by orthopedic surgeons, but, even in these centers, the few available surgeons are overwhelmed with increased workload such that it is not possible to offer surgery to everyone who needs it. Hence, definitive nonoperative treatment with skin and skeletal traction remains the mainstay treatment for patients who are injured in a resource-poor environment.
Unfortunately, traction has been linked with a high incidence of complications. A recent systematic review by Kramer and colleagues found a significant proportion of patients who completed traction had a nonunion (5.5%), malunion (20%) or infection (13.2%).
Given this patient's lack of bony healing on radiographs at more than 9 months after injury, he was diagnosed with a femoral shaft nonunion and operative management was selected.
Management
The first step in deciding how to operatively manage the patient was to determine if there was infection. If infection is suspected, it is eradicated before definitive treatment with a nail or plate. Non-infected patients would then have the option of receiving a reamed IM nail or open reduction and internal fixation. In a systematic review, Swomford and colleagues suggest offering reamed nailing to patients who fail conservative treatment and offering augmentative plating to patients who fail nailing. Patients who fail plating are offered either reamed nailing or a plate with bone graft according to the hypertrophic/atrophic nature of the injury. Given that this patient had a normal white blood count and erythrocyte sedimentation rate and had failed conservative management, reamed nailing was selected as the treatment of choice.
Similar to treatment dilemmas orthopedists often encounter in developing countries, placement of an IM nail in Malawi is further complicated by the availability of an implant and the absence of fluoroscopic imaging. Thus, selection of a cost-effective option for IM nailing, in which proximal and distal interlocking screws can be placed without fluoroscopic guidance, is critical. In this case, the SIGN nail and construct was used.
The patient was placed in a stable, supine position with bilateral traction. An incision was made over the fracture site and the lateral approach was used to visualize the proximal and distal fracture fragments. The callus was saved for bone graft and each fragment was reamed from the fracture site. The fragments were then reduced and secured with clamps. A skin incision was made proximal to the proximal aspect of the greater trochanter. Reamers in increasing size were used until a chatter was heard and reaming is stopped. The nail was then attached to the target arm and inserted antegrade with the use of a tissue protector. One distal and two proximal interlocking screws were then placed with guidance from the external jig.
Outcome
At 3 months after surgery, the patient was ambulating and returned to work as a security guard. An AP radiograph (Figure 2) of the left femur shows a visible callus on the medial and lateral cortices, although the lateral cortex does not appear to have bridging bone. We were unable to obtain a lateral view to assess the anterior and posterior cortex. The patient continues to experience mild intermittent pain at the site of the injury and has a stiff knee due to prolonged immobilization during skeletal traction and lack of a standardized physical therapy protocol. He is able to climb and descend stairs, but is unable to perform the squat and smile test due to his inability to fully flex his left leg (Figure 3). The exam showed no tenderness to palpation or sites of erythema. His range of motion is 0° to 45°. A plan has been made for the patient to work with the physical therapist.
References:
Agarwal-Harding KJ, et al. J Bone Joint Surg Am. 2015;doi:10.2106/JBJS.N.00314.
Giannoudis PV, et al. AO Surgery Reference. Accessed: Jan. 15, 2017.
Kramer EJ, et al. Int Orthop. 2016;doi10.1007/s00264-015-3081-3.
Kramer EJ, et al. World J Surg. 2016;doi:10.1007/s00268-016-3496-z.
Mkandawire N, et al. Clin Orthop Relat Res. 2008;doi:10.1007/s11999-008-0366-5.
Somford MP, et al. Strategies Trauma Limb Reconstr. 2013;doi:10.1007/s11751-013-0168-5.
White NJ, et al. Clin Orthop Relat Res. 2011;doi:10.1007/s11999-011-1829-7.
For more information:
Grant Garcia, MD, is a PGY-5 resident at Hospital for Special Surgery. He can be reached at 535 East 70th St., New York, NY 10021; email: garciagr@hss.edu.
Linda Chokotho, MBBS, MPH, is an orthopedic surgeon and director of research at Beit Cure International Hospital, Blantyre, Malawi; email: lindachokotho@gmail.com.
Hao-Hua Wu, BA, is a fourth-year medical student at Perelman School of Medicine University of Pennsylvania. He can be reached at 3400 Civic Center Blvd., Jordan Medical Education Center, Philadelphia, PA 19104; email: haohuawu@gmail.com.
Disclosures: Chokotho, Garcia and Wu report no relevant financial disclosures.