February 02, 2018
4 min read
Documentary on myopia will appeal to broad audience
We were unable to process your request. Please try again later. If you continue to have this issue please contact customerservice@slackinc.com.

Jane Weiner
Filmmaker Jane Weiner has been working for the last few years on a documentary on myopia.
Weiner spoke with Primary Care Optometry News about why she chose this topic and what she hopes to accomplish with Losing Sight.
PCON: Why are you doing the documentary?
Weiner: Over my career, I've produced and directed many films on a wide variety of science and health issues, but when I first heard of the myopia epidemic, it hit really close to home. Everyone in my family is nearsighted and, although we've had our share of eye problems (cataracts, retinal detachment, macular degeneration, glaucoma), no one ever mentioned that these maladies might be linked to our myopia.
Because nearsightedness is something that can be easily "cured" with eyeglasses, most people don't think of it as a "health" issue – in fact, many are more apt to consider eye wear a fashion accessory rather than count themselves in as statistically part of a worldwide epidemic.
But, delving into the research early on, I realized that a subject so visually rich and engaging deserved more than simply a journalist report on the prospect of a world going blind. Instead, I was inspired to create a feature-length documentary, a dense and ambitious exploration of how we see what we see.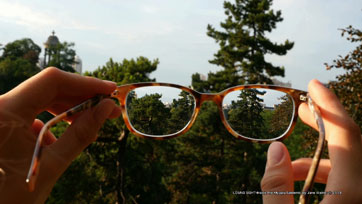 PCON: Please summarize its content.
Weiner: The project is designed to appeal to a broad, general audience – children, adolescents, parents, grandparents – in which complex scientific concepts are presented clearly and simply in easy-to-understand and decidedly nonscientific terms.
The storyline threads through an explanation of how eyes develop, starting at birth, moving into early childhood, through schooling, adolescence, on to college and adulthood. We discover that, although starting out farsighted, eyes develop to a point of perfect vision and then learn what other factors might trigger elongation to continue on to myopia.
The core of the story is the nexus where science meets practice: An exploration of how, with recent advances in technology, modern practical methodologies are now being applied to scientific discoveries going back over the last half century. A trailer for the documentary can be accessed here: https://vimeo.com/jpweiner/myopia7mnsample.
PCON: What types of experts did you interview?
Weiner: For me, life's great gift was my friendship with the neuroscientist Josh Wallman, PhD, one of the most distinguished vision scientists of our time. Josh is no longer with us, but through him, over the years, I met many scientists, so when I decided to make this film, I called on them.
However, "how we see what we see" isn't as simple as it seems, and it quickly became apparent that if I wished to make this into a movie, I had a lot of learning to do. So, I devoted 3 years to studying vision science, attending seminars and conferences and meeting people around the world dedicated to solving the mysteries of myopia – both in science and industry.
Guiding me on this journey, my key behind-the-scenes mentors include Christine F. Wildsoet, OD, PhD; Thomas Aller, OD, FBCLA; David Troilo, PhD, in the U.S., Sally McFadden, PhD, in Australia and Ian Flitcroft, MA, DPhil, FRCOphth, in Ireland.
The study of myopia is truly multidisciplinary, so my on-camera experts will hail from a great many fields – animal research, genetics, pharmaceuticals, neurobiology, as well as practitioners, inventors, historians, artists and philosophers.
PCON: What do you hope to accomplish with it?
Weiner: With each new project, every filmmaker confronts a storytelling challenge: How to captivate and entertain while also giving audiences something substantive, new and different as a take-away.
My intention is to lead the audience inside the world of vision. But because human vision is three-dimensional and the traditional film-TV image has only two dimensions, until now, simulating human vision has been difficult to achieve. Happily, with the latest technologies, we can reproduce the variant qualities of vision more accurately than ever before, so audiences can "see" something closer to reality than the usual out-of-focus camera blur trying to represent nearsightedness. Moreover, because severe myopia is causing associated maladies to show up earlier in life, I want viewers to be aware of the visual clues in order to recognize early-stage symptoms of cataracts, glaucoma, retinal detachment and macular degeneration such as flashes, distortions, "holes" in vision and decreases in peripheral vision.
PCON: What is the timeline for its release to the public?
Weiner: The slated release for the feature-length documentary is winter 2020. We're currently soliciting funds from corporate sponsors, foundations and private donors in conjunction with our PBS partner, Illinois Public Media and its affiliate WTVP (Peoria).
PCON: How and in what setting will it be released?
Weiner: The feature-length documentary is destined for a theatrical and television release in major markets around the world. Simultaneously, we'll launch a "media blast" that includes a TV version (created for regional markets with shorter time slots) and a series of five 3-minute shorts for web distribution, which are also suitable for screening in eye clinics and doctor's office waiting rooms.
Further on, we're planning a traveling exposition – a 3D cinema show focusing on "how we see what we see" for science museums/educational venues to be released in 2021. – Interviewed by Nancy Hemphill, ELS, FAAO
For more information:
Jane Weiner can be reached at: jane.weiner2@gmail.com. Anyone wishing to contribute a tax-deductible donation toward the production of this film can contact Jerry Kolb at Illinois Public Media/WTVP: jerrykolb@wtvp.org.
Disclosures: Initial funding for research and development was provided by JP Weiner Productions Inc., the Wallman Foundation, Illinois Public Media and Artline Films, Paris. Weiner reported she received travel grants from Visioneering Technologies Inc. to attend the Association for Research in Vision and Ophthalmology meeting in Baltimore and the International Myopia Conference in Birmingham, U.K.