Vision advocates need to redouble efforts on state, national levels
We were unable to process your request. Please try again later. If you continue to have this issue please contact customerservice@slackinc.com.
Individuals, agencies and organizations must take advantage of their positions to make a difference for the 21 million people in the U.S. with vision impairment, John E. Crews, DPA, accomplished researcher, author and vision disability advocate, said at the Focus on Eye Health National Summit.
Crews was presented with the Jenny Pomeroy Award for Excellence in Vision and Public Health at the summit in recognition of his contributions to the advancement of public health related to vision and eye health at the community, state and national levels throughout his 40-year career.
"We talk about the huge gulf in access and utilization of eye care –the true public health crisis of our day, but for a moment I want us to think about those 21 million people in the U.S. with vision impairment telling their 21 million stories, because it is a life changing event for them," he told attendees.
Eye care professionals operate on a stage, whether as an advocate, in a private agency, in a federally qualified health center or a state agency, or a national organization, such as the CDC or Prevent Blindness, Crews said.
"Each stage provides an opportunity to change lives, to make a difference," he said.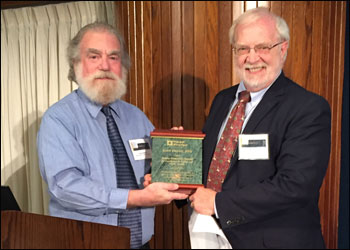 The recent National Academies of Sciences, Engineering and Medicine report, which indicates that eye and vision health lags in priority in the U.S., was the result of national groups coming together to promote and finance the report, Crews said.
"While I'm biased, I think the report serves as a game changer – a call to action that is mobilizing advocates," he said. "Smart, innovative state-level efforts are changing systems and they're changing lives."
Recently, individuals as advocates for improved vision and eye health were on the Hill, telling their personal stories that gave meaning to big policy decisions, Crews added.
"[These days we] see a nation that is turning away from the type of caring that defines who we are, turning our backs on those who are most in need," he said. "While I'm sure these trends are temporary, the immediate effect is likely to harm those with vision and eye health problems.
"We must all redouble our efforts on the stage we occupy," Crew continued, "as advocates, small or large agencies, state programs or national organizations, to improve the life and health of the 21 million people we serve." – by Abigail Sutton
Reference:
Crews J, et al. 2017 Jenny Pomeroy Award for Excellence in Vision and Public Health. Presented at: Prevent Blindness 2017 Focus on Eye Health National Summit; Washington; June 28, 2017.
Disclosure: Crews is a former health scientist with the Vision Health Initiative of the National Center for Chronic Disease Prevention and Health Promotion, CDC. In retirement, he works with the Lighthouse Guild in New York.