January 17, 2018
1 min read
Lindstrom receives the Philip M. Corboy award
We were unable to process your request. Please try again later. If you continue to have this issue please contact customerservice@slackinc.com.
WAILEA, Hawaii — Richard L. Lindstrom, MD, received the Philip M. Corboy, MD, Memorial Award for Distinguished Service in Ophthalmology sponsored by Bausch+Lomb here at Hawaiian Eye 2018.
"He is the epitome of a researcher, an inventor, a teacher, a writer, a lecturer and a highly acclaimed physician and surgeon," said Robert B. Miller, MD, a member of the Hawaiian Eye Foundation Board of Directors.
In his remarks, Lindstrom said it was his 37th year coming to Hawaii for the meeting.
"I was working with John Corboy when there were about 40 of us here rather than nearly a thousand," he said. "I want to thank John Corboy. I believe I am one of the few recipients who actually knew his father [Philip Corboy] ...he came to Hawaii to serve the people of this region and was a very special man. John is a very special man to me as well."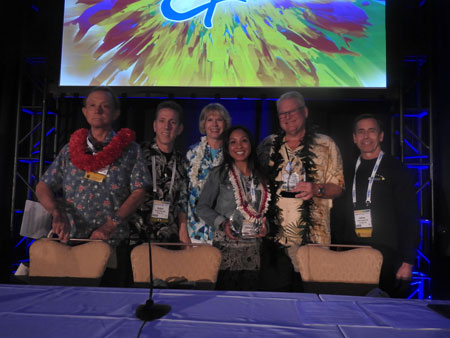 He thanked Hawaiian Eye Foundation and also Bausch+Lomb for sponsoring the award.
"The paradox of giving really is that when you choose to serve, whether it be an organization or a meeting like this it always turns out you get more in return. That certainly is my experience and this is one example of that," Lindstrom said.
The Hawaiian Eye Foundation also honored Harry S. Brown, MD, posthumously with the Thornton Humanitarian Award, sponsored by Biosyntrix.
"It is being given to Harry because of his quintessential humanitarian spirit," Brown said. "Harry had a relentless passion that lead him to be the founder and guiding spirit of the non-profit organization known as SEE – Surgical Eye Expeditions."
Catherine Iamorena of SEE International received the 2018 award on behalf of Brown. – by Joan-Marie Stiglich, ELS
Reference:
Presented at: Hawaiian Eye; Jan. 13-19, 2018; Wailea, Hawaii.