September 04, 2018
3 min read
Fresenius exceeds 200,000-patient count in Nephrology News & Issues annual ranking
We were unable to process your request. Please try again later. If you continue to have this issue please contact customerservice@slackinc.com.
Fresenius Medical Care North America has exceeded the 200,000-patient count for the first time in the Nephrology News & Issues annual ranking of the largest dialysis providers in the United States. The latest number, re-affirming Fresenius as the largest dialysis provider in the United States, comes in a year of stable growth for the company and its closest competitor, DaVita Kidney Care, which has closed the gap during the last several years through acquisitions and de novo center growth.
The 201,180 count for Fresenius combined with DaVita's 199,000 patients means the lion's share of patients undergoing treatment in the United States are in a facility owned by one of the two companies. The combined 400,180 patients are part of the estimated 500,000 patients in the United States receiving dialysis (based on data from 2017 Annual Data Report of the U.S. Renal Data System, as of the end of 2015).
In total, the patient census of the 10 largest providers increased by 17,743 from 2017 to 2018 compared to a 20,238-patient gain from 2016 to 2017 (see Table 1).
Contributing factors
Year-to-year growth was down for both Fresenius and DaVita compared to their gains from 2016 to 2017. That year saw a major increase in patient growth partly due to an increase in the number of patients with acute kidney injury who received outpatient dialysis care in 2017. A new law that took effect in January 2017 allowed outpatient dialysis providers to treat patients with AKI. Previously, CMS only reimbursed hospitals for providing treatment.
The slower growth for 2017 to 2018 also relates to a quiet year for major acquisitions among the other top 10 dialysis providers. US Renal Care, which grew by more than 9,000 patients from 2015 to 2017, showed no growth this year and dropped its count by 303 patients. Dialysis Clinic Inc. also showed no growth and reported a slight drop in patient census.
Based on its growth, Fresenius added 101 new dialysis clinics in 2017 to 2018 compared to the previous year; DaVita added 150 clinics. Conversely, with its reduction of more than 300 patients, US Renal Care sold off 127 of its 463 clinics.
Other mid-sized dialysis providers showed increases in patient counts this past year. Fourth-ranking American Renal Associates continued its string of more than 1,000 patient growth each year since 2014, adding 1,041 patients and 11 dialysis clinics during 2017 to 2018. The company just reported a 16.8% increase in operating revenues to $217.2 million for its second quarter compared to last year; dialysis treatments increased 5.6%.
PAGE BREAK
Satellite Healthcare, the sixth largest dialysis provider in the Nephrology News & Issues annual survey, increased its patient census by 347 patients, a gain over the 291 patients added in 2016 to 2017. Gains were also seen among the small dialysis organizations.
Home hemodialysis shows a rebound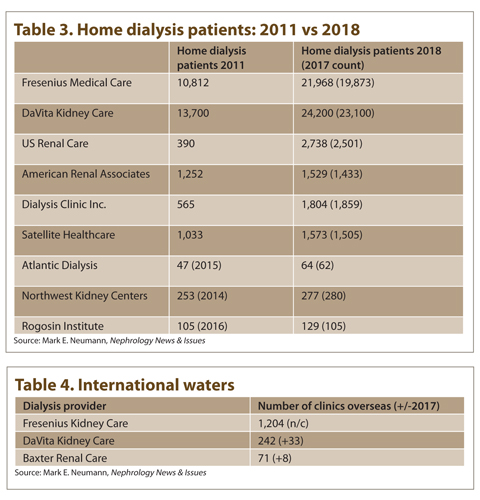 Most patients starting dialysis each year go on in-center hemodialysis therapy. According to the Nephrology News & Issues survey, of the 8,216 patients added by FMCNA this year, 2,095 – about 25% – were home patients. For DaVita Kidney Care, the equation was only 13%: Of 8,500 new patients for 2017 to 2018, 1,100 were home patients. As in previous years, the largest growth was among patients on PD. In 2016 to 2017, healthy gains were seen in the PD patient census among the 10 dialysis providers (2,090 new patients), which continued a steady year-to-year growth after a shortage of PD dialysate fluid in 2015 caused a major drop in patient growth (see Table 2). For 2017 to 2018, growth continued with an increase of 2,760 patients on PD. However, the good news for 2017 to 2018 was in a resurgent home hemodialysis population. Last year, growth slowed to fewer than 100 patients among the 10 largest providers after steady increases of 300 to 500 patients per year since 2013. For 2017 to 2018 however, home hemodialysis growth was 804 patients (see Table 3). Fresenius and DaVita contributed 785 of those new patients; Satellite Healthcare added 41 patients and American Renal Associates and Rogosin Institute combined to add 17 patients. However, drops were seen by US Renal Care (-8), Dialysis Clinic Inc. (-6), Atlantic Dialysis Services (-15) and Northwest Kidney Centers (-10).
Overall, the 54,282 patients on home therapies in 2018 represent 11.5% of the 470.786 patients treated by the 10 largest dialysis providers. This is a slight increase from the 11.3% (50,718 home patients) as a percentage of the 453,043 patients treated by the same providers in 2017 and is the highest level of home patients-to-in-center patients since 2013.
In dialysis care overseas, Fresenius continues to have the strongest presence, although DaVita showed continued growth this past year (see Table 4). – by Mark E. Neumann
For more information:
Mark E. Neumann is Editor-In-Chief of Nephrology News & Issues.