March 26, 2018
2 min read
Greater coffee consumption associated with lower risk for CKD
We were unable to process your request. Please try again later. If you continue to have this issue please contact customerservice@slackinc.com.
Findings recently published in the American Journal of Kidney Diseases suggested that individuals who reported drinking greater amounts of coffee per day were at lower risk for incident chronic kidney disease after researchers adjusted for appropriate covariates.
Researchers studied 14,209 participants (aged 45 to 64 years) in the Atherosclerosis Risk in Communities (ARIC) study. Participants were enrolled between 1987 and 1989 and attended follow-up visits in 1990 to 1992 (visit two), 1993 to 1995 (visit three), 1996 to 1998 (visit four) and 2011 to 2013 (visit five).
Researchers assessed participants' coffee consumption using a 66-item semiquantitative food frequency questionnaire, which was given in person at visits one and three. Participants reported how frequently they had an 8-ounce cup of non-decaffeinated coffee on average during the past year. Options included almost never, 1 to 3 cups per month, 1 cup per week, 2 to 4 cups per week, 5 to 6 cups per week, 1 cup per day, 2 to 3 cups per day, 4 to 6 cups per day and more than 6 cups per day. During the course of the visits, 44% of participants did not change their response about coffee consumption while 25% changed their response by just one category. The study noted that these categorical responses were converted into cups per week as a continuous variable.
During a median follow-up of 24 years, 3,845 participants (27%) developed chronic kidney disease. The lower risk of incidence of chronic kidney disease was associated with higher coffee consumption. Compared with non-coffee drinkers, each category of coffee consumption was associated with between 10 % and 16% lower risk for CKD. The study reported the following findings between coffee consumption and CKD on a per-day basis:
less than 1 cup was linked with a 10% lower risk for CKD;
1 to 2 cups were linked with a 10% lower risk for CKD;
2 to 3 cups were linked to a 13% lower risk for CKD; and
3 or more cups were linked with a 16% lower risk for CKD.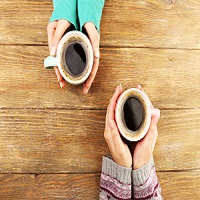 A 3% lower risk was found for each additional cup consumed per day. Investigators found participants who reported that they consumed any amount of coffee had 11% lower risk for CKD vs. participants who never consumed coffee.
It was reported that 281 cases of end-stage renal disease were found during a median follow-up of 25 years. While coffee consumption was associated with lower risk for kidney failure, there was no significant linear trend across coffee consumption categories for kidney failure.
PAGE BREAK
Researchers adjusted for demographic, study design, lifestyle, and clinical factors that might influence coffee consumption and kidney outcomes. Information for age, sex, race, study center, education level, smoking status, physical activity and alcohol status were assed using a questionnaire administered by an interviewer. Clinical factors included systolic and diastolic blood pressures, fasting glucose concentration, estimated glomerular filtration rate, diabetes, hypertension and use of antihypertensive medication, according to the study. – by Jake Scott
Disclosures: The researchers report no relevant financial disclosures.