The largest dialysis providers in 2016: Poised for change
We were unable to process your request. Please try again later. If you continue to have this issue please contact customerservice@slackinc.com.
We have witnessed some interesting developments in renal care over the last 12 months.
New data (through end of 2013) showed the mortality rate is going down among prevalent dialysis patients. Early data for 2014 and 2015 show mortality continuing to decline.

A new payment formula for physicians was introduced, with major changes taking effect by 2019.

The long-awaited Comprehensive ESRD Care (CEC) Initiative finally launched, with 13 applicants, last October. The demonstration was in the spotlight last month, as the Centers for Medicare & Medicaid Services re-opened the application process in an effort to enlist smaller providers.

Providers are reaching out and investing in new product development and new relationships, from Fresenius Medical Care's interest in regenerative medicine and new bloodstream infection control products to joint venture partnerships between DaVita Kidney Care and other health care providers.
All of this comes under the umbrella of a shift by Medicare to a value-based approach to medicine. Payers want to see models of care that produce results and good outcomes, not just procedures. The momentum seen by the renal ACO launch is having an impact. "We are a different organization today than what we were prior to the ESCO," said Dialysis Clinic Inc. board vice-chair Doug Johnson, MD, during a recent webinar on the CEC demonstration.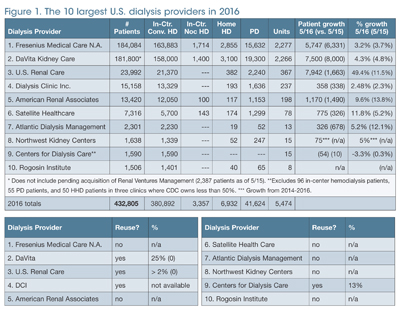 ESCOs are the organizations that contract with CMS during the project. He said his company is looking at adding three more sites to their original three. "The biggest problem for me is that there aren't enough providers doing it," said Johnson. Among the dialysis companies in our annual ranking, four of the 10 are part of the demonstration. With CMS beckoning more small dialysis organizations, that number may grow this year.
Acquisitions
Over the past year, two buyouts occurred: U.S. Renal Care acquired DSI Renal (the sale was final in January), and DaVita Kidney Care acquired Renal Ventures Management. As a result of those changes, Northwest Kidney Centers and Rogosin Institute have joined the NN&I ranking (see Figure 1). When DaVita's acquisition of RVM is complete, it will push the company past Fresenius in total patient count for the first time.
Read also: Hospital alert system improves care coordination at Northwest Kidney Centers
With this year's growth among the three largest providers, the companies are now treating 389,876 patients. U.S. Renal Data System data shows there were 466,728 patients on dialysis at the end of 2013. With a collective annual growth rate among the ten largest providers of between 5-6%, there is no doubt that their share of patient treatments will continue to expand. Two of those companies —Fresenius and DaVita—also have a strong presence overseas. These clinics are around the globe, covering Europe, the Middle East, Africa, Latin America, and the Asia-Pacific. Baxter and renal provider Diaverum also have a presence (see Figure 4).
The mid-sized companies have also signaled the market that they are looking to expand in 2016, with American Renal Associates launching a successful public offering and Satellite Healthcare CEO Rick Barnett telling NN&I in a recent interview that the company wants to build more clinics.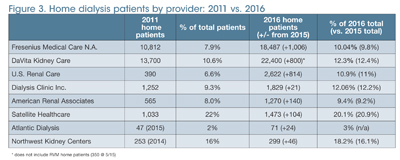 Growth in home dialysis
Each year, we look at whether progress is being made to increase the home dialysis population. Last year, a shortage of dialysate for peritoneal dialysis patients led to a significant drop in the number of new patients on the therapy. There was an uptick in the number of PD and home hemodialysis patients in 2016 (see Figures 2, 3), with PD showing a rebound. Hopefully, that growth will be sustainable in the next few years and, with new PD technology on the horizon from NxStage Medical and Fresenius Medical Care, may help lead to a surge in the home dialysis therapy market.