September 25, 2018
15 min read
Expanded HPV vaccination could significantly impact public health
We were unable to process your request. Please try again later. If you continue to have this issue please contact customerservice@slackinc.com.
The number of Americans eligible to receive the HPV vaccine could expand dramatically this fall.
The HPV 9-valent vaccine, recombinant (Gardasil 9, Merck) is indicated in individuals aged 9 to 26 years. However, earlier this year, Merck submitted a supplemental biologics license application that requests the vaccine's approval be expanded to include men and women aged 27 to 45 years. The FDA granted priority review to the application in June, and a decision on approval is expected soon.
"Exposure to HPV does not stop at age 26 years," Alain Luxembourg, MD, PhD, director of clinical research at Merck, told Infectious Disease News. "We now have a significant amount of epidemiological and real-world data that show adults older than age 26 years are exposed to HPV and are susceptible to infection. We have a population that is at risk and is not protected."
FDA spokesman Paul Richards said the agency cannot comment on the status of specific applications. However, experts told Infectious Disease News that several factors may contribute to the decision.
Extensive data support HPV vaccination as a cancer prevention strategy among adolescents, but far less research has been conducted in older populations. In addition, it remains unclear whether HPV vaccination uptake among older Americans would exceed the alarmingly low rate among youth.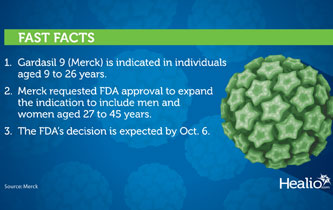 The additional costs of expanded vaccination — balanced with the potential savings of disease prevention — also will be a consideration.
"When I give talks, one of the first questions I receive is: 'Why is it that [those aged] older than 26 years are not eligible to receive the vaccine?' My response is always the same: The FDA has not approved its use in older adults because early testing efforts were conducted in younger populations," Electra D. Paskett, PhD, Marion N. Rowley professor of cancer research in the division of cancer prevention and control at The Ohio State University's College of Medicine, told Infectious Disease News. "The caution here is that we have to not only look at the efficacy of the vaccine for older [adults], but also the cost-effectiveness of vaccinating the older population."
Infectious Disease News spoke with infectious disease specialists and oncologists about the rationale for expanding the vaccine-eligible population, the implications of doing so for public health and health care costs and the likelihood that the FDA will approve the application.
PAGE BREAK
HPV burden
In the United States, approximately one in five adults aged 18 to 59 years has a type of HPV that puts them at risk for specific cancers, according to the CDC.
Studies suggest approximately 50% of those infected will clear the virus within 8 months. However, HPV causes approximately 41,000 cancers per year among individuals whose immune systems could not fight off the infection.
The most common HPV-associated malignancies are cervical cancer among women and oropharyngeal cancers among men.
The virus is responsible for an estimated 90% of cervical and anal cancers, approximately 70% of vulvar and vaginal cancers and more than 60% of penile cancers.
Other studies suggest up to 70% of oropharyngeal cancers may be associated with HPV.
"A lot of the push for the HPV vaccine is not only to provide protection against cervical cancer, but also because the incidence of HPV-associated oral cancers is increasing rather dramatically — particularly among men," Howard H. Bailey, MD, director of University of Wisconsin Carbone Cancer Center and professor of medicine at University of Wisconsin School of Medicine and Public Health, told Infectious Disease News. "Current data show that the number of men diagnosed with oropharyngeal cancer already exceeds the number of women diagnosed with cervical cancer, and this increase in male oropharyngeal cancers is largely driven by a rapid rise in HPV-caused oral cancers in men."
Experts anticipate reductions in these cancers over time due to HPV vaccination.
"[The HPV vaccine] reduces a variety of HPV-related precancers and cancers," Ernest Hawk, MD, MPH, vice president and division head for cancer prevention and population sciences at The University of Texas MD Anderson Cancer Center, told Infectious Disease News. "The vaccines could potentially help us to prevent cancers for which there is no currently available screening. This is probably one of the most important aspects of the vaccine — the potential to address a broader range of HPV strains than what we screen for — and the impact might be greatest for those diseases."
The FDA licensed the first HPV vaccine — the HPV quadrivalent (types 6, 11, 16 and 18) vaccine, recombinant (Gardasil, Merck) — in 2006. Two others have been approved since then.
Gardasil 9 — which received FDA approval in December 2014 — has been the only vaccine distributed in the U.S. since late 2016. It is indicated for males and females aged 9 to 26 years for the prevention of several cancer types, precancerous or dysplastic lesions, and genital warts.
PAGE BREAK
Efforts to increase vaccination uptake have almost exclusively targeted adolescents.
The CDC recommends routine vaccination — administered in two shots 6 to 12 months apart — for all boys and girls aged 11 or 12 years old. The goal is to protect them before they are exposed to the virus.
Catch-up vaccination — offered to those who did not start or complete the recommended vaccination series when they were younger — is permitted until age 21 years for men, and until age 26 years for women, immunocompromised men, transgender individuals and men who have sex with men.
The 9-valent vaccine provides protection against nine HPV strains: 6, 11, 16, 18, 31, 33, 45, 52 and 58.
Strains 6 and 11 cause approximately 90% of genital warts and recurrent respiratory papillomatosis cases. Strains 16 and 18 cause the majority of HPV-associated cancers, and the five remaining strains account for 10% of all HPV-associated cancers, according to CDC.
Data also suggest cross-protection with 4-valent and bivalent vaccination.
"Even infections from HPV types not included in the vaccine are diminished among those who are vaccinated," Bailey said.
HPV vaccination has been shown to be most effective for younger individuals.
"The HPV vaccine is a prophylactic vaccine, so it works best before exposure to any strain," Sandra Adamson Fryhofer, MD, MACP, FRCP, adjunct associate professor of medicine at Emory University School of Medicine, told Infectious Disease News.
Consequently, most data to support the vaccine's cancer-protective capabilities are derived from teenagers. However, there are some data from men and women in their early 20s, and data from older men and women "are evolving," Bailey said.
"More and more adults are asking to be vaccinated with the HPV vaccine and — finally — there are a lot of data being collected, both from government and industry sources, on vaccinating men and women older than age 26 years," Bailey said.
Although immunoreactivity is higher when a person is younger, immuno-reactivity remains adequate among adults, he said.
"All the data strongly support that adults have more than enough immunoreactivity to the vaccine," Bailey said. "The issue might be whether one or two doses will be enough. It clearly has been enough for adolescents, but there may need to be a full three-dose recommendation or maybe consideration of a booster shot for older adults."
'Safety is ... paramount'
Expanding the vaccine-eligible population is not a novel idea.
The European Medicines Agency approved HPV vaccination for males and females aged older than 9 years. In Canada and Australia, the vaccine is approved for use among women aged 9 to 45 years. Data from these countries have confirmed the safety of HPV vaccination for older individuals, according to experts.
PAGE BREAK
"Safety is always a paramount issue with all vaccines. However, I would say there are no safety concerns or potential downsides with the HPV vaccine," said Infectious Disease News Editorial Board member William Schaffner, MD, professor of preventive medicine at Vanderbilt University and medical director for the National Foundation for Infectious Diseases.
Hviid and colleagues used nationwide health care registers in Denmark and Sweden to assess incidence rate ratios (RR) of 45 preselected serious chronic diseases among women aged 18 to 44 years. The study included 3.1 million women followed for 16.3 million person-years. Eight percent of the cohort completed vaccination with the quadrivalent HPV vaccine.
Researchers initially observed significantly increased risks after vaccination for seven adverse events: celiac disease; Hashimoto thyroiditis; localized lupus erythematosus; Addison disease; pemphigus vulgaris; Raynaud disease; and other encephalitis, myelitis or encephalomyelitis. However, after investigators conducted self-controlled case series analyses, only incidence of celiac disease (RR = 1.56; 95% CI, 1.29-1.89) remained significantly higher among vaccinated women.
"Unmasking of conditions at vaccination visits is a plausible explanation for the increased risk associated with [the quadrivalent HPV vaccine] in this study because celiac disease is underdiagnosed in Scandinavian populations," Hviid and colleagues wrote. "Our study ... did not raise any safety issues of concern."
The CDC's Advisory Committee on Immunization Practices (ACIP) reviewed data at its June meeting that suggested the HPV vaccine is as safe for older adults as it is for teens, Schaffner said.
"There are no substantial safety issues other than pain at the injection site, which eventually goes away and is trivial in comparison with a diagnosis of head and neck cancer," he said.
Fryhofer agreed.
"The cancer prevention benefits far outweigh the known potential risks," she said.
Efficacy data
An HPV fact sheet on the CDC's website reads: "HPV vaccination is not currently recommended for women over age 26 years. Clinical trials showed that, overall, HPV vaccination offered women limited or no protection against HPV-related diseases. For women over age 26 years, the best way to prevent cervical cancer is to get routine cervical cancer screening, as recommended."
That opinion could change, according to Fryhofer, who has served on various panels and committees for the CDC and other organizations
"Recommendations are a fluid process," she said. "ACIP recommendations are evidence-based. As more evidence comes in, ACIP will review the data and make changes when applicable."
Data from studies of the quadrivalent vaccine supported licensure of the 9-valent vaccine for use among patients aged 27 to 45 years in Canada and Europe. Use of these results was relevant because the two vaccines are manufactured similarly and contain four of the same HPV types, Luxembourg said.
PAGE BREAK
"We look forward to FDA's review and consideration of these data," he said.
Giuliano and colleagues conducted a phase 2 trial to assess the immunogenicity of the quadrivalent HPV vaccine among 150 men aged 27 to 45 years. The results — published in 2015 in Vaccine — showed a robust immune response among adult men that was noninferior to that observed among younger men.
All study participants received an initial dose, followed by a second dose at month 2, and a final dose at month 6.
Investigators used a Luminex immunoassay (platform, ThermoFisher Scientific; immunoassay, Merck) to determine anti-HPV 6, 11, 16 and 18 immunoglobulin G levels.
All men seroconverted to each of the four HPV vaccine components. Researchers reported no difference in antibody response by sexual orientation or age group; however, men who started the trial seropositive for HPV 6 or 11 achieved significantly higher responses at month 7.
In addition, a European Medicines Agency-requested postmarketing study of the 9-valent vaccine is underway. The study is intended to demonstrate noninferior immune responses at 7 months after vaccination among women aged 27 to 45 years compared with those aged 16 to 26 years, specifically for the seven cancer-causing types in the vaccine. Results are expected early next year and will be provided to the FDA, Luxembourg said.
A randomized phase 3 study, however, suggested the quadrivalent vaccine lacked efficacy among older adults with HIV, a population for whom the rate of HPV infection traditionally is high. The double-blind study included 575 HIV-infected men and women aged 27 years or older who lived in the U.S. or Brazil. Wilkin and colleagues randomly assigned participants to receive the quadrivalent HPV vaccine or placebo at baseline, week 8 and week 24.
Results, published this year in Clinical Infectious Diseases, showed the vaccine did not effectively prevent new anal infections or improve anal high-grade squamous intraepithelial lesions.
Researchers reported a vaccine efficacy of 22% (95.1% CI, –31 to 53) for the prevention of persistent anal infection or single detection at first visit; 0% (95% CI, –44 to 31) for improving anal high-grade squamous intraepithelial lesions on biopsy; 88% (95.1% CI, 2-98) for the prevention of persistent oral HPV infection; and 32% (95.1% CI, –80 to 74) for 6-month persistent oral HPV infection or single detection at the final visit.
Results from a phase 3 trial conducted by Wilkin and colleagues showed that the quadrivalent vaccine was not effective in preventing new anal infections or improving high-grade squamous intraepithelial lesions in adults aged 27 years or older with HIV. Because this population often has a history of HPV, as well as a high prevalence of anal and oropharyngeal cancer caused by the virus, the researchers said their findings underscore the importance of vaccinating boys and girls before HPV exposure.
PAGE BREAK
"Other studies are underway or will be underway to examine the 9-valent HPV vaccine in the HIV population," Fryhofer said. "Currently, the recommendation remains that all patients — males and females through age 26 years — with immunocompromised conditions, including those with HIV, should be vaccinated."
Issues of cost
Expanded FDA approval of the 9-valent HPV vaccine would greatly expand the vaccine-eligible population. The impact on costs to the health care system should be considered in the context of its potential benefits, experts told Infectious Disease News.
The ACIP recommends a two-dose HPV vaccine schedule for those who start the vaccination series before their 15th birthday. A three-dose schedule is recommended for those who start the series when they are older, as well as those with cancer, HIV infection or other immunocompromising conditions.
Each dose of the 9-valent HPV vaccine costs approximately $205 in the private sector, according to CDC's Vaccines for Children Program price list. Single doses of several other vaccines on the CDC immunization schedule cost less, including those for hepatitis B ($24); diphtheria, tetanus and acellular pertussis (range, $24 to $51); measles, mumps and rubella ($71); and rotavirus (range, $83 to $117).
"In terms of the cost-effectiveness, in order to expand the eligible pool, costs of vaccination need to decrease," Paskett said. "A caveat to this is that, in the studies published in 2014, researchers used the quadrivalent vaccine, so we do have hope the 9-valent vaccine will be a better vaccine and more cost-effective."
Hawk framed the cost issue differently.
"Preventing disease is less costly than treating disease, especially when dealing with a complicated disease like cancer," Hawk told Infectious Disease News. "The treatment of advanced cancers related to HPV is extremely costly. The vaccine, by comparison, is relatively inexpensive.
"Looking at this from a national perspective, [the HPV vaccine] is a very good investment that is likely to save millions of dollars and, more importantly, millions of lives," Hawk added. "It is all a matter of perspective."
Bailey expressed a similar sentiment.
"There are far too many people dying of oral and cervical cancers," he said. "Vaccinating more people makes more sense than vaccinating [fewer] people. As physicians, we are supportive of any way that we can prevent a cancer that thousands of people die of each year. The benefits of saving lives certainly far outweigh the financial costs."
Other questions
Although most off-target HPV types are nononcogenic, there is the potential that the incidence of HPV types not targeted by the vaccine could increase.
PAGE BREAK
Data about HPV types not covered by the vaccine are important, and this area requires further study, Fryhofer said.
However, Schaffner said there is no evidence that this would happen.
"There are no data from any country suggesting there are replacement HPV types," Schaffner said. "A number of different countries — including Great Britain, Australia and Canada — have a much more comprehensive vaccination program for their adolescents than we have in the United States, and the data out of those countries are very comforting."
Vaccination uptake also must be a consideration. Despite mounting evidence of the HPV vaccine's effectiveness, HPV vaccination rates among adolescents in the U.S. remain remarkably low. The CDC estimates only 49.5% of girls and only 37.5% of boys aged 13 to 17 years completed the vaccination series in 2016.
Coordinated awareness campaigns have been launched to increase vaccination rates. In 2016, Bailey chaired an American Society of Clinical Oncology task force that issued a statement outlining strategies to increase HPV vaccination as a cancer prevention strategy.
The society endorsed education and awareness among health care professionals, policymakers, patients and the public; greater coverage of and access to routine vaccination, including the potential for school-based HPV vaccination programs; and additional research into effective ways to increase routine vaccine use.
"Oncologists have a professional obligation to help reduce the burden of cancer on patients, their families and our communities," Bailey said in a news release at the time. "We need to use our interactions with our patients, primary care colleagues and health care systems to raise awareness of HPV-related cancers and [the] critical role of vaccination in preventing them."
In June, the nation's 70 NCI-designated cancer centers issued their third joint statement calling for increased gender-neutral HPV vaccination and evidence-based screening in hopes of eliminating cancers caused by the virus. The cancer centers established a goal that more than 80% of boys and girls aged 13 to 15 years be vaccinated by 2020.
"We encourage all physicians to become educated regarding the vaccine's safety and effectiveness so they can serve as local advocates for HPV vaccination in their communities," Hawk told Infectious Disease News. "The opportunity to prevent cancer by simple and effective strategies of vaccination and screening should be of utmost priority."
As the FDA considers expanding the vaccine's approval, a logical question becomes: What can be done to ensure uptake rates among Americans aged 27 to 45 years would be high enough to support an expanded approval of the vaccine?
PAGE BREAK
If the FDA expands the HPV vaccine approval, "we must ensure that patients receive all recommended doses," Paskett said.
Schaffner described vaccination uptake as "a clear issue," but he pointed to the shingles vaccine as an example of why adults may be more likely than adolescents to complete the full HPV vaccination schedule.
"As with the shingles vaccine ... individuals aged 27 to 45 years who want the HPV vaccine will be highly motivated," Schaffner said. "They will request the vaccine, and most physicians will be pleased to give it to them. We have this built-in patient motivation with the HPV vaccine ... Patients will want to get subsequent doses because they wanted the first dose."
This "built-in motivation" could create a scenario in which demand exceeds supply, Fryhofer said.
"The one concern I do have is vaccine shortages ... Will [there] be enough vaccine to go around if the FDA recommendation goes through?" she asked. "This is a concern with any vaccine. If there is a shortage, knowing how to deal with this has not yet been worked out."
Merck is working to ensure there would be a sufficient vaccine supply to meet increased demand, Luxembourg said.
"If this indication is approved by the FDA, we believe we will have enough supply within our current forecasted U.S. allocation to meet anticipated demand," he said. "Work is also already underway to increase supply to meet the rise in global demand."
Antivaxxer sentiment related to vaccines for older Americans should not reach the level it has with adolescents, Schaffner said.
"Vaccine hesitancy is normally directed toward pediatric vaccination," Schaffner said. "The HPV vaccine is an anticancer vaccine that has an extraordinarily safe track record and is supported by the American Cancer Society and others. It is a safe and effective vaccine that most adults want."
Significant implications
Most of the experts with whom Infectious Disease News spoke expressed hope that the FDA would grant at least some type of expanded indication for the HPV vaccine.
"If the FDA does grant expanded licensure, the ACIP then will make its recommendations," Schaffner said. "I anticipate the ACIP will have a permissive recommendation and may add language emphasizing certain populations but, in any event, it will be a recommendation that provides a distinctive cancer prevention service to many patients who want to be vaccinated."
Clear guidance is necessary, Paskett said.
"The implication for practice — if the FDA does approve the expanded indication — is that we are all going to have to understand specifically who the vaccine can be given to," Paskett said. "For example, [will there be] guidelines about screening first to ensure patients are not already infected with high-risk HPV?"
Expanded approval of the vaccine would have a significant impact on public health in the U.S., according to Hawk.
"The HPV vaccine is perhaps the highest form of cancer prevention today," he said. "The implications of [expanded] approval on medical practice would be robust." – by Jennifer Southall
References:
ASCO. ASCO urges aggressive efforts to increase HPV vaccination and prevent cancer. Available at: www.asco.org/about-asco/press-center/news-releases/asco-urges-aggressive-efforts-increase-hpv-vaccination-and. Accessed on Aug. 13, 2018.
Association of Reproductive Health Professionals. Health matters fact sheet: Understanding HPV vaccines. Available at: www.arhp.org/publications-and-resources/patient-resources/fact-sheets/understanding-HPV-vaccine. Accessed on Aug. 13, 2018.
Bailey HH, et al. J Clin Oncol. 2016;doi:10.1200/JCO.2016.67.2014.
Castellsagué X, et al. Vaccine. 2015;doi:10.1016/j.vaccine.2015.06.088.
CDC. HPV-associated cancer statistics. Available at: www.cdc.gov/cancer/hpv/statistics/index.htm. Accessed on Aug. 13, 2018.
CDC. HPV vaccine information for young women. Available at: www.cdc.gov/std/hpv/stdfact-hpv-vaccine-young-women.htm. Accessed on Aug. 13, 2018.
CDC. HPV vaccine information for clinicians. Available at: www.cdc.gov/hpv/hcp/need-to-know.pdf. Accessed on Aug. 13, 2018.
CDC. CDC Vaccine Price List. Available at:www.cdc.gov/vaccines/programs/vfc/awardees/vaccine-management/price-list/index.html#f1. Accessed on Aug. 13, 2018.
Giuliano AR, et al. Vaccine. 2015;doi:10.1016/j.vaccine.2015.08.072.
Hviid A, et al. J Intern Med. 2018;doi:10.1111/joim.12694.
NCI. Human papillomavirus (HPV) vaccines. Available at: www.cancer.gov/about-cancer/causes-prevention/risk/infectious-agents/hpv-vaccine-fact-sheet. Accessed on Aug. 13, 2018.
Walker TY, et al. MMWR Morb Mortal Wkly Rep. 2017;doi:10.15585/mmwr.mm6633a2.
Wilkin TJ, et al. Clin Infect Dis. 2018;doi:10.1093/cid/ciy274.
For more information:
Howard Bailey, MD, can be reached at hhb@medicine.wisc.edu.
Sandra Adamson Fryhofer, MD, MACP, can be reached at sandra@drsandrafryhofer.com.
Ernest Hawk, MD, MPH, can be reached at ehawk@mdanderson.org.
Alain Luxembourg, MD, PhD, can be reached at alain_luxembourg@merck.com.
Electra D. Paskett, PhD, can be reached at electra.paskett@osumc.edu.
William Schaffner, MD, can be reached at william.schaffner@vanderbilt.edu.
Disclosures: Luxembourg reports employment with Merck. Bailey, Fryhofer, Hawk, Paskett and Schaffner report no relevant financial disclosures.