March 15, 2018
10 min read
ID physicians define new role in opioid crisis
We were unable to process your request. Please try again later. If you continue to have this issue please contact customerservice@slackinc.com.
The opioid epidemic in the United States has affected millions, exposing them to health risks that include a range of infectious diseases.
HHS estimates that in 2016, 11.5 million people in the U.S. misused prescription opioids. That year, 2.1 million did so for the first time, and the same number of people reported symptoms of an opioid use disorder (OUD).
According to the NIH, studies suggest that people who misuse prescription opioids commonly progress to injection drugs like heroin. Injection drugs, in turn, have fueled a national hepatitis C virus epidemic and continue to expose many to HIV.
Opioid abuse can also lead to endocarditis, an infection of the heart chambers and valves, and septic arthritis, an infection of the joints typically caused by bacteria that travel through the bloodstream, among other infectious diseases.
"We're seeing this increased burden of bacterial infectious sequelae — infectious endocarditis, skin and soft tissue infections like abscesses and osteomyelitis," Benjamin P. Linas, MD, an associate professor of medicine at the Boston University School of Medicine and an infectious diseases specialist at Boston Medical Center, told Infectious Disease News. "It is increasing across the country and is starting to fill up ID services. I think we need to start recognizing that part of our specialty is addressing opioid use disorder."
Experts like Linas say the ID physician's role in the opioid crisis must extend beyond merely treating infections and include treating patients' underlying addiction. Infectious Disease News spoke to several experts about that approach, which begins with an understanding of the common health threats associated with addiction.
Dangers of addiction
In recent years, the CDC has reported worrisome trends among people who use opioids and rates of HIV transmission. From 2002 to 2013, heroin use in the U.S. increased by more than 60%, according to the agency. In addition, one in 10 HIV diagnoses in the country are among people who inject drugs (PWID). Just one in four PWID obtained their syringes from sterile sources in 2015, the CDC said.
The agency also estimated that about 34,000 new cases of HCV occurred in 2015. Thirty states reported an increase in new HCV infections of more than 200% from 2010 to 2014, with the largest increases among young people in nonurban counties. The CDC says the epidemic is driven primarily by injection drug use.
PAGE BREAK
Besides HIV and HCV, infections associated with opioid use can vary.
Endocarditis has emerged as a frequent threat associated with injection drug use. In a study published in 2016, researchers reported that the proportion of hospitalizations in the U.S. related to injection drug use rose from 7% to 12.1% from 2000 to 2013. In that period, the proportion of injection-related endocarditis hospitalizations among patients aged 15 to 34 years rose from 27.1% to 42%, and hospitalizations among whites increased from 40.2% to 68.9%.
The effects of endocarditis can be devastating, Linas said. He and other ID specialists have become all too familiar with the disease, which can have an annual mortality rate of up to 40%.
"With endocarditis, everyone has seen this," he said. "Sometimes, people get better with antibiotics, and they're back out. And sometimes, it can take down young, healthy people with horrendous, horrendous complications, long hospital courses in ICUs, cardiothoracic surgery, even with the best antibiotic therapy. So, on the one hand, these things rely on standard treatments that are sort of the core of ID practice. But on the other hand, even with the best that we can offer, we can't guarantee a good outcome."
Dangerous complications of endocarditis include embolism. A systematic review and meta-analysis of 21 studies of patients with infective endocarditis showed that those with a vegetation size greater than 10 mm faced significantly greater odds of an embolic event (OR = 2.28; 95% CI, 1.71-3.05) and mortality (OR = 1.63; 95% CI, 1.13-2.35).
In a study published in the Annals of Internal Medicine, researchers found that those who use opioids have a 62% higher risk for invasive pneumococcal diseases, including meningitis, bacteremia and invasive pneumonia.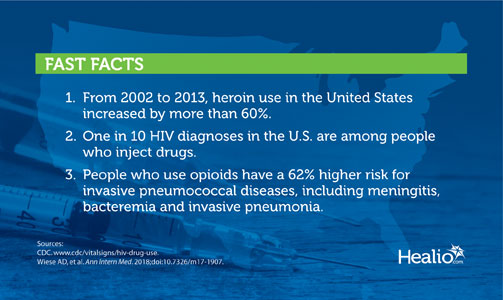 Skin abscesses caused by injection can lead to further complications, according to Karla Thornton, MD, MPH, a professor in the division of infectious diseases at the University of New Mexico (UNM).
"Unfortunately, abscesses can also lead to bloodstream infections," said Thornton, who is also an associate director of Project ECHO, an educational and practice guidance program at UNM that trains primary care providers to render specialty care services. "So, we see patients in the hospital who have bacteremia often from an organism on the skin, like Staphylococcus aureus ... Bloodstream infections can be treated with antibiotics but can be very serious, even fatal."
The burden of infectious diseases associated with the opioid epidemic is compounded by risky behavior that often comes with drug use. In a study published in January in MMWR, researchers surveyed 10,348 PWID. Of those without HIV, 27% shared syringes receptively, 67% reported having unprotected vaginal sex, 22% reported having unprotected anal sex and 45% had more than one opposite-sex partner.
PAGE BREAK
Mai Tuyet Pho, MD, MPH, an assistant professor of medicine at the University of Chicago, said transactional sex leads to higher STD burdens that can be tacked onto existing OUD-related illness.
"There's lots of transactional sex — sex for drugs or money to buy drugs — and then the sexual networks that the patients are in have a higher prevalence of chlamydia, gonorrhea or other STDs," Pho explained. "So, being on the alert for that when we see someone who comes in with endocarditis because of drug use, it's not unreasonable to offer STD screening for that patient."
Treatment and prevention
Treatment for infectious diseases like HIV and HCV has seen dramatic improvements over the years. Charles B. Holmes, MD, MPH, an associate professor of medicine and co-director of the Center for Global Health and Quality at Georgetown University Medical Center, said clinicians should seize the opportunity to treat PWID with those infections.
"We now treat people shortly after their diagnoses, the available medicines are convenient to take — generally one pill per day — and people living with HIV can live a full life," Holmes said.
He added that direct-acting antiviral medications have greatly improved outcomes for those infected with HCV.
"Treatment for hepatitis C has seen a revolution over the past several years, with the introduction in 2014 of ledipasvir-sofosbuvir [Harvoni, Gilead Sciences], a combination pill that, in many cases, put an end to longer term treatments that included frequent injections and many side effects," Holmes said. "There are now many effective medications and combinations available to treat hepatitis C, with high cure rates in as little as 2 months of treatment."
ID specialists can often see PWID return to hospitals or clinics with repeat infections due to continued injection, Thornton conceded, but that should not bar them from treatment. Thornton added that only about 5% of patients cured of HCV will be reinfected.
"This has to be viewed in a bigger context, in a harm-reduction context, in a transmission avoidance context, and in that of curing the patient," she insisted.
A study presented in 2017 at the International Symposium of Hepatitis Care in Substance Users showed that most PWID adhere to therapy and achieve HCV cure. The study included 150 PWID with HCV enrolled in opiate agonist therapy in the Bronx. Results showed that 96% of participants had no detectable HCV at the end of their treatment courses, and 94% achieved SVR after 12 weeks.
PAGE BREAK
Although treatments for bacterial infections associated with injection drug use are efficacious, they can be complicated by drug resistance, Linas said.
"There is always the specter in the background that there might be a resistant gram-negative organism in a person who uses injection drugs, and it does tend to make clinicians nervous," he said. "So, in that sense, it might be applying some pressure for broader regimens."
Easing the burden of addiction in the first place can help avoid complications, experts say. Ricky Bluthenthal, PhD, a professor of preventive medicine at the University of Southern California Keck School of Medicine, said ID specialists and other providers should intervene early to prevent opioid addiction and risky behavior. That includes preventing patients from "transitioning from oral ingestion to injection," he said.
In addition, more needs to be done to expand outreach and harm-reduction efforts to rural and suburban areas that were, until recently, largely untouched by opioid epidemic, he noted.
As the opioid epidemic exploded in the U.S., injection drug use was suddenly no longer just an urban problem. But rural and suburban communities did not have experience with harm-reduction programs.
"The opioid crisis has really taken advantage of that unequal implementation of harm-reduction strategies in the country," Bluthenthal said. "We do have evidence that interventions like needle exchange programs and safe consumption sites can be effective in preventing the spread of HIV, but we don't have great capacity in the system where we need it."
Bluthenthal said areas in which those programs were not needed 10 to 15 years ago — "places like Ohio, Kentucky and West Virginia" — are now scrambling to improve outreach efforts. He pointed out that communities newly affected by the opioid crisis made initial efforts to combat it, but some quickly abandoned them. In 2014 and 2015, Scott County in southern Indiana was struck by an unprecedented HIV outbreak associated with PWID sharing needles. In roughly a year, 181 HIV cases attributed to needle-sharing were diagnosed.
In March 2015, then-Indiana Governor Mike Pence authorized a renewable, 30-day needle exchange program in Scott County, and the outbreak was contained. Renewable needle exchange programs soon made their way to Lawrence and Madison counties, too, but both counties scrapped their programs in October 2017. In Lawrence County, officials said they feared needle exchanges would enable PWID and encourage more frequent drug use. According to Bluthenthal, shuttering needle exchange programs will lead to a resurgence in infections.
PAGE BREAK
"I think we can anticipate that there will be more of these outbreaks," he said.
To avoid those consequences, Bluthenthal said ID specialists must encourage government officials to adopt and maintain needle exchange programs.
Beyond infection
Although treating infections is an ID physician's primary responsibility, experts say that neglecting the other health issues arising from OUD would defeat the very purpose of therapy. ID specialists, although not alone in the management of these patients, should take part in addressing these important noninfectious conditions, they explain.
Pho highlighted an integrated program that empowers physicians to diagnose OUD themselves and trigger the start of recovery efforts while also treating any infections. The program at Beth Israel Deaconess Medical Center at Harvard University allows ID physicians to prescribe opiate dependence drugs like buprenorphine for medication-assisted therapy.
Under the federal Drug Addiction Treatment Act of 2000, physicians — including ID specialists — can apply for and acquire a waiver to administer drugs for opioid dependency. Applicants must complete an 8-hour training course to become qualified to administer buprenorphine. The program allows for more comprehensive care of people with OUD, Pho said.
"The rationale is to see a hospital patient with something like endocarditis," Pho said. "They'll need to be on intravenous antibiotics for 4 to 6 weeks, and the ID physician is their primary provider at least for that time. They also may be ready for treatment for their OUD and able to be initiated on buprenorphine while in the hospital."
The ID physician continues to manage the patient's outpatient antibiotics, Pho explained. After that course is completed, she said, the ID physician "hands over the patient's medications, treatment and OUD care to a community provider who is qualified to do that."
Pho also said telehealth is an effective approach to reach otherwise elusive patients with OUD. A lack of reliable transportation, lack of access to health care because of poverty, and residence in remote or rural areas are a just few barriers people with OUD can face, she said. But when clinicians or staff visit them, they can help diagnose infection and other morbidities associated with OUD. The method is used in prisons and among homeless people, Pho added.
Like Pho, Thornton stressed the importance of an integrated care model. She focused especially on HCV, the most prevalent infectious disease associated with the opioid crisis. Thornton said Project ECHO trains primary care and other providers, like addiction professionals, to treat HCV. That way, she said, providers of several stripes can treat both the infection and the addiction.
PAGE BREAK
Linas said addressing the underlying problem of addiction is paramount. In fact, he added, it is another form of prevention.
"In the same way that PrEP is a medical approach to HIV prevention, providing people with OUD treatment, and especially OUD medications, can prevent of all these infectious complications," Linas said. "In the same way that we have a huge agenda to expand the availability of ART and ensure that 90-90-90 goals are met, we need to be aggressive in expanding our use of medications for OUD."
Holmes agreed, saying that health care providers have a responsibility to help head off OUD. That includes avoiding unneeded opioid treatment altogether.
"Primary care physicians, nurses, surgeons and other specialists have important roles to play in combatting opioid addiction," Holmes said, "first by being responsible in the use of opioids for pain control, and then by ensuring that efforts are made to avoid or minimize their use where possible."
However, for those patients who succumb to addiction, Pho said ID specialists must adopt a fresh, multidisciplinary approach to treatment — one that transcends the diagnosis and treatment of infection.
"I want to push our colleagues a little bit to think beyond the antibiotics," Pho said. "I think it is very challenging. I'm not saying it's easy ... But it's not about a single provider. It's about being able to offer the full range of ancillary support the patients will need to enter into recovery." ­­– by Joe Green
References:
CDC. HIV and injection drug use. www.cdc.gov/vitalsigns/hiv-drug-use. Accessed February 13, 2018.
CDC. HIV infections and HIV-associated behaviors among persons who inject drugs — 20 cities, United States, 2015. https://www.cdc.gov/mmwr/preview/mmwrhtml/mm6410a3.htm. Accessed February 13, 2018.
CDC. New hepatitis C infections nearly tripled over five years. www.cdc.gov/nchhstp/newsroom/2017/Hepatitis-Surveillance-Press-Release.html. Accessed February 13, 2018.
CDC. Viral hepatitis and young persons who inject drugs. https://www.cdc.gov/hepatitis/featuredtopics/youngpwid.htm. Accessed February 13, 2018.
HHS. About the U.S. opioid epidemic. www.hhs.gov/opioids/about-the-epidemic/index.html. Accessed February 13, 2018.
Litwin AH, et al. The PREVAIL study: Intensive models of HCV care for people who inject drugs. Presented at: International Symposium on Hepatitis Care in Substance Users; Sept. 6-8, 2017, New York.
Mohananey D, et al. JAMA Intern Med. 2018;doi:10.1001/jamainternmed.2017.8653.
Peters PJ, et al. N Engl J Med. 2016;doi:10.1056/NEJMoa1515195.
Sypsa V, et al. J Infect Dis. 2017;doi:10.1093/infdis/jix100.
Wiese AD, et al. Ann Intern Med. 2018;doi:10.7326/m17-1907.
Wiese AD, et al. Arthritis Rheumatol. 2016;doi:10/1002/art.39462.
Wurcel AG, et al Open Forum Infect Dis. 2016;doi:10.1093/ofid/ofw157.
For more information:
Ricky Bluthenthal, PhD, can be reached at rbluthen@usc.edu.
Charles B. Holmes, MD, MPH, can be reached at charles.holmes@georgetown.edu.
Benjamin P. Linas, MD, can be reached at gnad@bu.edu.
Mai Tuyet Pho, MD, MPH, can be reached at mpho@bsd.uchicago.edu.
Karla Thornton, MD, MPH, can be reached at lfrank@salud.unm.edu.
Disclosures: Bluthenthal, Holmes, Linas, Pho and Thornton report no relevant financial disclosures.