January 22, 2018
11 min read
Physicians gauge readiness for next pandemic
We were unable to process your request. Please try again later. If you continue to have this issue please contact customerservice@slackinc.com.
Experts are warning that it is not a matter of if, but when, the next pandemic strikes.
Early in 2017, Anthony S. Fauci, MD, director of the National Institute of Allergy and Infectious Diseases, said there is "no doubt" that Donald J. Trump will be confronted with a surprise infectious disease outbreak during his presidency.
"We will definitely get surprised in the next few years," he said. "The history of the last 32 years that I have been the director of the NIAID will tell the [Trump] administration that there is no doubt they will be faced with the challenges their predecessors were faced with."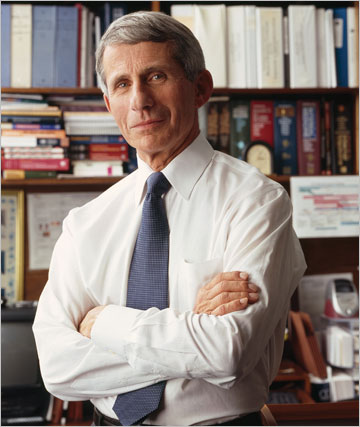 Source:NIAID
Although many countries have made progress in preparing for the next pandemic, significant work remains, experts said.
"The next pandemic could begin at any moment, emphasizing the importance of sustained investments in health system strengthening and public health capacity-building at the national and global level," James M. Hughes, MD, FIDSA, a professor of medicine and public health and co-director of the Emory Antibiotic Resistance Center at Emory University, said in an interview.
Infectious Disease News spoke with numerous experts about current pandemic threats, how prepared we are to meet them and the need for a permanent emergency fund to address the next outbreak.
Worldwide dangers
Although diseases with pandemic potential vary, experts are particularly focused on the pathogens that are transmitted from animals to humans.

James Hughes

"The majority of emerging infections in recent years have resulted from cross-species transmission — spillover of infectious agents from animals, especially wildlife, to people," said Hughes, who is also an Infectious Disease News Editorial Board member. "Such agents are of particular concern as future pandemic threats. WHO has identified viral hemorrhagic fevers — Ebola, Marburg, Crimean Congo hemorrhagic fever, Rift Valley fever — along with SARS, MERS, Nipah and Lassa viruses as severe outbreak threats."
First reported in 2012 in Saudi Arabia, MERS has worried clinicians because of its high mortality rate and the ease with which it crosses international borders. Overall, about 35% of people who have been infected with the MERS coronavirus have died, according to WHO. Although most MERS cases have been linked to human-to-human transmission in health care settings, evidence suggests that dromedary camels are a major reservoir host for the disease and an animal source of MERS infection in humans.
Another respiratory disease, SARS, has also proven particularly deadly. According to the CDC, in 2003, SARS affected nearly 8,100 people in 26 countries and killed 774 — a mortality rate of about 9.5%.
PAGE BREAK
Hughes said that "the evidence is pretty compelling" that SARS was bat-borne. It spread to civets, which are cat-like mammals native to Asia and Africa, and to other wild animals before making its way to live animal markets and, in turn, to humans. It was first known to have infected a human in 2002, in Guangdong province, southern China.
More recent developments, however, have brought influenza to the top of the list of pandemic threats.
"I am particularly concerned about threats posed by influenza viruses, especially H7N9," Hughes said.
Five epidemics of influenza A(H7N9) broke out in China between March 2010 and February 2017. In all, 1,258 human infections were reported to WHO. In the first four epidemics of H7N9, 88% of patients had pneumonia, 68% were admitted to ICUs and 41% died.
Lisa L. Maragakis, MD, MPH, an associate professor of infectious diseases at the Johns Hopkins University School of Medicine and senior director of infection prevention for Johns Hopkins Health System, warned that sustained human-to-human transmission of an influenza strain like H7N9 can pose a lethal threat.
"Once that happens, you have the recipe for a pandemic because you have no level of immunity in the human population," Maragakis told Infectious Disease News.
The 2009 influenza A(H1N1) pandemic showed how quickly an animal-borne virus can be transmitted between people. Soon after it was reported in the U.S., physicians discovered that it was closely related to both North American and Eurasian swine lineages. Although 18,510 fatalities were reported between April 2009 and August 2010, a study in The Lancet Infectious Diseases suggests that the number of deaths associated with H1N1 was much higher during the pandemic — with 201,200 respiratory deaths and 83,300 cardiovascular deaths.
Hughes emphasized that the threat of cross-species transmission will require a "transdisciplinary, One Health approach involving collaboration among the human, veterinary and environmental health communities."
Bioterrorism, although perhaps not as much of a threat as influenza, represents yet another serious danger to human health, Maragakis said.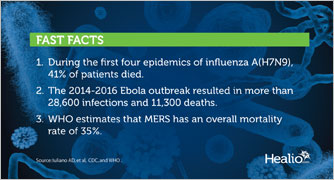 "There is a handful of pathogens that can be weaponized, some of which have human-to-human transmission, like smallpox, that are of great concern," she said.
A smallpox outbreak could be especially devastating considering routine vaccination against the disease ended in the U.S. in 1972 after it had been eradicated nationally. WHO announced in 1980 that the disease had been eradicated worldwide.
In December 2017, SIGA Technologies Inc. submitted a new drug application to the FDA for oral TPOXX, an investigational drug for smallpox and other orthopoxvirus infections. Although the drug has not yet been approved, Dennis Hruby, PhD, chief scientific officer of SIGA Technologies, told Infectious Disease News that 2 million courses have been delivered to the Strategic National Stockpile through a contract with the Biomedical Advanced Research and Development Authority.
PAGE BREAK
Maragakis and others noted that the speed and ease of international transportation and commerce can help facilitate rapid disease transmission.
"We know that travel is very rapid and easy, and we have mathematical models that can show us how diseases can be transmitted," she said. "We also have real-life experience from recent infectious disease outbreaks, including the SARS epidemic that started in Asia, when we saw it spread to other areas around the world."
According to a 2016 report published by the U.S. Commission on a Global Health Risk Framework for the Future (GHRF) — an independent commission convened by the National Academy of Medicine to explore ways to improve responses to disease emergencies — "few events are capable of equal damage to human lives and livelihoods" as infectious disease outbreaks.

Lisa L. Maragakis

"Yet the global community spends relatively little to protect populations from the risks of pandemics," the GHRF report said. "Compared with other high-profile threats to human and economic security — such as war, terrorism, nuclear disasters and financial crises — we are underinvested and underprepared. This is the neglected dimension of global security."
Chinks in the armor
Massive disease outbreaks have done more than just alert health officials to a potential global health threat. They have revealed weaknesses in countries' capacity to effectively respond before it is too late.
The 2014-2016 Ebola outbreak resulted in more than 28,600 infections and 11,300 deaths, mostly in Guinea, Liberia and Sierra Leone. A handful of cases were reported in the United States and Europe.
WHO's effort to contain the outbreak, although eventually successful, was roundly criticized as being too slow. Previous Ebola outbreaks have resulted in hundreds of cases at most and were isolated in rural areas in Africa. Critics said WHO's languid response and a lack of preparedness in West Africa resulted in the largest Ebola outbreak in history. Recognizing the need for reform, the WHO executive board in January 2015 resolved to overhaul its system for responding to global outbreaks.
Tikki Pangestu, PhD, a visiting professor at the National University of Singapore's Lee Kuan Yew School of Public Policy, underscored the disparities between high-income and developing countries in their ability to respond to outbreaks effectively.
"High-income countries have the capacity to detect outbreaks and respond quickly," Pangestu told Infectious Disease News. "Low- and middle-income countries lack these capacities, have fragile health systems and are at greater risk."
The lack of resources is widespread. According to WHO, more than 70% of the world in 2014 was noncompliant with the International Health Regulations (IHR). The IHR, a pact affecting 196 countries, is meant to help prevent and respond to health crises that can spread internationally.
PAGE BREAK
However, higher income countries face shortcomings of their own, including the U.S.
"Some major ongoing gaps are insufficient support for research and development of new medicines, vaccines and medical equipment to keep pace with modern threats," Stephen C. Redd, MD, director of the CDC's Office of Public Health Preparedness and Response, said in an interview.
Redd also warned about "gaps in the ability of the health care system to care for a mass influx of patients during a major outbreak or attack and cuts to the public health workforce across states."
Timothy F. Jones, MD, an epidemiologist with the Tennessee Department of Health and an Infectious Disease News Editorial Board member, said federal funds to his state from the Public Health Emergency Preparedness Program and Hospital Preparedness Program have been cut by 40% and more than 50%, respectively, over the past 10 years. He added that the state has received what he called "temporary bursts of funding" when outbreaks of Zika, Ebola and other diseases struck, but those increases rarely lasted.
"Because of that, it is impossible to build sustainable infrastructure with these limited, acute emergency funds," Jones said. "Our vector-borne disease program, for example, was established and fairly strong following the introduction of West Nile virus but subsequently and gradually waned and was down to extremely limited staff on a shoestring budget."
Jones said these cuts left Tennessee with very little support when Zika virus emerged in the Americas. Federal help came again, but it was "so slow that it wasn't until very late in the outbreak that we really had adequate capacity," he said.
Global awareness
Despite gaps in funding and other setbacks, several experts said the U.S. and other countries have made notable progress in preparing for the next pandemic.
"I would say we are much more prepared now than we have been in the past, and that's largely because there's a greater awareness — a level of global awareness — of the threats that these infectious diseases can pose to all of us and of how rapidly they can spread around the globe," Maragakis said.
Hughes pointed to several recent efforts that have bolstered the world's readiness to respond to health emergencies, including initiatives by the Coalition for Epidemic Preparedness Innovations (CEPI), a newly formed international group of experts who are working to develop vaccines for various diseases.
"CEPI has focused its initial vaccine countermeasure development efforts on Lassa fever, MERS and Nipah viruses," he said.
PAGE BREAK
Hughes also said countries have made progress complying with the IHR.
Additionally, Hughes said the Global Health Security Agenda — a global partnership of more than 60 countries and international and nongovernmental organizations intended to strengthen global health security — along with the recent Ebola and Zika virus outbreaks, "have helped stimulate global efforts to strengthen national and global capacity to prevent, detect and respond to global microbial threats, but much work needs to be done."
Another example of preparedness is the CDC's Global Disease Detection Operations Center (GDD Ops), headquartered in Atlanta, which monitors 30 to 40 reported public health events each day.
"This allows us to detect and support investigations of outbreaks at the earliest stages, often before the cause is determined," Rebecca Martin, PhD, director of the CDC Center for Global Health, told Infectious Disease News. "Since 2007, GDD Ops has monitored and reported on over 1,300 unique outbreaks of more than 140 diseases occurring in over 150 different countries."
In the event of an outbreak, the CDC can deploy its Global Rapid Response Team (Global RRT), which comprises approximately 400 CDC staff. That allows more than 50 staff members to surge at a moment's notice to respond to a public health emergency, Martin said. Since 2015, Global RRT has responded to more than 400 public health emergencies, including cholera, yellow fever, Ebola, measles and polio, and spent more than 15,000 person/days in the field.
Another asset, the CDC's Epidemic Intelligence Service, took part in 153 infectious disease investigations in 2016, including the Zika virus outbreak that affected the U.S. and Latin America.
On the other side of the Atlantic, Paul Cosford, CB, medical director for Public Health England (PHE), said the United Kingdom Public Health Rapid Support Team, or UK-PHRST, can be deployed "anywhere in the world within 48 hours to assist with an emergency response."
"The team has recently been deployed to Sierra Leone to assist in minimizing the spread of disease following tragic landslides, and two members have been deployed to Madagascar to help control the outbreak of pneumonic plague," Cosford said.
A permanent emergency fund
Although current efforts to prepare for infectious disease threats are encouraging, experts maintain that more progress is imperative. That includes a reliable source of funding.
In February 2016, President Barack Obama requested $1.8 billion from Congress for domestic and international emergency funding to combat Zika virus. While waiting for Congress to approve the funding, health officials diverted millions of dollars meant for research and other purposes to pay for the Zika response.
PAGE BREAK
"Only at the end of September 2016 did we finally get the money that the president asked for, and the money we had cannibalized was never reconstituted, so we were never able to give the money back that we had taken from other accounts," Fauci told Infectious Disease News. "It's really unconscionable that that happens."
Fauci said that a permanent emergency fund in the U.S. could pre-empt an inevitable scramble for money in the event of a pandemic.
"We felt that a fund should be put in a flexible place where the health agencies that are the primary responders could use it," he said. "In my mind, it would go to HHS, which would have the capability to use that money wherever necessary and distribute it to its agencies, which include the CDC, NIH and FDA."
Hughes agreed that a U.S. emergency fund is critically important.
"An emergency preparedness fund in the U.S. is long overdue," he remarked. "There are numerous examples of the impact of delays in recognition of and response to emerging infection outbreaks leading to regional or global spread. Advocacy is critically important in making the case for the need for such a fund, the appropriate size of which is worthy of discussion and debate."
Sufficient funding, along with planning and response training on all levels, can help officials get ahead of pandemics, Maragakis said.
"It's really hard to start from zero, not just in dollars, but zero preparedness, and respond to an event," she said. "It just takes such a tremendous amount of training and even inventing the protocols, to keep everyone safe. So, it's much wiser to develop all of that now before we're faced with it — to train and be prepared." – by Joe Green
For more information:
Paul Cosford, CB, can be reached at Public Health England, Wellington House, 133-155 Waterloo Rd. London, UK SE1 8UG; email: Naomi.Ramage@phe.gov.uk.
Anthony S. Fauci, MD, can be reached at the National Institute of Allergy and Infectious Diseases, 31 Center Dr. Bethesda, MD 20892; email: afauci@niaid.nih.gov.
James M. Hughes, MD, FIDSA, can be reached at Emory University, 201 Dowman Dr., Atlanta, GA 30322; email: jmhughe@emory.edu.
Timothy F. Jones, MD, can be reached at the Tennessee Department of Health, 710 James Robertson Pkwy., Nashville, TN 37243; email: tim.f.jones@tn.gov.
Lisa L. Maragakis, MD, MPH, can be reached at the Johns Hopkins University School of Medicine, 733 North Broadway Baltimore, MD 21205; email: kpolyni1@jhmi.edu.
Rebecca Martin, PhD, can be reached at the CDC, 1600 Clifton Rd NE, Atlanta, GA 30333; email: isc4@cdc.gov.
Tikki Pangestu, PhD, can be reached at the National University of Singapore, 469C Bukit Timah Rd., Singapore 259772; email: spptep@nus.edu.sg.
Stephen C. Redd, MD, can be reached at the CDC, 1600 Clifton Rd NE, Atlanta, GA 30333; email: isc4@cdc.gov.
Disclosures: Hughes reports that he receives a consulting fee from the PREDICT 2 Project, which is led by the University of California, Davis, and supported by USAID. Cosford, Fauci, Jones, Maragakis, Martin, Pangestu and Redd report no relevant financial disclosures.