December 19, 2017
2 min read
Welcome to the new world order: A competitive HCV drug marketplace
We were unable to process your request. Please try again later. If you continue to have this issue please contact customerservice@slackinc.com.
We are witnessing history. The explosion of new drugs into the hepatitis C marketplace has been both breathtaking and transformative. But, in HCV, we have peaked. Everything that happened in HCV happened faster and more intensively than HIV but it follows the same storyline, with one exception: Drug pricing matters in HCV.
Like HIV, HCV started in an era of relative despair when cures were uncommon and misery abounded. From there, we had a revolution. New drugs emerged with "shock and awe" that was reminiscent of military adventures. There was incredible excitement with the notion of 95% and higher cure rates.
Unfortunately, the shock and awe of the scientific breakthroughs were matched equally by the shock and awe of the sticker price. The first breakthrough drug manufacturer set the price as it saw fit. The pricing was numbing. How were we going to pay for this? And, more importantly, would competition ever drive the prices to a more reasonable level in the United States?
As expected, the "Me too" drugs came along. With the release of the second all-oral regimen, the hope was that the competition in the marketplace would lead to lower pricing, but it did not. Despite the relative limitations of Viekira Pak (ombitasvir/paritaprevir/ritonavir with dasabuvir) — including extra pill burdens and complicated dosing patterns for different genotypes — AbbVie decided to price their product roughly the same as Gilead Science's Harvoni (ledipasvir/sofosbuvir). It did not go well for AbbVie.
Then came the "Me three" regimens, sold at a lower price. The market began to evolve but it was hard to determine the true cost of a drug regimen owing to complexity of "rebates" and discounts off the listed price.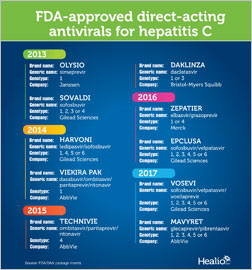 Enter Mavyret (glecaprevir/pibrentasvir), and it appears that AbbVie has learned a lesson about the role of drug pricing as a discriminator in a competitive marketplace. Their new pan-genotypic, once daily, 8- to 12-week regimen was priced less than two-thirds of the initial pricing of Harvoni, just a few years earlier.
The question is: Have we seen this before in which companies use price as a market differentiator? In my experience, this has not happened among breakthrough medications in infectious diseases or gastroenterology and hepatology. In the world of AIDS, new medications come out consistently on an annual basis, but pricing remains the same. Market differentiators have always been single-tablet regimen vs. tolerability vs. use of a booster or not. The companies focused on bone and renal and cardiovascular complications of therapy. But price, to date, has not entered into the equation.
The HCV world is experiencing something, at least from my perspective, that is brand new. Price has become a market differentiator. The question remains for all of us: Will this be seen in other disease states over time? I hope so.
Editor's note: A version of this article appeared in HCV Next.
For more information:
Michael S. Saag, MD, is associate dean for global health at the University of Alabama at Birmingham School of Medicine, director of the UAB Center for AIDS Research and a professor of medicine in the division of infectious diseases.
Disclosure: Saag reports receiving research support and acting as a scientific advisor to Bristol-Myers Squibb, Gilead Sciences, Merck and ViiV Healthcare.