October 17, 2017
3 min read
The changing HCV treatment cascade
We were unable to process your request. Please try again later. If you continue to have this issue please contact customerservice@slackinc.com.
Management of hepatitis C virus infection has drastically changed over the past 20 years — and even more so in the past 10 years — as a direct result of the evolution of pharmacologic therapy. HCV was discovered in 1989, and nearly 10 years later, in 1997, interferon was FDA approved as the first HCV treatment option. Unfortunately, interferon use was limited by inadequate rates of SVR and side effects. Standard of care shifted after the introduction of pegylated interferon and ribavirin, which overcame some of the pitfalls of interferon.

Jocelyn Mason


Kimberly D. Boeser

In 2011, the first direct-acting antivirals (DAAs), Incivek (telaprevir, Vertex Pharms) and Victrelis (boceprevir, Merck), were approved, boasting improved SVR and tolerability. Both drugs have since been removed from the market. The landscape of HCV treatment changed again in 2014, with the all-oral combination breakthrough DAAs Harvoni (ledipasvir/sofosbuvir, Gilead Sciences) and Viekira Pak (ombitasvir, paritaprevir/ritonavir plus dasabuvir, AbbVie), which nearly eradicated HCV with SVR rates of more than 90%. Since 2014, an astonishing six new DAAs have been approved: Technivie (ombitasvir/paritaprevir/ritonavir, AbbVie); Daklinza (daclatasvir, Bristol-Myers Squibb); Zepatier (grazoprevir/elbasvir, Merck); Epclusa (sofosbuvir/velpatasvir, Gilead Sciences); Vosevi (sofosbuvir/velpatasvir/voxilaprevir, Gilead Sciences); and Mavyret (glecaprevir/pibrentasvir, AbbVie). DAA combination products are commonly composed of two or three compounds that inhibit nonstructural (NS) proteins that facilitate hepatitis C RNA replication, including NS3/4A, NS5A or NS5B. One way to keep up with the pace of new DAAs and mechanism of action includes familiarity with the nomenclature. The suffix of the DAAs indicates the gene target. Thus, paritaprevir targets NS3/4A, whereas ledipasvir targets NS5A and sofosbuvir targets NS5B.
From 2010 to 2015, HCV infections nearly tripled, and almost half of people with HCV are unaware of their infection. The CDC estimates that approximately 3.5 million people in the United States have chronic HCV, with nearly 34,000 new cases diagnosed each year. Historically, treatment was prioritized to patients with the greatest need because of limited infrastructure and resources to manage all individuals with HCV. With more clinical experience and rapid emergence of effective treatment options, the current American Association for the Study of Liver Diseases (AASLD) and the Infectious Diseases Society of America (IDSA) guidelines recommend treating all patients with chronic HCV, except those with short life expectancies who cannot be remediated by HCV treatment, liver transplant or other directed therapy. The goal of treatment remains the same in reducing mortality, end-stage liver disease and hepatocellular carcinoma, by achieving virological cure as evidenced by SVR.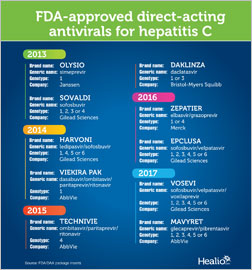 The shift in the HCV treatment paradigm is now heavily patient-centric and dependent on genotype, presence of cirrhosis, HIV coinfection, potential drug interactions, previous treatment failure, and renal impairment. In its simplest form, the backbone of HCV treatment requires a combination DAA with or without the addition of ribavirin and duration varies depending on the presence of cirrhosis. Those with HCV genotype 1, previously the most difficult to treat, now have the most treatment regimens. Options become limited beyond genotype 1 and even more so in the setting of decompensated cirrhosis. Daclatasvir, in combination with Sovaldi (sofosbuvir, Gilead Sciences), finds its niche in the treatment of genotype 3 and decompensated cirrhosis in combination with ribavirin. Grazoprevir/elbasvir and ombitasvir/paritaprevir/ritonavir with or without ribavirin are recommended for the treatment of genotype 4 without decompensated cirrhosis. The most exciting addition to the treatment arsenal is sofosbuvir/velpatasvir. It was FDA approved in June 2016 as the first DAA indicated for all HCV genotypes in patients with decompensated cirrhosis, taken in combination with ribavirin.
The understanding of HCV and the treatment cascade has come a long way since its discovery almost 30 years ago. The diagnosis and treatment of this disease will lead to billions of associated health care dollars; however, the current and future treatment strategies are promising cure. The rapid development of DAA combinations provides simplified regimens, shorter durations, improved efficacy and greater tolerability, unlike the previous interferon and ribavirin cornerstone regimens. Although the IDSA/AASLD guidelines provide the map to managing HCV, they do not identify the ideal interferon-free regimen to begin with, nor have they given a clear path to treating genotype 3 and those with decompensated cirrhosis. This ever-changing field will require collaboration among health care providers, including those specializing in infectious diseases, hepatology and gastroenterology, as well as pharmacists, to optimize treatment strategies. As the landscape of HCV continues to update with new literature and new medications, this subspecialty continues to be dynamic.
References:
AASLD/IDSA/IAS-USA. Recommendations for testing, managing and treating hepatitis C. Available at: www.hcvguidelines.org. Accessed June 20, 2017.
CDC. Surveillance for Viral Hepatitis – United States, 2015. Available at: www.cdc.gov/hepatitis/statistics/2015surveillance. Accessed June 20, 2017.
CenterWatch. Hepatitis C; Chronic Clinical Trials. Available at: https://www.centerwatch.com/clinical-trials/listings/condition/670/hepatitis-c-chronic. Accessed June 20, 2017.
Daklinza [package insert]. Princeton, NJ: Bristol-Myers Squibb Company; 2016.
Epclusa [package insert]. Foster City, CA: Gilead Sciences Inc; 2016.
Harvoni [package insert]. Foster City, CA: Gilead Sciences Inc; 2016.
Technivie [package insert]. North Chicago, IL: AbbVie Inc; 2015.
Viekira Pak [package insert]. North Chicago, IL: AbbVie Inc; 2015.
Zepatier [package insert]. Whitehouse Station, NJ: Merck Sharp & Dohme Corp; 2016.
For more information:
Kimberly D. Boeser, PharmD, MPH, BCPS, AQ-ID, is an infectious diseases clinical pharmacist and antimicrobial stewardship coordinator at the University of Minnesota Medical Center-MHealth. She can be reached at kvarejc1@fairview.org.
Jocelyn Mason, PharmD, is a PGY2 infectious diseases pharmacy resident at University of Minnesota Medical Center-MHealth.
Disclosures: Boeser and Mason report no relevant financial disclosures.