August 18, 2017
3 min read
Deadly anthrax outbreak in Zambia caused by hippo meat
We were unable to process your request. Please try again later. If you continue to have this issue please contact customerservice@slackinc.com.
A deadly anthrax outbreak in Zambia was caused by contact with meat from hippopotamuses that had died of the bacterial illness, according to researchers in a study that highlighted the issue of chronic food insecurity as a cause of zoonotic infections.
Between August and September 2011, more than 500 people were infected and five died from anthrax in the district of Chama in northeastern Zambia. According to the researchers, the outbreak occurred during the same period that 85 hippos died of suspected anthrax in a game management area along the South Luangwa River. Most of the human cases were cured with oral ciprofloxacin.
An investigation showed that carrying, skinning and butchering dead hippos for meals was specifically associated with human infection — a finding consistent with other anthrax outbreaks associated with contaminated meats. Food insecurity was named as the driving force behind the outbreak.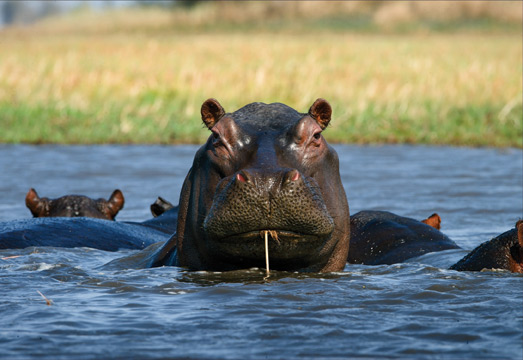 Credit: Shutterstock.com
Herbivores like hippos are thought to be infected by Bacillus anthracis spores that they ingest from soil, water or vegetation, according to the report. They can dig up and activate dormant spores while foraging deep into riverbeds for food and water during the dry season.
Melissa A Marx, PhD, MPH, assistant professor of international health at the Johns Hopkins Bloomberg School of Public Health and an author on the study, told Infectious Disease News there have been recently documented anthrax outbreaks among wildlife in Italy, Russia, South Africa and Zimbabwe. Outbreaks among hippos have been reported in Uganda, Zimbabwe and South Africa, according to Marx and colleagues.
The area of Zambia where the 2011 outbreak occurred is a game management area, meaning the people who live there are not permitted to protect their crops from foraging animals or to hunt them, Marx and colleagues said. During the dry season, when food and water are scarce for both humans and animals, humans may turn to eating animals that they find dead.
According to Marx, anthrax outbreaks among humans are probably rare. An outbreak thought to be caused by the thawed carcass of a long-dead reindeer sickened dozens of people and killed one child in a remote area of Siberia last year, according to multiple media reports.
"When they occur, they are often in very remote, rural areas, so we are not sure whether they are actually rare or undocumented," Marx said. "Humans who handle contaminated meat and are infected by anthrax ... have a good chance of dying without proper treatment, so we would expect that if a massive outbreak like [the one in Zambia] went undetected and resulted in 500 or more deaths that someone would eventually notice," she said.
PAGE BREAK
Epidemiologists from the CDC were called in to help local health officials investigate the Zambia outbreak. They surveyed inhabitants of three villages with access to riverbeds where hippos died, including many farmers, and inspected three of the areas where most of the animals died.
Among 284 interviewees, 31 reported having been recently diagnosed with an anthrax infection, 137 had not been infected and 116 did not know. Most — 238 — said they ate hippo meat during the outbreak, and these participants were nine times more likely to report having had anthrax than those who did not eat hippo meat, according to Marx and colleagues. Carrying hippo meat and preparing it to be eaten were also significant risk factors, according to the findings.
Although 76% of the respondents said they would not eat meat from a dead hippo knowing that it could cause anthrax, the rest said they would, including some of the respondents who had been infected during the outbreak. According to Marx and colleagues, their reasons included matters of nutrition and hunger.
"Animal anthrax outbreaks are predictable and seasonal in Zambia — they happen during dry season," Marx said. "Authorities can pinpoint areas prone to outbreaks and remind people living there to avoid contact with animals that die of unknown causes."
Marx said these warnings would ideally come before it gets so dry that animals die.
"Preventing anthrax outbreaks among wildlife is difficult but we can prevent transmission to humans through education and timely identification of cases of anthrax in wildlife," Marx said. "This requires good collaboration between wildlife and public health authorities." – by Gerard Gallagher
Reference:
Lehman MW, et al. Emerg Infec Dis. 2017;doi:10.3201/eid2309.161597.
Disclosure: The researchers report no relevant financial disclosures.