Health IT resources are mandatory for effective antimicrobial stewardship programs
We were unable to process your request. Please try again later. If you continue to have this issue please contact customerservice@slackinc.com.
Approximately 700,000 people die every year from antibiotic-resistant infections, and this number is projected to surpass 10 million per year by 2050. This statistic is garnering the attention of hospital administrations — particularly in light of new requirements from The Joint Commission and a proposed rule by CMS, which heighten requirements for antimicrobial stewardship programs, or ASPs. Do not waste this window of opportunity by implementing standards to "check the box" to fulfill having an ASP. Seize the moment to put quality and patient safety first, to truly impact antimicrobial prescribing, optimize patient outcomes and decrease resistance.
We are no longer talking about whether but how we should do stewardship. Today, every acute care hospital has to do it. Simply asking clinicians to do a better job at prescribing antimicrobials has not and does not work. Unraveling years of overprescribing antimicrobials will require real behavior change. To guide and effect this change, I recently co-authored an article titled, "Eight Habits of Highly Effective ASPs to Meet the Joint Commission Standards," which was published in Clinical Infectious Diseases. This article provides guidance to help hospitals achieve the eight elements of performance set forth by The Joint Commission (Table).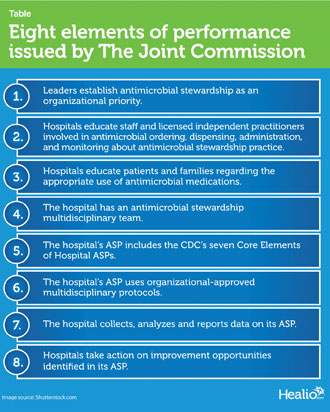 I understand that these habits are easier said than they are established. In fact, most hospitals today are not confident in their readiness for a Joint Commission audit for these eight standards. The only way hospitals of any size can truly get ready is with the appropriate support of information technology (IT). One person simply cannot be responsible for every antibiotic prescribed, which is why we cannot underestimate the critical role IT plays in stewardship.
I seldom attend a hospital meeting without the IT team present because they hold the key to long-term success through data collection and analysis. IT helps us to determine appropriate use of antimicrobials and to execute against stewardship priorities by analyzing and reporting data that reinforce the impact of the program.
For example, today's IT can provide actionable information within established workflows, which eliminates frustration around how long it takes for good insights to be shared. Whether it is a formulary drug of choice, refined empiric treatment or a de-escalation opportunity based on something coming out of the lab, these insights can now find their way to the bedside in a streamlined manner. Rapid diagnostics can now be acted on in a rapid way.
IT can also help prioritize patients in real time by providing actionable intelligence. This helps program leaders intervene to improve the way individual patients are managed. You can also drill down to look at individual prescribing habits, individual drugs and who may be driving those prescriptions within the hospital, and tie individual prescribers or units to success-first care plan goals. This is crucial for engagement and education.
And then there is collecting, analyzing and reporting data on the ASP. To me, this is really a labor-intensive, challenging part of stewardship but an absolute necessity. Fortunately, IT can make this job much more achievable and efficient. At the end of the day, if you do not have metrics to show you are making a difference, it is very hard to get continued administrative support. I think one of the downfalls of many stewardship programs is that people think they are doing a good job until the CEO asks: "What is our return on investment?" If you do not have outcomes metrics, answering that is very difficult.
But it truly comes down to the patients, and we are running out of antibiotic options for them. They could be our children, our parents, or our grandparents. This is what makes us so passionate. This is a big moment, but do not let it overwhelm you. Remember, a journey of 1,000 miles begins with a single step. I suggest taking it in the direction of your hospital's C-suite (including the offices of your CEO and CIO), armed and ready to make your case for their support.
For more information:
Debra A. Goff, PharmD, FCCP, is a clinical associate professor and infectious diseases specialist at The Ohio State University Wexner Medical Center.
Disclosure: Goff reports no relevant financial disclosures.