HCV infections in US nearly triple in 5 years
We were unable to process your request. Please try again later. If you continue to have this issue please contact customerservice@slackinc.com.
The number of hepatitis C virus infections reported yearly in the United States has tripled since 2010, reaching a 15-year high, according to the CDC.
Reports of HCV infection increased from 850 cases in 2010 to 2,436 in 2015. But cases are underreported, and the true number of HCV infections in 2015 was about 34,000, the CDC estimates.

Jonathan H. Mermin

"By testing, curing and preventing hepatitis C, we can protect generations of Americans from needless suffering and death," Jonathan H. Mermin, MD, director of the CDC's National Center for HIV/AIDS, Viral Hepatitis, STD and TB Prevention, said in a news release. "We must reach the hardest hit communities with a range of prevention and treatment services that can diagnose people with hepatitis C and link them to treatment."
Today, the CDC released two new reports on the virus in MMWR — including one that assessed state laws and policies regarding HCV care and clean needle programs for injection drug users, a population that is driving the epidemic.
Access to care for injection drug users
In their report, researchers determined how comprehensive state laws are regarding access to safe injection. In particular, they examined whether state laws allow needle exchange, exempt needles from the definition of drug paraphernalia in criminal law, decriminalize needle use in authorized exchange programs, avoid prosecution of people who tell arresting officers that they have needles, and allow the retail sale of needles without a prescription to people who inject drugs.
The researchers said 18 states had "no laws authorizing a syringe exchange program, decriminalizing possession and distribution of syringes and needles, or allowing the retail sale of syringes without a prescription." Three states — Maine, Nevada and Utah — had the most comprehensive laws, because their laws had all three of those provisions.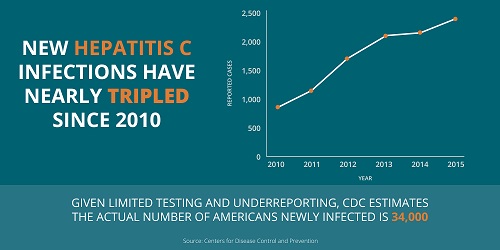 Source: CDC
The researchers also assessed whether state Medicaid policies were restrictive or permissive in access to HCV treatment for injection drug users, based on how long patients had to be sober to participate. Twenty-four states had restrictive policies requiring some length of sobriety before treatment was rendered. Sixteen states had permissive policies, in that they did not require a period of sobriety or required only screening and counseling as a prerequisite for care. Three states — Massachusetts, New Mexico and Washington — had the most permissive Medicaid policies.
HCV incidence nearly doubles in pregnant women
In the second report, researchers showed that, from 2009 to 2014, the incidence of HCV in pregnant women when they gave birth increased 89% — from 1.8 to 3.4 cases per 1,000 live births (P < .001).
The researchers also examined data among women in Tennessee alone. They found that, during the same 5-year period, the incidence of HCV in pregnant women in the state increased by 163% — from 3.8 to 10 per 1,000 live births (P < .001).
Also in Tennessee, white, rural women had a greater likelihood than others of having HCV at childbirth. Pregnant women living in rural areas were three times as likely to have HCV as those in large cities. Findings also indicated that non-Hispanic black women were almost 80% less likely to have the virus at childbirth compared with non-Hispanic white women, and pregnant women with hepatitis B had a much higher chance of having HCV (adjusted OR = 16.6).
Officials said data from both studies give an idea of where they should take the fight against HCV transmission and progression.

John Ward

"Stopping hepatitis C will eliminate an enormous disease and economic burden for all Americans," John Ward, MD, director of the CDC Division of Viral Hepatitis, said the release. "We have a cure for this disease and the tools to prevent new infections. Now we need a substantial, focused and concerted national effort to implement the National Viral Hepatitis Action Plan and make effective prevention tools and curative treatment available to Americans in need." – by Joe Green
References:
Campbell CA, et al. MMWR Morb Mortal Wkly Rep. 2017;66:465-469.
Patrick SW, et al. MMWR Morb Mortal Wkly Rep. 2017;66:470-473.
Disclosures: The researchers report no relevant financial disclosures.