Source/Disclosures
Published by:
April 10, 2017
5 min read
Ugandan outbreak of noninfectious elephantiasis linked to walking barefoot in volcanic soil
Source/Disclosures
Published by:
We were unable to process your request. Please try again later. If you continue to have this issue please contact customerservice@slackinc.com.
For years, people in a remote high-altitude area of Western Uganda suffered from bouts of itching, pain and swelling in their lower limbs and feet with no explanation and no available treatment. After an apparent sudden outbreak of potentially debilitating elephantiasis struck in the region in 2015, local health officials ruled out the usual cause — parasitic filarial worms — as an explanation. Eventually, investigators from the Ugandan Ministry of Health, WHO and the CDC solved both mysteries after interviewing dozens of patients from Kamwenge District and learning they were predominantly farmers who regularly worked barefoot.
The investigators linked the cases, some dating back to 1980, to repeated contact with irritant volcanic soil, which contains sharp mineral crystals that can penetrate the soles of feet and become embedded under the skin, causing repeated cycles of inflammation with symptoms such as painful swelling and ulcerating sores.
Instead of a sudden infectious outbreak, patients suffered from a noninfectious elephantiasis known as podoconiosis — a preventable chronic neglected tropical disease that was known to be endemic in several highland areas of Uganda, but had never been recognized in the western part of the country, Christine Kihembo, MD, senior field epidemiologist for the Ugandan Ministry of Health, told Infectious Disease News.
"The fact that this disease had never before been reported in this remote area implies that the residents have been silently suffering from this disease without help for more than 30 years," Kihembo and colleagues wrote in The American Journal of Tropical Medicine and Hygiene.
According to Kihembo, people can suffer from podoconiosis for decades before it is obvious that they are developing elephantiasis. This is what happened to the residents of Kamwenge as health workers in the region struggled to understand the disease and could not treat patients.
"The affected people actually would not report to health facilities since they would not get any help," Kihembo said.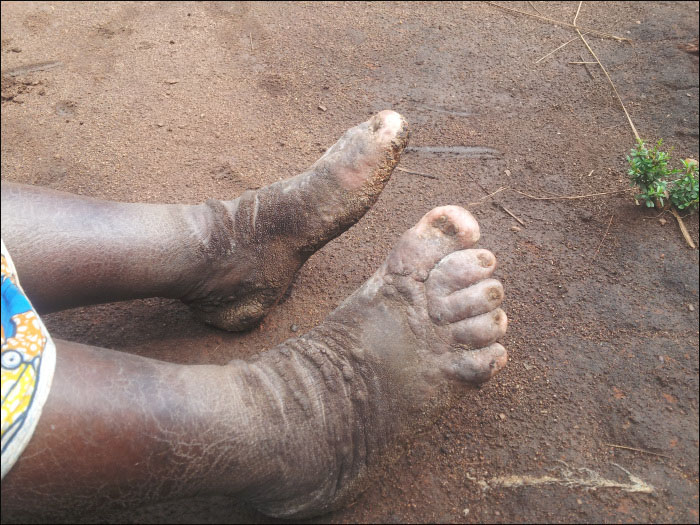 Source: Christine Kihembo
The most common form of elephantiasis is lymphatic filariasis, a parasitic disease caused by microscopic worms that are transmitted via the bite of an infected mosquito. According to the CDC, it affects over 120 million people in 73 countries. Globally, podoconiosis affects an estimated 4 million people, mostly in East and Central Africa, Central and South America and Southeast Asia, according to Kihembo and colleagues. There is a reported prevalence of 5% to 10% among populations who work barefoot in irritant soils in endemic areas such as Cameron, Ethiopia, India and Uganda.
Kihembo and colleagues investigated a cluster of cases that was reported in Kamwenge District in August 2015. Among 52 suspected patients, they identified 40 probable cases and matched them with 80 asymptomatic villagers in a case-control study to test their hypothesis that the cluster was caused by contact with soil.
Kihembo and colleagues conducted face-to-face interviews to compare shoe-wearing habits and foot hygiene practices and used blood tests to rule out filarial elephantiasis caused by a mosquito bite.
PAGE BREAK
According to the interviews, 93% of probable patients never wore shoes at work and 80% never wore them at home, compared with 68% of asymptomatic villagers who said they never wore shoes at work and 49% who never wore them at home. Further, Kihembo and colleagues found that 70% of probable patients washed their feet at the end of the day instead of immediately after work. In the control population, just 44% waited until the end of the day to wash their feet.
Women were at a higher risk than men, possibly because they are likelier to work in agriculture and spend more time in the fields, or because of differences in preventive behavior such as shoe ownership, Kihembo and colleagues said.
In Kamwenge, more than 90% of the population farms corn, but the area was not always used for this purpose. Kihembo and colleagues said it was covered in forest and grasslands until the 1960s, when a mass migration of cultivators from Southern Uganda arrived looking for farmland.
Kihembo said early symptoms of podoconiosis include itchy feet and recurrent episodes of burning sensations and edema of the foot or lower leg, particularly after periods of intense physical activity. As it progresses, it causes obstruction of the lymphatic vessels, then lymphedema and eventually elephantiasis. She said there is time during the early stages of the disease to halt its progression by wearing protective shoes and practicing basic foot hygiene.
"Unfortunately," Kihembo said, "many people living in endemic areas lack the money to buy shoes, nor do they have clean water to wash their feet frequently."
According to Kihembo, the investigation led to several initiatives in the area aimed at raising awareness about the disease and enabling health workers to offer care. One misperception that needed correcting was that some in the community attributed the cases of elephantiasis to stepping in the feces of elephants that live in the surrounding forests and occasionally pass through the local farms, Kihembo said.
"Our study demonstrated that, in the absence of any effective treatment to reverse the disease process, simple and inexpensive interventions such as basic foot hygiene and universal use of protective foot wear, can go a long way in preventing this debilitating disease," she said. "These inexpensive interventions are basics in most parts of the world but unfortunately are far from reach from those who need them the most. However, these can be implemented with public-private partnership, if there is enough social and political will." – by Gerard Gallagher
Disclosure: The researchers report receiving financial support from WHO and financial and technical support from the CDC.