July 11, 2017
16 min read
Deeper understanding of disease biology may expand sarcoma treatment options
We were unable to process your request. Please try again later. If you continue to have this issue please contact customerservice@slackinc.com.
Sarcomas are the most common tumors in young adults, and they account for 15% of all pediatric cancers.
Approximately 12,390 cases are expected to be diagnosed this year in the United States, according to the American Cancer Society. However, more than 50 clinically relevant subtypes exist, and incidence of each one is rare. For example, only 500 Americans are diagnosed with Ewing sarcoma each year.
Standard treatment for localized sarcomas consists of surgical resection with or without radiation therapy. Patients with metastatic disease receive various chemotherapeutic agents, but treatment remains noncurative.
"Each of these subtypes are different biologically and even respond differently to chemotherapy," Gary K. Schwartz, MD, chief of hematology and oncology at Columbia University and deputy director of the Herbert Irving Comprehensive Cancer Center, told HemOnc Today. "Therefore, it is a challenge trying to come up with a standard of care for all of sarcoma, understanding that there are discreet differences between different subtypes."
Despite the heterogeneity of sarcoma, researchers have begun to glean insights into which subtypes may benefit from targeted treatments or immunotherapies.
For example, in a study presented at this year's ASCO Annual Meeting, Gounder and colleagues retrospectively evaluated next-generation sequencing profiles of 107 patients with sarcoma.
Researchers identified more than 60,000 mutations, and 60 patients presented with at least one actionable alteration. Thirty-percent of patients enrolled in a matched clinical trial, suggesting that sequencing may aid in the diagnosis and selection of appropriate sarcoma therapies.
HemOnc Today spoke with sarcoma specialists and researchers about the urgent need for a deeper understanding of disease biology; the potential that immunotherapy and targeted therapies may offer for patients; and whether it is reasonable to expect curative treatments in the future.
A 'grab bag of diseases'
Sarcomas originate in cells found in bones or soft tissue.
Soft tissue sarcomas — often found in the arms and legs — are more common than bone sarcomas. Subtypes are distinguished by the type of soft tissue, as well as the type and shape of cells.
The most common soft tissue sarcomas are gastrointestinal stromal tumors (GISTs), accounting for as many as 4,000 cases each year; leiomyosarcoma, about 3,000 cases of which occur in the United States each year; and undifferentiated pleomorphic sarcoma and liposarcoma, diagnosed in approximately 2,500 Americans each year.
"Sarcomas have been dumped in a grab bag of diseases that are related through the fact that they come from soft tissue or fat, or connective tissue or bone, but the tumors themselves are often radically different," Andrew S. Kraft, MD, director of University of Arizona Cancer Center, told HemOnc Today. "How the tumors grow is also very variable depending on the type of sarcoma. As we learn more about the genetics of the diseases, we are able to separate them into specific types that may respond to separate therapies."
PAGE BREAK
Clinicians previously considered patients with advanced, unresectable GISTs to be highly resistant to cytotoxic chemotherapy. Without effective treatments, patients experienced dismal outcomes.
However, a proof-of-concept study showed a patient with a KIT exon 11 mutation responded favorably to treatment with imatinib, a BCR-ABL tyrosine kinase inhibitor. Subsequent studies confirmed the benefit of imatinib in this population.
A long-term study by Heinrich and colleagues, published this year in JAMA Oncology, showed 189 of 695 patients survived at least 8 years. Of 142 long-term survivors, 69 (48.6%) only received imatinib.
"Gastrointestinal stromal tumor was very responsive to imatinib because it had a specific set of mutations," Kraft said. "Since that time, the tumor has moved into the treatable category, but many sarcomas are not there yet."
Liposarcoma also responds poorly to chemotherapy.
"That tumor has overexpression of a gene called CDK4, and there are drugs that can block that gene and have a direct impact on cancer growth," Schwartz said. "This can indicate a clinical benefit to patients using CDK4–targeted therapies."
Myxoid liposarcoma — a form of liposarcoma — responds to chemotherapy and does not have CDK4 amplification.
"Even with certain subtypes of liposarcoma, understanding how best to develop a drug or develop a targeted agent when there is such general heterogeneity is still a challenge," Schwartz said. "There is a great complexity."
However, clinicians do have opportunities to customize patients' therapies.
"By understanding the biology, you can come up with some innovative approaches to help patients in terms of cancer care," Schwartz said.
Because sarcomas disproportionately affect children and young adults, researchers have considered whether they might have a genetic basis. This could further guide how subtypes are classified.
A study by Ballinger and colleagues — published last year in The Lancet Oncology — showed that more than half of patients with sarcoma harbored putatively pathogenic monogenic and polygenic mutations to known cancer genes. The findings suggested the presence of inherited cancer mutations may increase the risk for cancer within families.
Researchers identified 227 known or expected pathogenic variants in 217 individuals, all of which appeared associated with earlier age of cancer onset. Excess of functionally pathogenic variants occurred in TP53, ATM, ATR, BRCA2 and ERCC2.
This knowledge can lead to better refinement of therapeutic approaches for sarcoma subtypes.
"Historically, 20 years ago, drugs were often looked at in somewhat of a lump fashion, where one drug is tried in the treatment of sarcoma, but with so much heterogeneity the signal was missed," Suzanne George, MD, co-clinical director of the Center for Sarcoma and Bone Oncology at Dana-Farber Cancer Institute, told HemOnc Today. "The drug needs to be studied in a narrowed, focused disease group. We are much more aware of this now in both clinical study design and execution."
PAGE BREAK
Challenges for classification, treatment
Despite greater knowledge of these subtypes, determining which sarcoma subtype a patient has — and what potential treatment targets they harbor — remains a challenge.
Pathologists often rely upon expert oncologists to assist with diagnostic components of care because biomarkers are largely lacking, George said.
"The best way to subclassify sarcomas is to have a tissue biopsy reviewed by an expert sarcoma oncologist," George said. "This leads the framework around which we build our treatment plan."
Although use of liquid biopsies has identified targetable biomarkers in other malignancies, their potential in sarcomas is less clear.
"There are individuals looking hard in the blood at circulating tumor DNA as a biomarker but, for sarcoma, blood markers are hard to come by," Kraft said. "Various tumors have specific translocations that can help identify them, such as Ewing sarcoma and rhabdomyosarcoma. These can serve as clues for the biology of the cancer and hopefully be the key to unlocking some new therapies."
Chromosomal translocations — which fuse two genes into a novel, tumor-associated gene — are associated with one-third of sarcomas and could act as therapeutic targets. This genetic abnormality forms the basis of why imatinib works in GISTs and chronic myeloid leukemia.
In Ewing sarcoma, translocation leads to the expression of the oncogenic infusion protein EWS/FLI1 in 85% of cases. This protein is essential to sarcoma growth because it acts as an "oncogenic transcription factor," but it needs to bind to another protein.
In a 2008 study conducted by the Children's Oncology Group, imatinib failed to improve outcomes for 24 children with Ewing sarcoma, 10 with osteosarcoma, 10 with desmoplastic small round cell tumors and four with synovial sarcoma.
"These disappointing results illustrate an important point regarding targeted therapy: Just because a target is found in a tumor cell does not mean that inhibiting that target will be toxic to the cell," David M. Loeb, MD,PhD, associate professor of oncology and pediatrics at Johns Hopkins Medicine, wrote in a review about targeted treatments for sarcoma. "Inhibiting BCR/ABL in CML cells is toxic to the cells, and the result is an effective cancer treatment.
"In contrast, the results of this [Children's Oncology Group] study suggest that activity of the PDGF receptor or c-kit is not required for the survival and propagation of tumors; thus, inhibiting these enzymes had no clinical effect," Loeb wrote. "The lesson to be learned is that molecularly targeted therapies must target processes that are essential to the viability of the tumor, or they will be ineffective."
PAGE BREAK
The absence of biomarkers also creates challenges to find and treat recurrent disease, Kraft said.
"If we can identify patients who will get a recurrence, we can amplify therapeutic options when the disease burden is quite small instead of waiting until they have numerous metastases," Kraft said.
Recurrence of metastatic disease can be very aggressive and often too difficult to treat again, according to Brenda J. Weigel, MD, MSc, pediatric hematologist and oncologist at University of Minnesota Health and member of Masonic Cancer Center at University of Minnesota.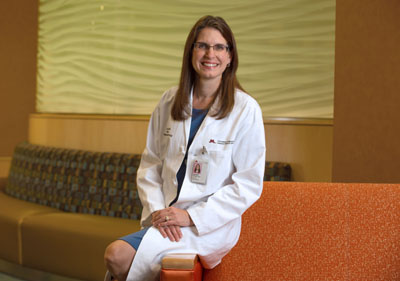 "After failing initial treatment, the tumor typically comes back within the first year after completing therapy and, at this point, it is even more difficult to obtain a cure," Weigel told HemOnc Today. "We need to be able to cure these patients on the first go-around."
Sarcoma specialists face the same fundamental challenges that arise in other oncology subspecialties, just more acutely, according to Seth M. Pollack, MD, researcher at Fred Hutchinson Cancer Research Center and attending physician at Seattle Cancer Care Alliance.
"Challenges are accentuated in sarcoma because they are rarer," Pollack said in an interview.
Pollack treats patients with soft tissue sarcoma with standard frontline doxorubicin. However, the option to combine doxorubicin with ifosfamide, presents its own challenges. The combination is an intense chemotherapy regimen that often requires hospitalization.
A phase 3 clinical trial conducted by Judson and colleagues — published in 2014 in The Lancet Oncology — showed the addition of ifosfamide to doxorubicin significantly extended PFS (7.4 months vs. 4.6 months; HR = 0.74; 95% CI 0.6-0.9). However, the combination increased grade 3 and grade 4 toxicities, including leucopenia (43% vs. 18%), neutropenia (42% vs. 37%), febrile neutropenia (46% vs. 13%), anemia (35% vs. 5%) and thrombocytopenia (33% vs. < 1%).
"The patient can get very sick [on this regimen]," Pollack said. "It is so toxic that my feeling is more people are moving away from using ifosfamide."
New treatment options
Sarcoma treatment has evolved over time.
PAGE BREAK
"Over the last decade we have gained a much greater understanding of some of the biology that is relevant for the different types of sarcomas, but it has also shown us that we know very little," Weigel said. "We have a better understanding of biology and biology subsets of different sarcomas, which allows better development of a specific target, even if it is only beneficial to a small subgroup of patients. For them, it is a game changer."
Last year, the FDA approved olaratumab (Lartruvo, Eli Lilly) — a recombinant human immunoglobulin G subclass 1 monoclonal antibody that binds to platelet-derived growth factor receptor (PDGFR) alpha — for use in combination with doxorubicin for adults with soft tissue sarcoma.
FDA based the approval on results from a phase 2 clinical trial by William D. Tap, MD, chief of the sarcoma medical oncology service at Memorial Sloan Kettering Cancer Center, and colleagues. Results showed the addition of olaratumab to doxorubicin conferred an 11.8-month improvement in OS (26.5 months vs. 14.7 months; stratified HR = 0.46; 95% CI, 0.3-0.71).
"This study was the first to show a drug with a survival benefit in the advanced-disease setting," Margaret von Mehren, MD, chief of the division of sarcoma medical oncology at Fox Chase Cancer Center, told HemOnc Today. "This is an exciting advance. If the phase 3 study confirms what was seen in the phase 2 setting, this will probably become the standard of care for most situations."
Schwartz echoed Mehren's sentiments, calling the data "quite exceptional."
"The drug appears better than doxorubicin and, for the first time in maybe half a century, we have a drug for patients with sarcoma that significantly prolongs survival above and beyond doxorubicin by itself," Schwartz said.
A phase 3 study is evaluating the combination in a larger study population, which could help explain the large benefit observed in the earlier study.
"We have powered the next phase of the study to look at specific subtypes, particularly leiomyosarcoma, and to allow for clinical and laboratory research programs to observe what PDGFR alpha does in sarcoma and the tumor microenvironment," Tap told HemOnc Today when the phase 2 study was published. "In rare diseases, we really need to be able to get that snippet of information that allows us to delve deeper into the biology, and I hope this study represents that."
Eribulin mesylate (Halaven, Eisai), a type of chemotherapy, also received FDA approval in 2016, becoming the first approved drug that extended survival in liposarcoma. Results of a trial of 143 patients with advanced unresectable or metastatic liposarcoma showed eribulin mesylate extended survival compared with dacarbazine (15.6 months vs. 8.4 months).
PAGE BREAK
FDA also approved trabectedin (Yondelis, Janssen) for the treatment of liposarcoma and leiomyosarcomas in 2015. At the time, trabectedin represented the first approved treatment for these sarcomas in 3 decades.
Trabectedin — a synthetically produced antitumor agent derived originally from a sea squirt — works by binding to the DNA of cancer cells and disrupting their normal cell activity, causing cell death.
FDA based approval on a PFS improvement with trabectedin compared with dacarbazine (4.2 months vs. 1.5 months; HR = 0.55; 95% CI, 0.44-0.7).
Another study by Le Cesne and colleagues showed patients who received long-term treatment with trabectedin achieved significantly improved median PFS (11.7 months vs. 7.6 months; P < .003) and OS (24.9 months vs. 16.9 months; P < .001) compared with patients who ceased trabectedin treatment after six cycles.
Despite these key advances, additional therapeutic options are needed.
"There are not enough treatments, and the treatments we do have are not good enough," Pollack said. "We need treatments that are more effective and less toxic, because some of the treatments remain toxic."
Future targets, combinations
Researchers have looked to immunotherapy to fill this unmet need.
Despite overwhelming promise in some cancers, immunotherapy's role in sarcoma has been less clear.
At last year's ASCO Annual Meeting, Tawbi and colleagues evaluated single-agent pembrolizumab (Keytruda, Merck) — a PD-1 inhibitor — in 80 patients with soft tissue and bone sarcoma. The study population included those with leiomyosarcoma, liposarcoma, undifferentiated pleomorphic sarcoma, synovial sarcoma, osteosarcoma, Ewing sarcoma and high-grade/dedifferentiated chondrosarcoma.
Pembrolizumab demonstrated limited activity in the population overall. Researchers reported early but infrequent responses among patients with undifferentiated pleomorphic sarcoma, osteosarcoma, liposarcoma and chondrosarcoma.
"Immunotherapy does have potential in sarcoma," Kraft said. "The majority of sarcoma patients I have treated with immunotherapy with standard drugs being used for melanoma, renal cancer and non–small cell lung cancer have not been responders. This, however, does not mean we will never see responses in this group."
Researchers seek immunotherapy-specific biomarkers within subtypes to maximize the potential for better outcomes.
In a study published in Cancer, Pollack and colleagues measured gene expression, immunohistochemistry for programmed cell death protein 1 (PD-1) and programmed death-ligand 1 (PD-L1) protein, and T-cell receptor sequencing among 81 patients with sarcoma. Researchers aimed to better define the immunologic profile of soft tissue sarcomas.
Results showed leiomyosarcoma and pleomorphic sarcoma subtypes had the highest expression genes related to antigen presentation and T cell–mediated immunity. Undifferentiated pleomorphic sarcoma demonstrated higher PD-L1 and PD-1 expression and the highest levels of T-cell infiltration, whereas synovial sarcoma had the lowest.
PAGE BREAK
The results suggested the combination of immune profiling and evaluating clinical responses to immunotherapeutic intervention could lead to models that predict which patients may benefit from which treatments.
"Looking at the individual subtypes is going to be really important to determine which are going to be most effective to be treated with checkpoint inhibitors," Pollack said.
Pembrolizumab may not have shown efficacy in the 2016 study because "two drugs are better than one," Schwartz said.
Combinations may be more effective because of how "complicated" sarcoma is, von Mehren said.
"In general, when people have looked at immunotherapy with checkpoint inhibitors, the tumors that seem to be responding ... are those that have a high mutational burden. As it turns out, many of the sarcomas do not have a high mutational burden so, alone, just one checkpoint inhibitor may not be the way to go," von Mehren said.
At this year's ASCO Annual Meeting, D'Angelo and colleagues presented data from a phase 2 trial that assessed the addition of nivolumab (Opdivo, Bristol-Myers Squibb) — a fully human immunoglobulin G4 monoclonal antibody — to ipilimumab (Yervoy, Bristol-Myers Squibb), a CTLA-4 immune checkpoint inhibitor, in 85 patients (mean age, 54 years) with metastatic sarcoma who failed prior regimens.
Patients treated with the combination achieved longer median PFS (4.5 months vs. 2.6 months) and OS (11.2 months vs. 8.7 months). They also were more likely to be profession free at 6 months (36% vs. 16%).
"Although there is an increase in toxicity, the toxicities are quite manageable," Schwartz said. "Not all patients responded, but clearly there is a subgroup of patients who can benefit from this treatment. Now we need to dig further into the data and try to identify any biomarkers that will, in fact, be predictive of which patients have the most benefit."
The potential is tremendous, Schwartz said.
"We are only beginning to break the surface of immunotherapy," he said.
Pollack and colleagues at Fred Hutchinson Cancer Research Center are focused on finding new ways to enhance patients' immune response.
They are conducting a pilot study to investigate the safety of NY-ESO-1–specific immune T cells as a treatment for patients who are receiving palliative radiation therapy for NY-ESO-1–expressing sarcomas that have spread throughout the body.
NY-ESO1 is a cancer-specific protein that has been the target of vaccines and adoptive T-cell therapy.
"When NY-ESO1 is expressed in synovial sarcoma and myxoid/round cell liposarcoma, its expressed at a very high level homogenously around the tumor," Pollack said. "These translocational-associated sarcomas probably have to do with the innate biology of the translocation, which is why they are producing so much NY-ESO1."
PAGE BREAK
Despite tremendous interest in immunotherapy, researchers have not lost focus on targeted therapies and refined chemotherapies.
Results of a phase 3 clinical study by Chawla and colleagues, also presented at ASCO, showed aldoxorubicin (CytRX Corporation) — a novel albumin-binding prodrug of doxorubicin — monotherapy was well tolerated and may improve outcomes compared with standard treatments for relapsed/refractory soft tissue sarcoma.
In the study, researchers randomly assigned 433 patients with soft tissue sarcomas to 350 mg/m2 IV aldoxorubicin — equivalent to doxorubicin at 260 mg/m2 — or investigator's choice of therapy every 3 weeks. Most recruited patients lived in North America (72%).
The PFS improvement reached statistical significance among patients from North America (4.21 months vs. 2.96 months; HR = 0.71; 95% CI, 0.53-0.96) and patients with L-sarcomas (5.32 months vs. 2.96 months; HR = 0.62; 95% CI, 0.44-0.88).
Multiple clinical trials also are ongoing to evaluate targeted therapies, including dasatinib — originally developed for patients with CML who are resistant to imatinib — sorafenib (Nexavar, Bayer Healthcare), anti-insulin-like growth factor-1, samarium-153 and radiolabeled octreotide.
These new therapies may have the potential to improve outcomes for patients with sarcomas without increasing toxicity.
Awareness and trial participation
An emphasis on clinical trials is key to continuing on the path toward greater understanding of sarcoma biology. However, the rarity of certain subtypes again creates a challenge for researchers.
Further, a majority of sarcomas occur in adolescents and young adults, yet few younger patients are enrolled in clinical trials.
Reasons for poor enrollment include geographical inconvenience for patients, lack of awareness of poor outcomes in these patients, and the comfort level of treating physician with alternative chemotherapy regimens, according to a commentary by Davis and colleagues published in Cancer.
"A focused effort to encourage the enrollment of adolescents and young adults in sarcoma clinical trials is overdue," Davis and colleagues wrote. "The successful completion of trials for rare cancers such as sarcoma is difficult, even when they are limited to adult patients."
To increase adolescents' access to relevant trials and potentially effective therapies, the FDA's Office of Hematology and Oncology Products recommends patients aged 12 to 17 years be included in "disease or target-appropriate" adult oncology trials.
University of Minnesota said her institution follows this approach and tries to combine adolescents and young adults in adult trials due to the rarity of certain sarcomas, Weigel said.
"For a lot of our trials — specifically for patients with osteosarcoma, because it is so rare in young patients — we try to include younger patients in the adult trials," Weigel said. "We have an expansion cohort within the study. It speeds development of some of the agents in pediatrics because we can identify both dose and safety early on."
PAGE BREAK
Although patients are enrolled in sarcoma trials "very rapidly" due to the commitment of the community, more access is needed, von Mehren said.
"The ability to make progress and move forward is challenged because practitioners feel [sarcoma] is something they can manage," she said. "That sometimes delays progress because then patients are not available for clinical trials. If there is something new that appears to have potential improvement, we need to make sure those patients get access to and participate in clinical trials because, to come to meaningful conclusions, you need more than one or two patients for a trial."
The rarity of sarcomas requires collaboration between researchers and providers, Weigel said.
"Bringing together the expertise around research and clinical care all plays into moving the bar for these patients," Weigel said. "Sarcoma is one of the greatest areas of need, and also the one area where pediatric and medical oncology synergize the most."
Despite progress, there is a long way to go, Pollack said.
"Things are really changing a lot. We did not have any FDA approvals up to a few years ago and now we have had three within the past few years," he said. "There is hope and things are moving faster, but it's still not fast enough." – by Melinda Stevens
Click here to read the

, "Should young patients with rare sarcoma subtypes be included in adult sarcoma trials?"
References:
American Cancer Society. What are the key statistics about soft tissue sarcomas? Available at: www.cancer.org/cancer/soft-tissue-sarcoma/about/key-statistics.html. Accessed on June 19, 2017.
Ballinger ML, et al. Lancet Oncol. 2016;doi:10.1016/s1470-2045(16)30147-4.
Bond M, et al. Petiatr Blood Cancer. 2008;50:254-258.
Chawla SP, et al. Abstract 11000. Presented at: ASCO Annual Meeting; June 2-6, 2017; Chicago.
D'Angelo SP, et al. Abstract 11007. Presented at: ASCO Annual Meeting; June 2-6, 2017; Chicago.
Davis LE, et al. Cancer. 2017;doi:10.1002/cncr.30757.
Gounder MM, et al. Abstract 11001. Presented at: ASCO Annual Meeting; June 2-6, 2017; Chicago.
Heinrich M, et al. JAMA Oncol. 2017;doi:10.1001/jamaoncol.2016.6728.
Judson I, et al. Lancet Oncol. 2014;doi:10.1016/S1470-2045(14)70063-4.
Le Cesne A, et al. Eur J Cancer. 2015;doi:10.1016/j.ejca.2015.01.006.
Loeb DM. Targeted therapies for sarcomas: The next generation of treatments. Available at: sarcomahelp.org/articles/targeted-therapies-sarcoma.html. Accessed on June 16, 2017.
Pollack SM, et al. Cancer. 2017;doi:10.1002/cncr.30726.
Tap WD, et al. Lancet. 2016;doi:10.1016/S0140-6736(16)30587-6.
Tawbi H A-H, et al. Abstract 11006. Presented at: ASCO Annual Meeting; June 3-7, 2016; Chicago.
For more information:
Suzanne George, MD, can be reached at Dana-Farber Cancer Institute, 450 Brookline Ave., Boston, MA 02215.
Andrew S. Kraft, MD, can be reached at akraft@uacc.arizona.edu.
Seth M. Pollack, MD, can be reached at spollack@fredhutch.org.
Gary K. Schwartz, MD, can be reached at gks2123@cumc.columbia.edu.
Margaret von Mehren, MD, can be reached at Fox Chase Cancer Center, 333 Cottman Ave., Philadelphia, PA 19111.
Brenda J. Weigel, MD, MSc, can be reached at weige007@umn.edu.
Disclosure: George reports a consultant role with AstraZeneca; research support from Bayer and Pfizer; and contracted research with Blueprint Medicines, Deciphera Pharmaceuticals and Novartis. Pollack reports consultant roles with Amgen, Eli Lilly and Nectar, and research support from EMD Serono, Epizyme, Immune Design, Karyopharm, Merck and Presage. Kraft, Schwartz, von Mehren and Weigel report no relevant financial disclosures.