Liver metastasis from known malignant mixed Müllerian tumor
We were unable to process your request. Please try again later. If you continue to have this issue please contact customerservice@slackinc.com.
A 59-year-old woman presented to her primary care physician with heavy vaginal bleeding and urinary retention.
She underwent a total abdominal hysterectomy, bilateral salpingo-oophorectomy and tumor debulking omentectomy for a 16-week–size uterus that was cemented into the right pelvic sidewall and had associated right ureteral hydronephrosis with friable para-aortic lymph nodes.
Following her initial debulking surgery, she had residual involvement of pelvic and high para-aortic lymph nodes, including a confluent retroperitoneal soft tissue mass that caused moderate right-sided hydronephrosis.
She subsequently completed eight cycles of paclitaxel and carboplatin chemotherapy.
Imaging findings
A follow-up restaging PET/CT demonstrated decreasing size and metabolic activity of a single residual right para-aortic lymph node (maximum standard uptake value [SUVmax], 2.8).
However, there was interval development of a heterogeneously fluorodeoxyglucose (FDG)–avid hypodense lesion involving segments 4B and 5 of the liver (SUVmax, 16), highly concerning for metastatic disease.
Imaging also revealed mild heterogeneous hypermetabolic activity associated with presumed postoperative changes in the midline anterior abdominal wall, and anatomic images demonstrated mild stranding of the subcutaneous fat.
There were no additional foci of increased FDG uptake to suggest metastases elsewhere.
The woman was referred for staging FDG PET/CT imaging of her known metastatic uterine carcinosarcoma.
Discussion
Uterine carcinosarcomas — also known as malignant mixed Müllerian tumors — are rare and highly malignant neoplasms that contain both carcinomatous (ie, epithelial) and sarcomatous (eg, bone, cartilage or skeletal muscle) components.
They represent less than 5% of all uterine malignancies, and more than 35% of patients present with extra-uterine disease at diagnosis. Treatment remains controversial, with adjuvant radiation and chemotherapy often added to primary surgical management.
Patients — often menopausal — typically present with vaginal bleeding, similarly to cases of endometrial carcinoma. Uterine carcinosarcomas are more common in black women. Additional postulated risk factors include exposure to radiation, as well as tamoxifen-induced carcinogenesis.
As a result of their presumed origin from the Müllerian ducts, uterine carcinosarcomas have the propensity to differentiate into various mesenchymal and epithelial components.
On histopathology, they can be broadly divided into two groups — homologous and heterologous — depending on the characteristics of the stroma or mesenchymal components of endometrial tissue.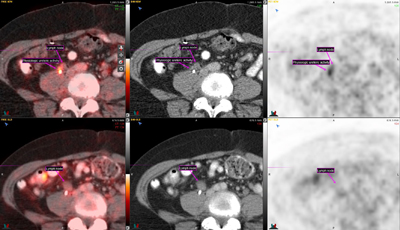 However, it is important to recognize that carcinosarcomas primarily are of monoclonal origin, with the carcinomatous component being the driving force. The sarcomatous component is derived from the carcinoma, or from a stem cell that undergoes divergent differentiation. This is referred to as the "conversion theory" in the histopathogenesis of gynecological carcinosarcomas.
PAGE BREAK
Therefore, although gynecologic carcinosarcomas initially were considered a subtype of sarcoma, new guidelines recognize them as metaplastic carcinomas and recommend treatment with a comprehensive approach similar to endometrial or ovarian high-risk carcinomas.
Staging is surgical, and maximum cytoreductive surgery remains the primary therapeutic modality of choice. The mainstay of chemotherapy includes platinum-based agents — typically carboplatin plus paclitaxel, but sometimes also paraplatin, cisplatin or ifosfamide — in both the adjuvant setting, as well as for advanced cases of metastatic disease.
Radiation therapy — both vaginal brachytherapy and external beam irradiation — has been shown to decrease the risk for local recurrence, although without significant improvement in OS. Prognosis is poor even with localized disease because of high rates of both local and distant tumor recurrence.
In our case, the patient underwent a right hepatic lobe biopsy. Pathology results — which confirmed FDG PET/CT findings — demonstrated a biphasic tumor with a glandular and malignant stromal component.
Immunostains were positive for vimentin, CK7, WT-1 and Pax-8, supporting the presumed diagnosis and consistent with metastatic uterine carcinosarcoma.
References:
Berton-Rigaud D, et al. Int J Gynecol Cancer. 2014;doi:10.1097/IGC.0000000000000228.
Gungorduk K, et al. Cancer Res Treat. 2015;doi:10.4143/crt.2014.009.
Guy JB, et al. Bull Cancer. 2014;doi:10.1684/bdc.2014.1937.
McCluggage WG, et al. J Clin Pathol. 2002;55:321-325.
McCluggage WC. Int J Gynecol Cancer. 2002;12:687-690.
Sing R, et al. J Cancer Res Ther. 2014;doi:10.4103/0973-1482.138197.
Tse KY, et al. Best Pract Res Clin Obstet Gynaecol. 2011;doi:10.1016/j.bpobgyn.2011.05.011.
For more information:
Munir Ghesani, MD, FACNM, is assistant professor of radiology and director of PET/CT fellowship at NYU Langone Medical Center in New York. He also is a HemOnc Today Editorial Board member. He can be reached at munir.ghesani@nyumc.org.
Ana M. Franceschi, MD, is a senior radiology resident at NYU Langone Medical Center.
Disclosure: Ghesani and Franceschi report no relevant financial disclosures.