Source/Disclosures
Published by:
April 24, 2018
2 min read
Alcohol linked to potentially harmful changes in oral microbiome
Source/Disclosures
Published by:
We were unable to process your request. Please try again later. If you continue to have this issue please contact customerservice@slackinc.com.
Alcohol consumption correlated with significant changes to the oral microbiome that have been previously linked to alcohol-related diseases like periodontal disease, GI cancers, head and neck cancers and heart disease, according to new research published in the journal Microbiome.
"Our study offers clear evidence that drinking is bad for maintaining a healthy balance of microbes in the mouth and could help explain why drinking, like smoking, leads to bacterial changes already tied to cancer and chronic disease," study author Jiyoung Ahn, PhD, associate director of population sciences at NYU Langone Health's Perlmutter Cancer Center, said in a press release.
Ahn and colleagues performed a cross-sectional study to assess the impact of alcohol consumption on the oral microbiota. They sequenced mouthwash samples from 1,044 healthy adult participants from two ongoing cancer prevention trials in the U.S. and compared microbiota composition between 270 non-drinkers, 614 moderate drinkers and 160 heavy drinkers. Heavy drinkers represent about 10% of the adult population in the U.S. and are defined as women who consume one or more drinks per day and men who consume two or more drinks per day, the researchers noted.
They found that diversity and composition of the oral microbiota differed significantly between heavy drinkers and non-drinkers. Specifically, higher levels of alcohol consumption correlated with increased levels of potentially harmful species including Actinomyces, Leptotrichia and Cardiobacterium, some of which contain oral pathogens, and higher levels of Neisseria, which has been shown to synthesize the carcinogen acetaldehyde from ethanol. Additionally, abundance of the bacteria Lactobacillales, commonly found in probiotics and thought to be beneficial, tended to decline with higher alcohol consumption.
After controlling for level of alcohol consumption, Ahn and colleagues found that wine-only drinkers showed differences in microbial diversity and composition vs. non-drinkers, but there were not enough participants who drank one type of alcohol exclusively to draw firm conclusions about these comparisons, they noted.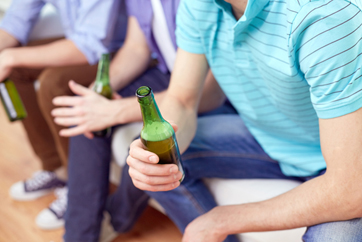 Alcohol consumption correlated with significant changes to the oral microbiome that have been previously linked to alcohol-related diseases.
Source: Shutterstock.com
The researchers also made a point to exclude current smokers from their analysis, after which they found that the associations between drinkers and non-drinkers remained.
Ahn noted in the press release that these findings support the idea that "rebalancing" the oral microbiome "could potentially reverse or prevent some health problems tied to drinking," although further study is needed.
She and colleagues now plan to assess the biological mechanisms by which alcohol impacts the oral microbiome. Possibilities include that alcohol creates an acidic environment that impedes the growth of certain bacteria in the mouth, or that bacteria like Neisseria may produce acetaldehydes and other harmful byproducts resulting from the breakdown of alcohol, she noted. – by Adam Leitenberger
Disclosures: The authors report no relevant financial disclosures.