Source/Disclosures
Published by:
March 16, 2018
3 min read
Diet, lifestyle outweigh genetic impact on gut microbiome
Source/Disclosures
Published by:
We were unable to process your request. Please try again later. If you continue to have this issue please contact customerservice@slackinc.com.
Genetics play a surprisingly minor role in shaping the gut microbiome, while environmental factors like diet and lifestyle appear to have the greatest impact, according to new research published in Nature.
These findings provide strong new evidence supporting the concept of modifying the gut microbiota to improve human health, investigators from the Weizmann Institute of Science in Israel concluded.
"We cannot change our genes, but we now know that we can affect — and even reshape — the composition of the different kinds of bacteria we host in our bodies," study investigator Eran Segal, PhD, of the departments of computer science and applied mathematics, and molecular cell biology at Weizmann, said in a press release. "So, the findings of our research are quite hopeful; they suggest that our microbiome could be a powerful means for improving our health."
To test the hypothesis that differences in gut microbiota composition between individuals is largely determined by their genes, Segal and colleagues analyzed genotype and microbiome data from 1,046 healthy Israelis who participated in a longitudinal nutrition study. As the Israeli population is highly diverse, the study included participants with varied genetic ancestry, making this setting ideal for the genetic aspect of the study, investigators noted.
They found that the gut microbiome did not significantly correlate with genetic ancestry, and that an individual's genes play only a minor role in determining their gut microbiota composition, accounting for just about 2% of the variation observed between populations.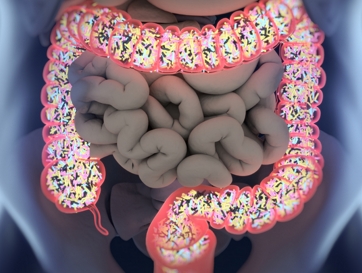 Further, they found genetically unrelated people who lived in the same household showed significant similarities in gut microbiota composition, while relatives with no history of living together shared no significant similarities in their microbiomes.
In contrast, they found that environmental factors like diet, drugs and anthropometric measurements accounted for more than 20% of the gut microbiota variation observed between individuals. They also showed that gut microbiome composition was as good or superior to genetics for predicting clinical measures like BMI, fasting glucose levels, glycemic status, high-density lipoprotein levels, cholesterol, waist and hip circumference, waist-hip ratio and lactose consumption.
"Our results demonstrate that the gut microbiome is predominantly shaped by environmental factors, and is strongly correlated with many human phenotypes after accounting for host genetics," Segal and colleagues concluded. This suggests that modulating the microbiome to improve clinical outcomes should work across diverse genetic backgrounds, they added. – by Adam Leitenberger
Disclosures: The authors reported no relevant financial disclosures.