March 07, 2018
2 min read
Bariatric surgery linked to increased risk for IBD
We were unable to process your request. Please try again later. If you continue to have this issue please contact customerservice@slackinc.com.

Jean-Frederic Colombel

Patients with a history of bariatric surgery showed an increased risk for developing new-onset inflammatory bowel disease, according to new research published in Alimentary Pharmacology & Therapeutics.
However, investigators emphasized that this potential risk does not outweigh the overall benefits of bariatric surgery but could provide new insight into the pathogenesis of IBD.
"While we do not think our findings should at all discourage or take away from the health benefits of bariatric surgery, since the absolute risk of developing IBD following bariatric surgery remains extremely small, we think this association highlights potential disease mechanisms and the need to carefully evaluate new gastrointestinal symptoms in patients with prior weight loss surgery," Jean-Frederic Colombel, MD, of the division of gastroenterology at the Icahn School of Medicine at Mount Sinai, said in a press release.
Colombel and colleagues conducted a multi-institutional case series using data from three institutions of the New York Crohn's and Colitis Organization and three European centers. They identified 15 cases of IBD with a prior history of bariatric surgery, mostly Roux-en-Y gastroenterostomy. Ten of the patients had Crohn's disease, four had ulcerative colitis, one had unclassified IBD, and the average time between surgery and IBD diagnosis was 5.7 years.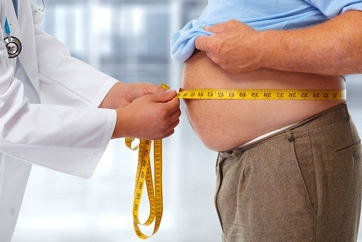 The researchers then conducted a matched case-control study using medical and pharmacy claims from 2008 to 2012. A total of 8,980 cases and 43,059 matched controls were included in the analysis.
After adjusting for age, obesity and medication exposures, the investigators found that any prior bariatric surgery was associated with an increased risk for new-onset IBD (aOR = 1.45; 95% CI, 1.08–1.94). However, patients who had a recent bariatric surgery did not show an increased short-term risk for IBD (OR = 0.94; 95% CI, 0.58–1.52), but those who had surgery more than 4 years prior showed nearly twice the risk for developing IBD (OR = 1.93; 95% CI, 1.34-2.79).
The investigators said the reason for the heightened risk for IBD was unclear, but alterations in the microbiome following surgery could explain the increase.
They noted that additional research is needed to confirm the association and determine if certain types of bariatric surgery have different effects on subsequent IBD risk. – by Alex Young
Disclosures: Colombel reports financial relationships with AbbVie, Amgen, Boehringer-Ingelheim, Arena Pharmaceuticals, Celgene Corporation, Celltrion, Enterome, Eli Lilly, Ferring Pharmaceuticals, Genentech, Janssen, Medimmune, Merck, Nextbiotix, Novartis, Otsuka, Pfizer, Protagonist, Second Genome, Gilead, Seres, Shire, Takeda, Theradiag, Intestinal Biotech Development and Genefit. Please see the full study for all other authors' relevant financial disclosures.