February 14, 2018
3 min read
Ultra-processed foods linked to increased cancer risk
We were unable to process your request. Please try again later. If you continue to have this issue please contact customerservice@slackinc.com.
Individuals who ate more "ultra-processed" foods showed a higher risk for cancer in a large prospective study of adults in France.
The results, published today in the BMJ, showed that a 10% higher proportion of ultra-processed foods in the diet correlated with more than 10% higher risks for overall cancer and breast cancer.
"If confirmed in other populations and settings, these results suggest that the rapidly increasing consumption of ultra-processed foods may drive an increasing burden of cancer in the next decades," investigators wrote.
Ultra-processed foods, like packaged snacks and ready meals, sodas, sugary cereals and reconstituted meat products, tend to have lower nutritional value, with high levels of sugar, fat, salt and additives, and low levels of vitamins and fiber. These types of foods may account for as much as half of the total daily calorie intake in several developed nations, according to a press release.
Some prior studies have associated ultra-processed food consumption with higher risks for obesity, high blood pressure and cholesterol levels. However, evidence regarding cancer risk remains scarce, although several substances commonly found in these foods — including processing byproducts, additives, and contaminants from packaging materials like bisphenol A (BPA) — could be potentially carcinogenic, according to mechanistic studies.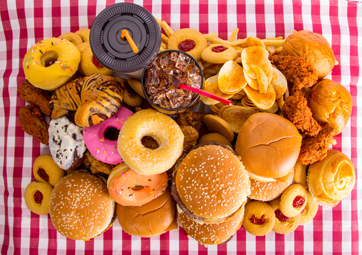 Therefore, investigators from France and Brazil evaluated associations between ultra-processed food intake and cancer risk among 104,980 participants (median age, 42.8 years; 78% women) from the French NutriNet-Santé cohort, an ongoing web-based study that began collecting repeated 24-hour dietary records in 2009. The questionnaires were designed to measure the usual consumption of 3,300 different food items, which the researchers grouped based on degree of processing. Ultra-processed foods accounted for about 19% of participant diets on average.
Over a median follow-up of 5 years, 2,228 incident cancers occurred, including 739 breast cancers, 281 prostate cancers and 153 colorectal cancers.
After adjusting for known cancer risk factors like age, sex, educational level, family history, smoking and exercise, the researchers determined that ultra-processed food consumption was associated with a higher overall cancer risk. A 10% increase in the dietary proportion of these foods correlated with a 12% increase in overall risk for cancer (HR = 1.12; 95% CI, 1.06-1.18; P for trend < .001).
Specifically, they found ultra-processed fats and sauces (P = .002), sugary products (P = .03) and sugary drinks (P = .005) correlated with an increased risk for overall cancer.
PAGE BREAK
When evaluating the risks for specific cancers, they saw a 10% increase in dietary proportion of ultra-processed foods correlated with an 11% increased risk for breast cancer (HR = 1.1; 95% CI, 1.02-1.22; P for trend = .02), particularly for postmenopausal breast cancer (P = .04). Ultra-processed sugary products in particular correlated with breast cancer risk (P = .006).
While they found no significant associations with prostate cancer or colorectal cancer, they did see "a borderline non-significant trend of increased risk" for colorectal cancer associated with these foods.
The investigators observed similar results after accounting for nutritional quality markers like lipid, sodium and carbohydrate intake, and a Western dietary pattern. They also found no significant cancer risks associated with less processed foods like canned vegetables, cheeses and fresh unpackaged bread.
Notably, they found that eating fresh or minimally processed foods like fruits, vegetables, beans, rice, pasta, eggs, meat, fish and milk, were associated with lower risks for overall cancer and breast cancer. A 10% increase in dietary proportion of unprocessed foods correlated with a 9% lower risk for overall cancer (HR = 0.91; 95% CI, 0.87-0.95; P < .001) and a 58% lower risk for breast cancer (HR = 0.42; 95% CI, 0.19-0.91; P = .03).
While strong conclusions about cause and effect cannot be drawn due to the observational nature of the study, the researchers concluded that these findings warrant further research to better understand the relative effects of different aspects of food processing. They also noted that policies "targeting product reformulation, taxation, and marketing restrictions on ultra-processed products and promotion of fresh or minimally processed foods may contribute to primary cancer prevention."
While the study provides "an initial insight into a possible link between ultra-processed food related exposures and cancer ... we are a long way from understanding the full implications of food processing for health and wellbeing," Adriana Monge, MSc, MPH, and Martin Lajous, MD, MSc, of Mexico's National Institute of Public Health, wrote in a related editorial. Given the challenges in identifying the specific elements in ultra-processed foods that may increase cancer risk, and the possibility of confounding factors not accounted for in the study, they emphasized that "care should be taken to transmit the strengths and limitations of this latest analysis to the general public." – by Adam Leitenberger
Disclosures: The authors report no relevant financial disclosures. Monge and Lajous report they receive salary support from Bloomberg Philanthropies, and Lajous reports he has received a research grant from AstraZeneca.