Navigating 'everchanging' CMS waivers for telehealth during COVID-19: What endocrinologists, diabetes specialists need to know
We were unable to process your request. Please try again later. If you continue to have this issue please contact customerservice@slackinc.com.
Several months into the COVID-19 pandemic, an unprecedented transition to telehealth services has forced the federal government to loosen statutory and regulatory restrictions that prevented many people from providing or accessing virtual care. For remote diabetes care, new CMS waivers have been announced on an almost-weekly basis, as endocrinologists, diabetes care and education specialists, pharmacists, nurses and dietitians struggle to keep pace with the changes that affect their practices.
"Everyone wants to know, specifically, what are the Medicare waivers in the diabetes space with respect to telehealth?" Mary Ann Hodorowicz, RDN, CDCES, MBA, CEC, a certified endocrinology coder and diabetes and reimbursement consultant who has given several webinars on CMS changes related to the telehealth shift, told Healio. "These changes affect diabetes self-management education and support, or DSMES, diabetes self-management training, or DSMT, medical nutrition therapy, chronic care management, and physician evaluation and management visits. So many of these changes leave room for interpretation, and CMS is constantly changing the waivers, adding new ones and revising old ones. It feels as if you can never get off the merry-go-round to do your work, apply the waivers and service your patients."
New waivers
Among a host of new changes from CMS, announced in April, was the waiver of a video requirement for DSMT and medical nutrition therapy telehealth visits, allowing these two services to be conducted by phone or audio-only in cases when audio and video telecommunication technology is not available , according to the Association of Diabetes Care & Education Specialists, an organization that has closely monitored the changes.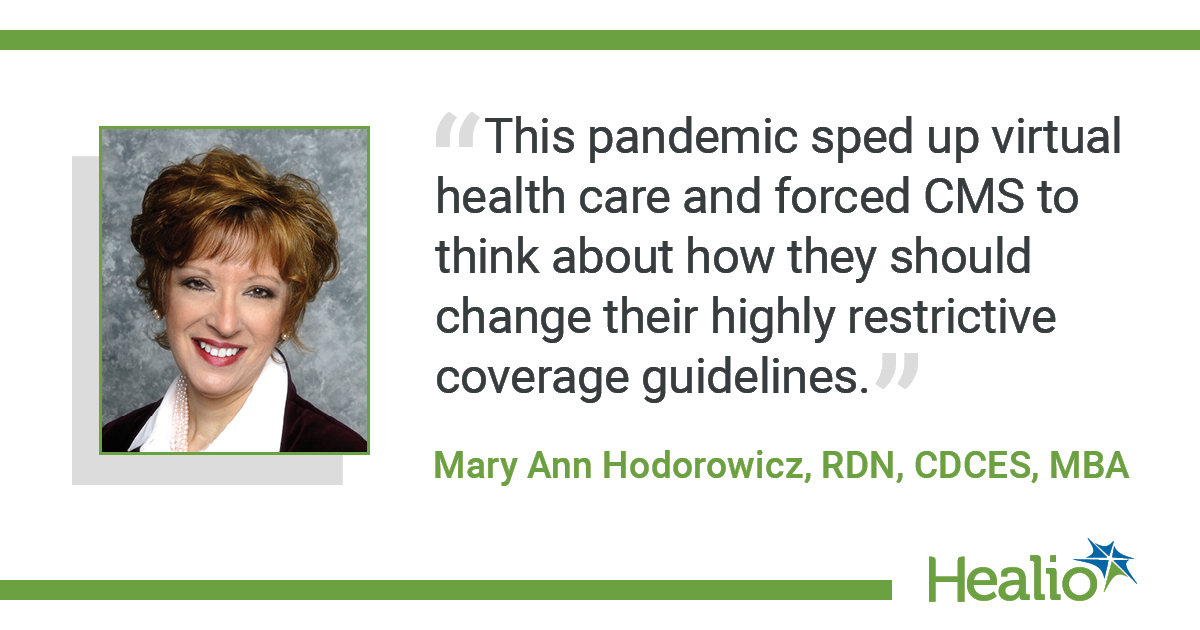 "Pre-pandemic, Medicare never paid on those [telephone] codes," Hodorowicz said. "Now they are. It's a way diabetes care and education specialists can service their patients virtually. That is a big deal."
As of April, nurses and pharmacists are now included among approved providers to furnish DSMT telehealth services in outpatient hospital departments, a move ADCES called "critical," and CMS waived geographic and originating site requirements. That change allows eligible diabetes care and education specialists and other providers to conduct virtual visits with a beneficiary in the beneficiary's home. Providers may also conduct telehealth services from their homes in many cases, Hodorowicz said.
"They can actually furnish the telehealth to a beneficiary who is in a remote location, and that remote location does not have to be rural and it can be the beneficiary's home," Hodorowicz said. "So if an educator or a dietitian is providing DSMT or medical nutrition therapy from their home, the waivers now allow the educators and the dietitians to be in their own home, representing their practice setting, and the beneficiary can be in their home."
PAGE BREAK
CMS has also waived in-person requirements for continuous glucose monitors and insulin pumps, allowing people with diabetes to obtain supplies without an in-person appointment.
"CMS announced they will not be enforcing the clinical indications for CGM," ADCES states on its website.
Billing, coding changes
CMS temporarily added three evaluation and management codes for visits conducted by telephone during the public health emergency, according to Hodorowicz: 99441, 99442 and 99443. Medicare payment is equivalent to in-person evaluation and management outpatient visit. CMS is also now covering three other procedure codes for an online evaluation and management visit for an established patient for up to 7 days: 99421, 99422 and 99423.
"These changes affect the evaluation and management visits by endocrinologists, nurse practitioners, physician assistants and others who have evaluation and management in their scope of practice," Hodorowicz said.
CMS has also provided a mechanism for providers in a hospital outpatient setting to bill for services that are furnished remotely. This addressed ongoing billing limitations on the UB-04 claim form that created barriers to providing virtual diabetes care, Hodorowicz said.
"Hospital outpatient departments can now bill for telehealth DSMT on their UB-04 claim form — that was Mount Olympus," Hodorowicz said. "That was huge. That is the form they bill nearly everything on. The majority of DSMT is furnished in hospital outpatient departments. That is the No. 1 practice setting. CMS has always allowed in-person DSMT to be billed on a UB-04, but not telehealth."
Hodorowicz said specialists and other providers can bill from home as if they were in their practice setting.
"The place of service code a biller puts on the claim form is the practice setting, even though the educator is conducting the visit from their home on Main Street," Hodorowicz said. "The home can serve as a temporary, provider-based department of a hospital, per CMS. That is a significant change."
Keeping pace
Hodorowicz said it is important for providers to stay informed of the latest telehealth regulation updates by monitoring the Medicare Learning Network website and subscribing to its free weekly e-newsletter. Advocacy groups and associations, such as the American Association of Clinical Endocrinologists, have free online resources on navigating the telehealth updates, and ADCES and the Academy of Nutrition and Dietetics are conducting frequent webinars dedicated to the rule changes.
"This pandemic sped up virtual health care and forced CMS to think about how they should change their highly restrictive coverage guidelines for their existing telehealth services," Hodorowicz said. "The restrictive requirements kept providers from jumping into this like they should have. It was too confusing. Understanding the waivers leads to more implementation and better outcomes, which leads to cost savings. I hope when this pandemic is over, CMS realizes that telemedicine is a good thing. We cannot go back to the days of restrictive rules that will pull us backward from the progress we have made." – by Regina Schaffer
PAGE BREAK
For more information:
Mary Ann Hodorowicz, RDN, CDCES, MBA, CEC, can be reached at hodorowicz@comcast.net.
Disclosure: Hodorowicz is the owner of Mary Ann Hodorowicz Consulting LLC, and reports serving as a faculty member for the LifeScan Diabetes Institute.