Source/Disclosures
Published by:
Reproductive concerns among transgender adolescents may manifest as 'disinterest' in future parenthood
Source/Disclosures
Published by:
We were unable to process your request. Please try again later. If you continue to have this issue please contact customerservice@slackinc.com.
Amanda N. Kallen

A small cohort of adolescents and young adults who identify as transgender reported limited baseline knowledge of reproduction and expressed underlying reproductive concerns that may manifest as disinterest in becoming a parent, according to findings from a pilot study published in Transgender Health.
"Many transgender adolescents lack detailed baseline knowledge regarding basic fertility principles, and place a high amount of trust in our ability as medical providers to predict the effects of gender-affirming hormone therapy on their future fertility," Amanda N. Kallen, MD, assistant professor in the division of reproductive endocrinology and infertility at Yale Medicine, told Healio. "The majority of adolescents surveyed either felt future parenthood was important to them or were undecided, which further emphasizes how important these conversations are."
Survey design
Kallen and colleagues administered a written cross-sectional survey to a convenience sample of 23 patients aged 12 to 22 years attending the Yale Pediatric Gender Program during an 11-month period between October 2016 and August 2017. Mean age of participants was 16 years; most were assigned female at birth (n = 17), were white (n = 18) and received pubertal blockers or gender-confirming HT (n = 18). A multidisciplinary group of specialists from pediatric and adolescent gynecology, reproductive endocrinology and infertility, and child psychiatry developed the 22-item survey to determine knowledge about fertility and attitudes toward future parenthood, modeling questions on similar surveys in oncofertility literature. Participants answered five true-false-unsure statements; a total knowledge score from 0 to 5 was generated for each participant. To assess attitudes, participants answered 17 multiple-choice, true-false or Likert-scale response questions, rated from 1 (strongly disagree) to 5 (strongly agree).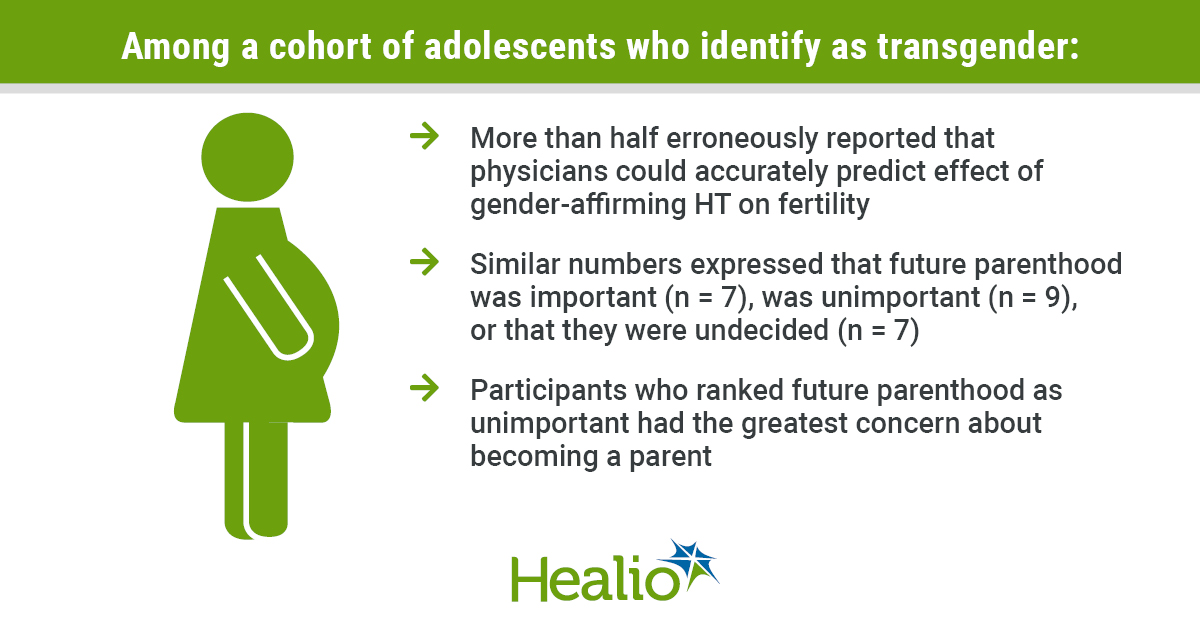 Within the cohort, mean knowledge score was 3.8 (maximum score, 5).
"Most participants knew that hormone therapy could affect future fertility and that options exist to preserve fertility," the researchers wrote. "Of concern, only a slight majority of participants (n = 14) knew basic fertilization principles ... and more than half (n = 13) erroneously perceived that physicians could accurately predict the effect of gender-affirming hormone therapy on fertility."
Fertility plans
Researchers found that participants indicated at similar rates that future parenthood was important (n = 7) and unimportant (n = 9), whereas seven respondents were undecided.
PAGE BREAK
Most survey respondents preferred adoption when asked about parenting preference (n = 16), with 10 participants indicating that fostering was a preferred source of parenthood, followed by five stating they wanted a biologically related child. Four respondents selected surrogacy as their preferred option to have a child.
Participants who ranked future parenthood as unimportant had the greatest concern about becoming a parent (P < .05), and more than one-third of respondents were also concerned about interrupting gender-affirming HT to preserve fertility.
"A majority of individuals we surveyed also reported that it was stressful to think about having a child one day, and many were concerned about the need to delay or stop transitioning to preserve fertility," Kallen said.
The researchers noted that underlying reproductive concerns among transgender adolescents may manifest as "disinterest" in future parenthood. Additionally, transgender adolescents look to clinicians for accurate information and place "a high amount of trust" in providers to predict the effects of gender-affirming HT, despite limited studies.
"Clinicians caring for transgender adolescents should assess, and continue to reassess, patients' knowledge about fertility and wishes for future parenthood," Kallen said. "Counseling should be comprehensive, exploring all forms of parenthood and acknowledging the limitations of current data. These discussions should be revisited as more data become available. We desperately need more high-quality data, including follow-up data, regarding the effects of gender-affirming hormone therapy on fertility, so we can better counsel our patients." – by Regina Schaffer
For more information:
Amanda N. Kallen, MD, can be reached at Yale Medicine, Division of Reproductive Endocrinology and Infertility, Department of Obstetrics, Gynecology and Reproductive Sciences, 333 Cedar St., P.O. Box 208063, New Haven, CT 06510; email: Amanda.kallen@yale.edu.
Disclosures: The authors report no relevant financial disclosures.