Study examines progesterone to reduce inflammation in COVID-19
We were unable to process your request. Please try again later. If you continue to have this issue please contact customerservice@slackinc.com.
Of the many complications reported to accompany COVID-19, one of the most vexing to researchers has been the "cytokine storm," or the body's overactive immune response to a viral infection. The phenomenon — observed in some patients, but not others — can complicate clinical decision-making during a time when there are no treatments and no vaccine. Researchers are searching for possible therapies that may inhibit inflammation, such as the sex hormone progesterone.
Healio spoke with Sara Ghandehari, MD, a pulmonologist and intensive care physician at Cedars-Sinai Medical Center in Los Angeles, about attempts to lessen inflammatory response in COVID-19, the potential role of hormones like progesterone, and a proof-of-concept study that will assess the use of a short course of hormone therapy in hospitalized men diagnosed with the novel coronavirus.
What led you and your colleagues to take on this research?
Ghandehari: I'm an intensive care unit physician. Rounding in the ICU, it is very obvious that there are more men with COVID-19 than women. There is a stark difference in the number of men vs. women on ventilators. Women with COVID-19 in the ICU tend to be postmenopausal age, yet we have men in their twenties and thirties. Something about being a premenopausal woman seems to be protective when it comes to this virus. This is not just an experience we are having here. This observation has been noted everywhere around the world, from China and Italy to New York. Data from those places validated what we have been seeing.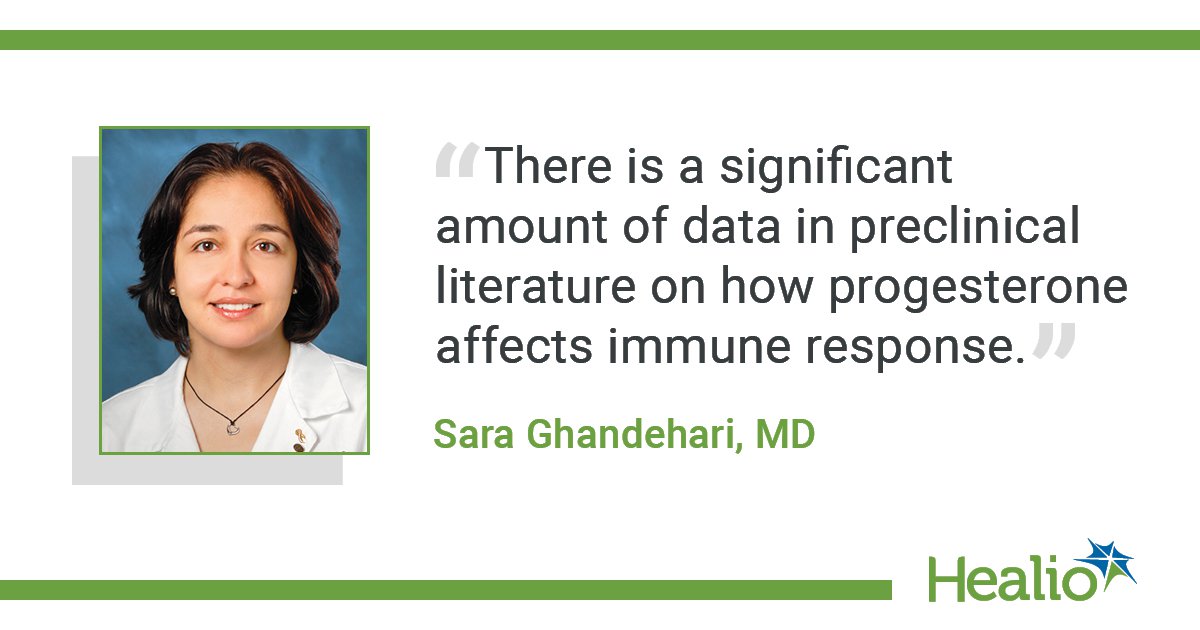 The initial thought was this is likely related to comorbidities — men tend to smoke more, have higher blood pressure and other comorbidities. Those things may still be factors, but it seems there is more to it than that. Also, reports from China and New York demonstrated that pregnant women, who tend to be immunocompromised when it comes to viruses and infections, seem to fare better when they contract COVID-19. Perhaps, being a woman and being pregnant offer some degree of protection with regard to severity of illness.
Researchers at our institution have looked at the anti-inflammatory properties of progesterone. There is a significant amount of data in preclinical literature on how progesterone affects immune response. Putting the two together is how this study started. The more I looked, the more it seemed as though there was more evidence that something about these hormones needs to be examined more deeply, especially since there is such a stark between-sex difference.
PAGE BREAK
What mechanisms may be at play here?
Ghandehari: What we have noticed about presentation of COVID-19 and severity of illness is that once the virus is affecting the body, there can be an overwhelming inflammatory response, to the point of leading to respiratory failure, leading to the need for mechanical ventilation. So, is there a target we can aim for to reduce this inflammation? If progesterone has some of these anti-inflammatory properties, could it dampen this overwhelming immune response? Not just at one level of immune cell, but maybe even at multiple layers? This is not to say that there is just one factor contributing to this; more than likely it is multiple things. What we are trying to do is to look outside of the box. Progesterone is not something we typically look at as a target for inflammation, but there is evidence that suggests that it may have anti-inflammatory properties in various immune cells, so let's see if there is a benefit here.
All around the world, people are asking, how can we reduce the burden of virus? How can we stop it from getting into cells and stop the inflammatory cascade? This is perhaps one target. Progesterone is something women have safely used for a long time, either for fertility support or as hormone therapy.
What are the study details in terms of recruitment, dose, duration?
Ghandehari: The purpose of this study is to assess safety and efficacy of progesterone for treatment of COVID-19 among hospitalized men. This will be a randomized control trial enrolling 40 men with confirmed COVID-19 with signs of respiratory compromise, defined as oxygen saturation of 94% or lower. We're looking at mild to moderate presentation of disease. We are not including patients already on a ventilator. Half the men will receive standard of care and half will receive 100 mg subcutaneous progesterone twice daily, in the abdomen or arm, for 5 days. Primary outcome is clinical status of participants at day 15.
We will be looking to see if there is a reduced need for supplemental oxygen and reduced risk for transfer to the ICU. We will assess the patients' clinical status after receiving the medication. We are looking at how they were when they started, and how they progressed on treatment.
This is a proof-of-concept study. If progesterone is offering any benefit, we will look at it further.
PAGE BREAK
What do you hope to learn?
Ghandehari: The key point, as with any proof-of-concept study, is that it needs to be done in the form of a clinical trial. We presented this to the FDA and they allowed us to perform a clinical trial and use this medication in an investigation for this indication. We are focusing on making sure that this intervention is safe and offers any benefit. We will also be looking at inflammatory markers to see if, in addition to clinical symptoms, there is any observed change in biomarkers as well, which could lead us to other findings and in other directions. – by Regina Schaffer
Disclosures: Ghandehari reports no relevant financial disclosures.