April 30, 2020
3 min read
CV outcomes decline, but greater all-cause mortality persists in type 2 diabetes
We were unable to process your request. Please try again later. If you continue to have this issue please contact customerservice@slackinc.com.

Timothy M.E. Davis

People with type 2 diabetes are experiencing fewer cardiovascular complications today compared with 1990s data; however, greater all-cause mortality persists among those with diabetes compared with those without the disease, according to a longitudinal analysis of Australian adults published in The Journal of Clinical Endocrinology & Metabolism.
Available data show that there have been relatively consistent reductions in rates of myocardial infarction, stroke and lower-extremity amputation in parallel with declining all-cause and CV mortality among people with type 2 diabetes; however, relatively few studies have included a matched parallel group of people without diabetes to assess whether the changes observed reflect diabetes-specific trends or simply those in the population as a whole, Timothy M.E. Davis, MBBS, DPhil, FRACP, MRCP, professor of internal medicine at the University of Western Australia Medical School, and colleagues wrote in the study background.
"In well-characterized, community-based people with type 2 diabetes, the incidence of CV complications, including MI and stroke, has declined during the past 2 decades," Davis told Healio. "The incidence of these events has also declined among the general population during the same time period; however, the gap between those with and without diabetes has narrowed. These findings show that recent efforts to improve CV outcomes in type 2 diabetes have been successful. Although life expectancy is lengthening among people with and without diabetes, the gap has not narrowed, suggesting that causes of death other than CVD are becoming more prominent in type 2 diabetes."
Data across decades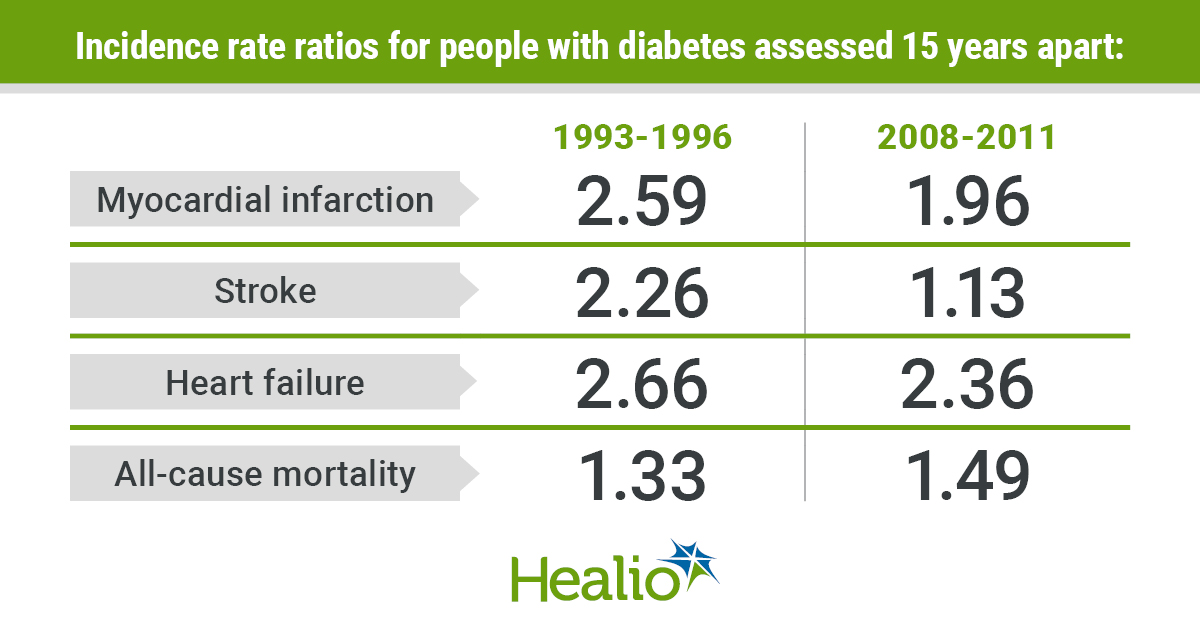 Davis and colleagues analyzed data from adults with type 2 diabetes who participated in two phases of the observational, longitudinal Fremantle Diabetes Study that took place 15 years apart. Participants in phase 1 were recruited between 1993 and 1996 (n = 1,291; mean age at study entry, 64 years); participants in phase 2 were recruited between 2008 and 2011 (n = 1,509; mean age at study entry, 65 years). Participants in both phases were age-, sex- and ZIP code-matched in a 1:4 ratio with people without diabetes, for a total cohort of 13,995 adults (mean age, 65 years; 50.4% men). The researchers used a database of hospital records and death records for Western Australia to identify CV complications and deaths among all study participants. Researchers assessed first hospitalizations for MI, stroke, heart failure (HF), lower-extremity amputation and CVD, as well as all-cause mortality, and calculated 5-year incidence rate ratios (IRRs) and incidence rate differences (IRDs) for those with vs. without diabetes participating in the phase 1 and phase 2 studies.
PAGE BREAK
Researchers found that 5-year IRRs for participants with diabetes in the phase 2 study vs. the phase 1 study were lower for all CV complications. The IRRs for phase 2 vs. phase 1 were 1.96 (95% CI, 1.55-2.48) vs. 2.59 (95% CI, 2.09-3.19) for MI, 1.13 (95% CI, 0.76-1.65) vs. 2.26 (95% CI, 1.6-3.17) for stroke, 2.36 (95% CI, 1.92-2.9) vs. 2.66 (95% CI, 2.21-3.18) for HF and 1.66 (95% CI, 1.15-2.36) vs. 2.21 (95% CI, 1.73-2.82) for CV mortality. However, all-cause mortality was higher among participants in the phase 2 study vs. those in the phase 1 study, with IRRs of 1.49 (95% CI, 1.25-1.78) vs. 1.33 (95% CI, 1.13-1.58).
Non-CV complications persist
Similarly, the 5-year IRDs per 10,000 person-years declined by more than 50% between participants in phases 1 and 2 for MI (IRD = 77 vs. 158), stroke (IRD = 6 vs. 52), HF (IRD = 126 vs. 220) and CV mortality (IRD = 26 vs. 96), with no between-phase change observed for all-cause mortality (IRD = 80 vs. 78).
Within the pooled type 2 diabetes cohort, phase 2 vs. phase 1 participation was an independent, inverse predictor of stroke, HF, CV death and all-cause mortality in adjusted Cox proportional hazards models, according to researchers.
"In developed countries like Australia, the outlook for people with type 2 diabetes is improving significantly, reflecting better management of the disease," Davis said. "However, as CVD reduces, there may be other conditions associated with diabetes, such as cancer and dementia, that may become significant later in life. The clinical management of type 2 diabetes will increasingly need to address non-CV complications." – by Regina Schaffer
For more information:
Timothy M.E. Davis, MBBS, DPhil, FRACP, MRCP, can be reached at University of Western Australia Medical School, Fremantle Hospital, P.O. Box 480, Fremantle, WA 6959, Australia; email: tim.davis@uwa.edu.au.
Disclosures: The authors report no relevant financial disclosures.