April 22, 2020
5 min read
Beyond COVID-19: The future of telehealth in endocrinology
We were unable to process your request. Please try again later. If you continue to have this issue please contact customerservice@slackinc.com.
As clinicians around the country rapidly transition from in-person to telehealth visits, many changes must be managed at once. Endocrinologists in particular are working to find new ways to support people with diabetes who rely on data-driven care and multiple in-person visits each year, and the shift has left many wondering what may come next now that certain telehealth regulations have been temporarily loosened.
Healio spoke with Chirag R. Kapadia, MD, division chief of endocrinology at Phoenix Children's Hospital, about the logistics of a telehealth switch, coding and billing, HIPAA hurdles and the future of diabetes care as clinicians navigate what might come next.
What have been some of your biggest challenges surrounding a switch to telehealth in the midst of a pandemic?
Kapadia: Getting everyone to a comfort level with telehealth has been a challenge. There has been a perception that, if you conduct telehealth visits, all you need is your telephone or your laptop. In reality, there is a whole infrastructure behind it. In endocrinology, you need advice from certified diabetes care and education specialists, you need access to dietitians, a medical assistant who can check in with the patients and make sure the visit goes properly. You need a scheduler who can get the next appointment set up. All of those things still need to be in place, otherwise, it is just a phone call. Then there are the coders and the documentation of billing. The biggest challenge is not that we have to talk with the patient. The hardest part is coordinating the logistics around the entire practice to fit around that. You have to reorient things so everyone can support you in this new way.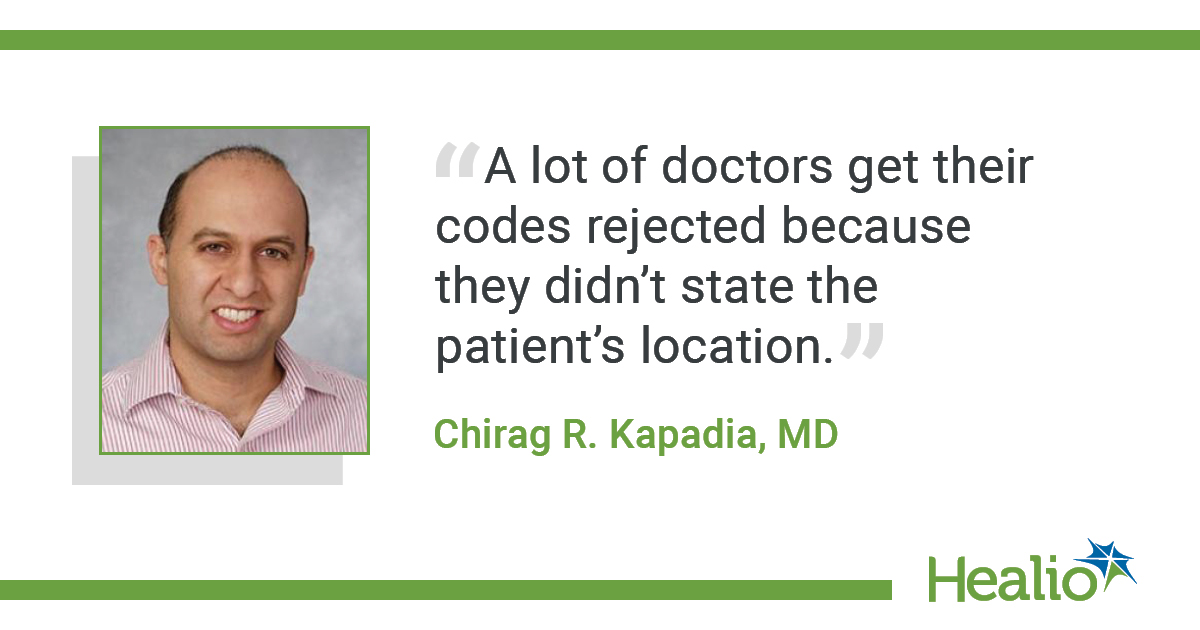 How is patient care changing in this new atmosphere?
Kapadia: One of the positives is I can see the patient's home, which is different. I am able to say, "Show me the bottle of medication you are taking" or "Can you show me what is inside your pantry?" Other things that have improved are the ability for patients to make appointments. For some struggling patients, the show rate is a little higher, and if they don't show up for the appointment, you can just keep calling with telehealth.
The negatives are the amount of data you get at the in-person visit is diminished in telehealth. In endocrinology especially, we are heavily dependent on data for the information we need to make decisions. If we don't get that data, it is harder to provide the highest quality medical care. You get the glucose readings, but you don't get height and weight, or you get a patient-provided weight, which is not the same. With time, if we do this in a non-crisis period, that would be the biggest thing that we want to work on: How do we get higher quality data to get the most from our patient visits?
PAGE BREAK
Have you discovered any workarounds to get better data for virtual visits?
Kapadia: The tech savvy patient can already get us the best data, and savvy patients tend to manage their diabetes better. There is a reason why those who are not doing well with their diabetes need more assistance. This situation translates to this becoming even harder for them. One of the things that we are doing — and this can work right now because our volume is down — is our diabetes educators have a little bit of extra time, and we have them on the case. For example, this afternoon I have seven patients and two of them have type 1 diabetes. Our diabetes care and education specialist will reach out to those two patients beforehand and really work with them to try to get data into the visit. That is extra staff time we normally would not have been able to devote. Longer term, this is an issue we are going to have to figure out.
What are some other issues that need to be worked out to make this more seamless?
Kapadia: The platform we are using is Zoom. These platforms need a default geared toward telemedicine. You often spend a minute or two trying to figure out why you cannot see or hear a patient properly. That may sound mundane, but spending that 2 minutes each visit, by the end of the day, can be so frustrating. "I can't hear you; can you hear me?" is not how you want to start every visit.
There is also some uncertainty regarding the payment structure of telehealth. There is more precise time accounting vs. a regular visit. We have built verbiage into our notes to reflect this, noting whether the visit was conducted by video or phone, for example, to get everything right for coding and billing. It is not much, but you do need some help getting that into your EMR. This is new for a lot of people. For example, a clinician must state the patient's location. A lot of doctors get their codes rejected because they didn't state the patient's location. All of this will eventually become intuitive, the way regular billing is now.
Are you hearing anything about the HIPAA guidelines surrounding telemedicine?
Kapadia: What we have learned is that the guidelines of the past were excessive. The fact that we can shift, within 24 hours, to telemedicine visits after the guidelines are lifted is enormous evidence of too much regulation in this area. I am no technology expert. It is not that hard. We all know how to use a phone or a computer and reach someone. In the future, even after the crisis is over, maybe one of the things we will learn is that if you want to help people, maybe you don't need a million rules to do it. I understand why HIPAA is there, but we can certainly relax it a bit. We are seeing enormous benefits in a very short time since we have relaxed things.
PAGE BREAK
When we finally get back to something more normal, where will we be with telehealth? Are we switching to a predominantly virtual era?
Kapadia: I think we will go to a 50/50 mix of virtual and in-person visits, for diabetes care in particular. Why telehealth is working for us in endocrinology is because we know our patients. Our patients have a relationship with us. There is no reason why they have to be in front of me physically four times a year. They could be in front of me physically twice a year, and twice a year I could do things remotely, and everyone could still benefit. Then we could perfect the remote visits so they become more of a continuous contact model. We could get an alert if someone is not doing as well, and we could set up a telehealth visit just at that point to get them back on track. It would allow us the flexibility to catch them when they are not doing well, rather than at random intervals. Many times, many families will tell me, "We were doing great for a month, and then we weren't." There is no reason I should have missed them during that time they were not doing well.
I don't think this 50/50 switch will happen immediately. Most likely, there will be a snap back to the old regulations and in-person visits pretty quickly, and we will have to negotiate all of those changes.
I am not an expert. None of my colleagues are expert in this. We were all thrown into this pretty quickly, and we were able to make it work in a rudimentary fashion. We are getting our patients and ourselves through this crisis intact. We are not claiming to deliver the highest and best quality care at this point. We are getting everyone through. As long as we do that, we will consider that mission accomplished. Going into this, some were worried that patients would not like telehealth. We have found, instead, that patients are extremely grateful to have this option. – by Regina Schaffer
Disclosure: Kapadia reports no relevant financial disclosures.