March 18, 2018
3 min read
Oral contraceptive shows promise in men
We were unable to process your request. Please try again later. If you continue to have this issue please contact customerservice@slackinc.com.

Stephanie T. Page

CHICAGO — An oral contraceptive pill containing dimethandrolone undecanoate was safe when used for 28 days in healthy men, with no evidence of serious adverse events or significant changes in mood, sexual function, vital signs or heart function, according to new data presented here.
The double blind study enrolled 100 healthy men aged 18 to 50 years at two U.S. sites. Men were randomly assigned to daily oral placebo or dimethandrolone undecanoate (DMAU) with food in one of three dose groups (100 mg, 200 mg or 400 mg) and one of two formulations (castor oil/benzyl benzoate or powder in capsule; n = 15 in each group). The goal was to determine the safety, tolerability, pharmacokinetics and pharmacodynamics of oral DMAU over 28 days. On days 1 and 28, the men underwent 24-hour pharmacokinetic studies with hourly vitals and serial blood DMAU/dimethandrolone (DMA) and hormone measurements as well as bi-weekly ambulatory visits in between for safety labs, hormones and drug levels.
At 28 days, researchers observed a dose response of 24-hour average serum testosterone concentration for serum concentrations of DMAU (P < .001) and DMA (P < .001). Serum testosterone into the hypogonadal range decreased in all active treatment groups by 28 days (median level at 28 days, 13.4 ng/dL). There was no difference in testosterone decline between doses or formulations of DMAU, according to data presented at the Endocrine Society Annual Meeting.
All men assigned DMAU 400 mg in the powder-capsule formulation and 12 of 13 assigned DMAU 400 mg in the castor oil/benzyl benzoate formulation achieved suppression of follicle-stimulating hormone and luteinizing hormone.
Treatment appeared to have no effect on mood, sexual function, vital signs or electrocardiogram results.
Compared with placebo, all active DMAU groups experienced decreases in HDL cholesterol (median, –7 mg/dL to –17 mg/dL) and increases in hematocrit (median range, 0.2% to 2%) and weight (median range, 1.5 kg to 3.9 kg).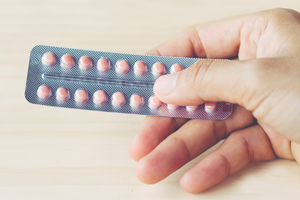 No serious adverse events were reported. Eight men assigned DMAU and one assigned placebo reported decreased libido. Five men assigned DMAU and three assigned placebo reported acne. All adverse events resolved by the study conclusion.
"Oral DMAU suppresses gonadotropin and testosterone production in healthy men, and is well tolerated when given daily for 4 weeks," Stephanie T. Page, MD, PhD, professor of medicine at the University of Washington in Seattle, told Endocrine Today. Page conducted the study in collaboration with Arthi Thirumalai, MD, acting assistant professor of medicine at the University of Washington, and Christina Wang, MD, professor of medicine at the University of California, Los Angeles.
PAGE BREAK

Arthi Thirumalai


Christina Wang

DMAU is a pro-drug that is converted to DMA, which has been shown to bind to androgen and progesterone receptors, suppress gonadotropins, maintain androgenic effects and inhibit spermatogenesis.
"These properties make DMAU a promising step forward in the development of an oral, reversible contraceptive for men; in other words, the first 'male pill," Page said in an interview. "DMAU is a unique androgen with both androgen and progestin activity. In addition, oral DMAU appears to lack hepatoxicity, which is a problem with oral methyltestosterone, is likely to be effective with once-daily dosing and is fully reversible. These are all critical components of an effective, user-friendly male pill."
The new data build on a first-in-man study of single doses of oral DMAU in 200 to 800 mg were well tolerated and suppressed serum luteinizing hormone.
"Longer-term studies demonstrating that daily dosing of DMAU suppresses spermatogenesis are currently underway in collaboration with our co-investigators at LA BioMed at Harbor-UCLA as part of the National Institute of Child Health and Human Development-supported Male Contraceptive Clinical Trials Network," she said. "Eventually, larger studies demonstrating the safety of prolonged use of DMAU will be necessary."
A longer-term, 3-month study is set to begin in April with new participants to further assess safety and the effect on sperm suppression, Page said. – by Amber Cox
Reference:
Thirumalai A, et al. OR15-2. Presented at: The Endocrine Society Annual Meeting; March 17-20, 2018; Chicago.
Disclosures: Page and Thirumalai report no relevant financial disclosures. Wang reports she receives consultant fees from Antares and received a grant from Clarus. Please see the full study for all other authors' relevant financial disclosures.