March 18, 2018
2 min read
Effects of low sperm count go beyond fertility
We were unable to process your request. Please try again later. If you continue to have this issue please contact customerservice@slackinc.com.
Alberto Ferlin

CHICAGO — A total sperm count of less than 39 million per ejaculate may place men at increased risk for poorer metabolic, cardiovascular and bone health compared with men with higher total sperm counts, according to findings presented here.
"A man's semen count is a marker of his general health," Alberto Ferlin, MD, PhD, associate professor of endocrinology at the University of Brescia in Italy, told Endocrine Today. "Low sperm count is associated with metabolic alteration and cardiovascular risk and low bone mass."
Ferlin and colleagues conducted a prospective cohort study of 5,177 men of infertile couples in Italy, in whom they evaluated semen analysis, reproductive hormones, testis ultrasound and biochemical determinations for glucose and lipid metabolism. Hypogonadism was defined as testosterone less than 10.5 nmol/L and/or luteinizing hormone greater than 9.4 IU/L. Genetic testing was performed in participants with a total sperm count of less than 10 million and DXA was performed in those with hypogonadism.
Risk for hypogonadism was 12-fold higher among men with sperm count of less than 39 million compared with men with a normal sperm count of 39 million or higher (OR = 12.2; 95% CI, 10.2-14.6). The prevalence of hypogonadism was 45% among men with a lower sperm count vs. 6% among those with a higher count. The highest risk was observed in men with a total sperm count less than 10 million, genetic causes, history of cryptorchidism and idiopathic forms.
Compared with a normal sperm count, men with a low sperm count had higher BMI, waist circumference, systolic blood pressure, LDL cholesterol, triglycerides and homeostasis model of assessment index; lower HDL cholesterol; and increased prevalence of metabolic syndrome (OR = 1.246; 95% CI, 1.005-1.545). Additionally, BMD was lower in men with hypogonadism compared with those without hypogonadism. Half of men had osteoporosis/osteopenia.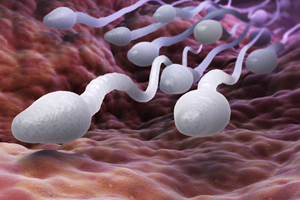 "Fertility evaluation gives men the unique opportunity for health assessment and disease prevention," Ferlin told Endocrine Today. 'Treatment of male infertility should not focus only on having a child when diagnostic testing finds other health risks, such as overweight, high cholesterol or high BP. Men of couples having difficulties achieving pregnancy should be correctly diagnosed and follow-up by their andrologist or fertility specialist and primary care doctor because they could have an increased chance of morbidity and mortality."
Ferlin called for further research on the effects of low sperm count.
"These findings should be confirmed by prospective studies following young infertile men until older age to see whether they develop more frequent CVD, osteoporosis and metabolic syndrome," he said. – by Amber Cox
Reference:
Ferlin A, et al. OR15-5. Presented at: The Endocrine Society Annual Meeting; March 17-20, 2018; Chicago.
Disclosure : Ferlin reports no relevant financial disclosures.