March 17, 2018
3 min read
Endocrine Society touts global diversity, achievements in opening address
We were unable to process your request. Please try again later. If you continue to have this issue please contact customerservice@slackinc.com.

Lynette K. Nieman

CHICAGO — The Endocrine Society celebrated a year of international growth and accomplishment in 2017, including the expansion of several key initiatives and increased advocacy efforts on Capitol Hill and beyond, Lynnette K. Nieman, MD, said during a presentation here.
"We're not only the oldest and largest global professional membership organization, but we represent 122 countries," Nieman, the 2017-2018 president of the Endocrine Society, said during the opening ceremony for the 100th annual Endocrine Society Annual Meeting. "We have more than 40% of our membership living outside of the United States ... and that percentage is steadily increasing over time."
A year of impact
Society leadership worked to extend its global impact in 2017 through several initiatives, Nieman said. EndoCares, an outreach program designed to improve the lives of patients with endocrine diseases worldwide, expanded its reach in Argentina, India, Peru and Saudi Arabia. The society's work on endocrine-disrupting chemicals, already globally recognized, formed an important piece of the debate as the European Union was considering how to define the problem, Nieman said.
Endocrine Society advocacy efforts also made an impact on Capitol Hill last year, Nieman said. Partnering with other professional societies, members worked to restore NIH funding, advocate for health care reform and improve the "dire situation" related to rising insulin costs, Nieman said. The society was also effective in achieving Medicare coverage for continuous glucose monitoring and OmniPod use in diabetes, and in renewing the Special Diabetes Program for Alaskan Natives and Native Americans with type 1 diabetes.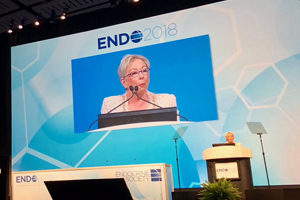 The society's investment in its youngest members and trainees is important, Nieman said. The society's FLARE program, now is in its 6th year, has more than 100 trainees, with the organization giving out more than 250 early career awards. The society's Fellow Training Series, or FTS, has also grown, with 96% of U.S.-based based training programs subscribing, as well as nine international subscribers, Nieman said.
The society's four journals — the Journal of Endocrinology and Metabolism, Endocrinology, Endocrine Reviews and Journal of the Endocrine Society — are now available in 55 additional countries, with more global input from editorial teams and more submissions from more countries, Nieman said. Additionally, Journal of the Endocrine Society, an open-access publication that debuted last year, was selected for inclusion on PubMed and Web of Science, which Nieman called a "tremendous accomplishment."
A 'global community'
PAGE BREAK
The society now stands at 18,000 members, Nieman said, with international membership on track to soon outpace U.S. membership. Countries with the largest membership contingencies outside of the United States include Argentina, Australia, Brazil, Canada, Japan, Mexico, the Netherlands and the United Kingdom.
"In just a few years, we will be a U.S.-minority society," Nieman said. "We have to plan for that. What does that really mean? Part of the planning is developing a new strategic plan this year. We are very focused on our presence as a global community."
That plan, Nieman said, includes defining the society's core values, which include innovating through collaboration, aspiring for excellence, promoting good stewardship to ensure long-term growth in the field, and embracing inclusiveness and respectful interaction. To achieve those core values, the society has outlined several priorities, including building dynamic interdisciplinary communities, advocating for health care policies that benefit providers and patients, and supporting members through all career stages.
"This strategic plan was accomplished through all of you," Nieman said. "I see this as a real turning point for our society and a real opportunity for change and new innovations, which I am sure will be ably and wonderfully carried out by Susan Mandel, who will succeed me in just a few days."
"It's been a really wonderful year, an exciting year, an exhilarating year," Nieman said. "I feel very honored to have served you over this period." – by Regina Schaffer
Reference:
Nieman L. Endocrine Society Opening Ceremony. Presented at: The Endocrine Society Annual Meeting; March 17-20, 2018; Chicago.
Disclosure: Nieman is 2017-2018 president of the Endocrine Society.