March 14, 2018
4 min read
A conversation with Daniel Einhorn, MD, FACP, FACE
We were unable to process your request. Please try again later. If you continue to have this issue please contact customerservice@slackinc.com.
Endocrine Today Editorial Board Member Daniel Einhorn, MD, FACP, FACE, is president of Diabetes and Endocrine Associates in La Jolla, California, medical director of Scripps Whittier Diabetes Institute in San Diego and a clinical professor of medicine at the University of California, San Diego. Einhorn has served as past president of both the American Association of Clinical Endocrinologists and the American College of Endocrinology and has contributed to many clinical practice guidelines concerning obesity and diabetes throughout his career.
Einhorn spoke with Endocrine Today about defining his own path to a career as a leading voice in endocrinology and about his love for music and theater.
What has been the greatest challenge of your professional career thus far?
Einhorn: A tremendous challenge when things are changing very quickly is to stay ahead of that change. I'm often in the room with the smartest people I know trying to see where the next breakthrough is going to be, trying to look at the horizon and see where are we going. For example, we didn't expect just how quickly diabetes technology would become front and center in diabetes care, including simple continuous glucose monitoring, the artificial pancreas, implantable devices and wearable technology — things we didn't foresee as happening so soon. In contrast, many of us thought that biologics would be much further ahead. Seeing what's next is important for my work as a consultant in industry, for my teaching, my writing, and deciding where to spend my time.
What do you think will have the greatest influence on your field in the next 10 years?

Einhorn:
Technology. Technology has made some extraordinary leaps that are going to change everything for people with diabetes. What once was the impossibly complicated issue of managing blood glucose minute to minute appears to be largely solvable with mathematical algorithms. It's one of those great stories wherein one person figured out an algorithm to connect the input of a continuous glucose monitor and the output of an insulin pump to create the first "artificial pancreas." Once that person figured it out, it was like the 4-minute mile: Everybody figured it out. What are rather variable data from a sensor — the numbers are ± 15% to 20% — and what is a variable response rate from an insulin pump — because insulin doesn't go on and off instantly — became solvable mathematically. So now we have to think differently about what is possible in the future. Artificial intelligence will only accelerate the changes.
PAGE BREAK
What are some of the most exciting advances that you have been a part of?
Einhorn: I have had the good luck, as a clinical researcher, to be a part of almost every pharmaceutical and device development in diabetes since the early 1980s. Seeing something as a twinkle in a researcher's eye, and then seeing it become a product that helps millions of people has been very rewarding. And writing clinical guidelines that change how people practice is also very gratifying.
I came to San Diego in 1984 to create an inpatient diabetes unit based on what we had at the Joslin Clinic in Boston. I planned to stay a year. In the early 1980s, people would be brought into the hospital for amputations, to put in the shunts for dialysis, to get trained with their seeing eye dog, to have gastric tubes for terrible gastroparesis, and so on. One of the greatest days of my life was getting funding and opening that unit. But an even better day was closing it. We were able to close it because those serious problems were no longer happening at the rate that they used to happen because we got better at diabetes — so much so that someone like me never goes to the hospital any more. My patients never have those problems. Something that was a terrible, and often short and cruel, disease is now something you can manage and lead an essentially normal life.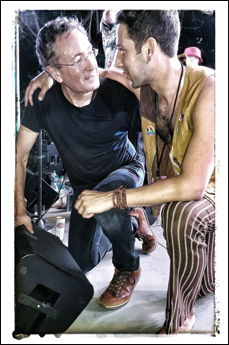 What advice would you offer a student going into endocrinology today?
Einhorn: The main advice is you can do it your way. No two endocrinologists have the same working life. You can follow your interests in patient care as outpatients, inpatients, clinical researchers, teachers, administrators, consultants to industry, investors, consultants to big pharma, startups, expert witnesses, or any combination of the above, which is what I do. Clinical endocrinology is what you make it. It is more difficult to do the old business model of opening up a practice in an independent office and being a clinician seeing outpatients, so you have to be a bit entrepreneurial. Many believe they have to join large groups, and many do, but essentially, know yourself. What you start off doing may not be what you end up doing because you'll find opportunities along the way. By and large, endocrinologists like and respect each other — it's truly an embracing specialty.
What are your hobbies/interests outside of work?
PAGE BREAK
Einhorn: I've been part of a rock 'n' roll band since I was 12 years old, and my band of the past 15 years is terrific, with wonderful people. We've been able to play in places like the Mangy Moose, which is the Carnegie Hall of ski dive bars in Jackson Hole, Wyoming, and other venues where people love the music, dance, get excited and sing. Probably the main thing that moves me is music.
I've also been blessed to be a trustee of the La Jolla Playhouse, which has sent as many plays to Broadway as any other regional theater. To be around geniuses in the theater is just amazing. To see theater professionals mount productions and create something brilliant from seemingly thin air is really an amazing thing to witness. Outside of my friends and family, those two creative outlets are where I go for inspiration.
Disclosure: Einhorn reports no relevant financial disclosures.