August 04, 2017
3 min read
A conversation with Susan Weiner, MS, RDN, CDE, CDN
We were unable to process your request. Please try again later. If you continue to have this issue please contact customerservice@slackinc.com.
Recently elected to the American Association of Diabetes Educators board of directors, Susan Weiner, MS, RDN, CDE, CDN, is as passionate about supporting her colleagues as she is about improving the lives of people with diabetes and their families, which she does through her practice, Susan Weiner Nutrition. She was named AADE Diabetes Educator of the Year in 2015 and is co-author of The Complete Diabetes Organizer and Diabetes: 365 Tips for Living Well. An Endocrine Today Editorial Board Member, she is editor of the Diabetes in Real Life column.
Endocrine Today spoke with Weiner about her interest in telehealth and digital solutions for diabetes management and her love of dogs and gardening.
What area of diabetes education most interests you right now and why?
Weiner: I started out as a diabetes educator and a registered dietitian with pen to paper, notebooks and pads, and what interests me most now is telehealth and digital solutions. These tools allow me to work with people in real time. I'm not just using the data that we get from checking blood glucose levels or other lab information, or what someone is eating and how to improve it, but on a personalized level, going at their pace and listening to the journey.
When I first started in diabetes education, we provided information and education that often focused on vague goals: Eat better — I don't even know what that means. Exercise more — what is that? Using digital health platforms, we're able to listen to a patient's story and go at their pace. Using these tools with real-time data and smart goals that are actionable is exciting for me in all areas of diabetes education.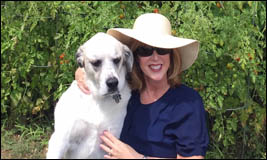 What has been the greatest challenge in your professional career, thus far?
Weiner: The challenge that makes me emotional is the missed diagnosis of type 1 diabetes. Too many children and adults are diagnosed when they present with diabetic ketoacidosis or when they die simply because of symptom unawareness. They've gone to their health care provider three times, and their child is still not diagnosed. The biggest challenge, and one that I'm trying to share with my colleagues as well as the community at large, is to increase diabetes symptom awareness. It is never acceptable for a type 1 diabetes diagnosis to be missed because a health care provider or parent is unaware of the symptoms.
PAGE BREAK
What is the importance of professional organizations, such as AADE, for diabetes educators?
Weiner: AADE is obviously the organization that I stand behind, and I'm excited to join the board of directors. I love AADE because it's a multidisciplinary professional organization. Its members are nurses, dietitians, pharmacists, exercise specialists, physicians, all different practitioners who are working with people with type 1 diabetes, prediabetes, type 2 diabetes and gestational diabetes, and the people who love them. The importance of the professional organization is that it empowers us as diabetes educators to expand our horizons with innovative ways to educate, to help people. We support each other.
With the current epidemic of diabetes — and the new CDC numbers show how much it is expanding — the number of certified diabetes educators is limited. There are not as many as we need to support people with diabetes and their families. But we need to support each other and empower each other, as well. It's an amazing feeling to help people manage their diabetes in a better way and influence them, but we also have to be able to be personally sane and empowered, and part of that is working with peers who feel the same way. The AADE members are accomplished professionals as well as folks who have diabetes or are in some way connected to the diabetes community. Many people join AADE to stay on the pulse of what's happening with diabetes education. I love collaborating with people across different disciplines, and I've never seen a group of more passionate people.
What do you think will have the greatest influence on your field in the next 10 years?
Weiner: Telehealth health and digital solutions. Reaching people where they are, not where we think they should be. The challenge is going to be the on-boarding process. People are sometimes going to be afraid to adopt digital tools, and that includes diabetes educators, clinicians and primary care practitioners, but once they use some of the easier-to-use digital platforms, they will increase their ability to reach and influence people. People have busy lives, and they can't always make their appointments. Reaching them with digital solutions will be a game change.
What are your hobbies/interests outside of work?
Weiner: My biggest interest is rescuing dogs, and I love those big clunky, goofy ones that possibly nobody else would take in, the ones that are a bit more challenging. Every day, my dog shows me more love than I could possibly give him. So, I would say adopt, don't shop ever. My second passion is grow my own vegetables. It is the most rewarding. I feel so accomplished. I grow all different kinds of tomatoes. My favorites are yellow Russian heirloom tomatoes, and I grow peppers, eggplants, squash. I find that those kinds of passions and hobbies, that's my yoga. – by Cassie Homer
Disclosure: Weiner reports no relevant financial disclosures.