Human cardiac tissue can be 3D bioprinted
We were unable to process your request. Please try again later. If you continue to have this issue please contact customerservice@slackinc.com.
BioLife4D announced that it has demonstrated an ability to 3D bioprint human cardiac tissue.
The 3D bioprinted human cardiac patch will soon be tested in patients with acute HF to restore myocardial contractility, and the technology could one day lead to 3D bioprinting of an entire human heart, potentially easing the shortage of donor hearts, a company executive told Cardiology Today.
The patch "could benefit patients at the stage of acute MI who have not progressed to the point of needing a heart transplant but are not responsive or minimally responsive to drugs," Ravi Birla, PhD, chief science officer for BioLife4D, said in an interview. "For these patients, we can bioengineer a cardiac patch, suture it on to the heart, and in conjunction with pharmacological agents, these patches can prevent deterioration of the myocardium and prevent progression to the point of chronic infarction. Then these patients can be stabilized and recover without the need for a heart transplant. This is a very large population."
Previous literature had suggested it would take 6 to 8 months to 3D bioprint a human cardiac patch, but the process took just a few days, the company stated in a press release.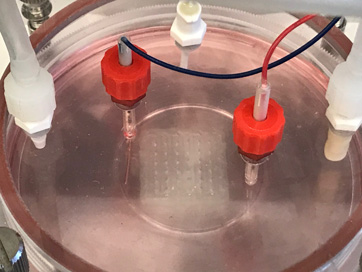 The patches are "very viable, very humanized and very functional" and clinical studies will be designed and conducted soon, Birla told Cardiology Today. "We have interest from top cardiologists across the country who have seen this work and who are excited about participating in clinical trials."
The next step in development is a "mini-heart project," in which the technology will be used to develop a heart approximately 25% of the size of a human heart, Birla said, noting that once that milestone is achieved, the technology would be scaled to produce a fully sized human heart.
"We need to translate our technology to the mini-heart and showcase that everything that works on the patch can now work on the mini-heart," Birla said. "The patch is flat and planar and needs to be scaled up to complex tissue. Once we can show everything works in the mini-heart, then it's just a matter of scaling up to the human heart." – by Erik Swain
For more information:
Ravi Birla, PhD, can be reached at 2450 Holcombe Blvd., Suite J, Houston, TX 77021.
Disclosure: Birla is an employee of BioLife4D.