Vitamins, supplements provide little to no CV health benefit
We were unable to process your request. Please try again later. If you continue to have this issue please contact customerservice@slackinc.com.
Most popular vitamins and mineral supplements provide little benefit to CV health, according to a review article published in the Journal of the American College of Cardiology.
"We were surprised to find so few positive effects of the most common supplements that people consume. Our review found that if you want to use multivitamins, vitamin D, calcium or vitamin C, it does no harm — but there is no apparent advantage either," David J.A. Jenkins, MD, from the department of nutritional sciences and faculty of medicine at the University of Toronto, said in a press release. "These findings suggest that people should be conscious of the supplements they're taking and ensure they're applicable to the specific vitamin or mineral deficiencies they have been advised of by their health care provider."
Jenkins and colleagues conducted a systematic review and meta-analysis of existing systematic reviews and meta-analyses and single randomized controlled trials.
According to the study, the systematic reviews and meta-analyses showed generally moderate- or low-quality evidence for preventive benefits of folic acid for total CVD and folic acid and B vitamins for stroke; no effect on CV outcomes for multivitamins, vitamins C, D, beta-carotene, calcium and selenium; and increased risk for all-cause mortality associated with antioxidant mixtures and niacin.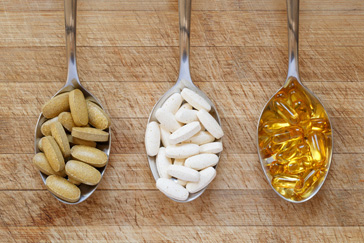 The researchers found no conclusive evidence for the benefit of any supplement across all dietary backgrounds and concluded that any benefits seen must be balanced against possible risks.
"In the absence of further studies, the current data on supplement use reinforce advice to focus on healthy dietary patterns, with an increased proportion of plant foods in which many of these required vitamins and minerals can be found," Jenkins and colleagues wrote.
"In the absence of significant positive data — apart from folic acid's potential reduction in the risk of stroke and heart disease — it's most beneficial to rely on a healthy diet to get your fill of vitamins and minerals," Jenkins said in the release. "So far, no research on supplements has shown us anything better than healthy servings of less processed plant foods including vegetables, fruits and nuts." – by Dave Quaile
Disclosures: Jenkins reports he receives funding from various pharmaceutical and food companies. Please see the study for all other authors' relevant financial disclosures.