Cocaine, marijuana use linked to poor outcomes in young adults with MI
We were unable to process your request. Please try again later. If you continue to have this issue please contact customerservice@slackinc.com.
Approximately 10% of patients with MI aged 50 years or younger use cocaine and/or marijuana, which is linked to poor all-cause and CV mortality rates in this population, according to new data published in the Journal of American College of Cardiology.
"Substance abuse, including use of cocaine and marijuana, has been increasing nationally, yet its potential cardiovascular consequences are not fully understood," Ersilia M. DeFilippis, MD, from the cardiovascular division and department of medicine at Brigham and Women's Hospital and Harvard Medical School, and colleagues wrote. "The recent increase in substance abuse among young adults and the legalization of marijuana in multiple states have led to a significant public health debate with an urgent need to understand the health effects of this substance use. Therefore, we sought to determine the prevalence of substance abuse and its association with cardiovascular outcomes in young individuals with their first MI 50 years of age."
A review or records for patient-reported substance abuse during the week before MI or substance detection on toxicology screen was used to determine substance abuse in the patient set.
Electronic health records and death certificates were used to adjudicate cause of death and Cox modeling was performed for survival free from all-cause and CV death.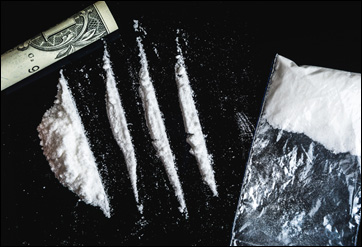 Drug use and mortality
Of the 2,097 patients, cocaine use was detected in 4.7% and the use of marijuana was present in 6%.
Patients who used these substances had a lower rate of diabetes (14.7% vs. 20.4%; P = .05) and hyperlipidemia (45.7% vs. 60.8%; P < .001) compared with patients who did not. However, according to the study, patients who used cocaine and/or marijuana were much more likely to use tobacco (70.3% vs. 49.1%; P < .001).
The study showed that those who used marijuana and/or cocaine were more likely to have significantly higher rates of CV mortality (HR = 2.22; 95% CI, 1.27-3.7) and all-cause mortality (HR = 1.99; 95% CI, 1.35-2.97) after adjusting for baseline covariates.
"As young adults continue to use cocaine and marijuana, it is important to recognize and educate patients and clinicians alike about the potential cardiovascular consequences of these substances," DeFilippis and colleagues wrote. "When young individuals present with an MI, clinicians should assess for potential substance use. This not only allows their care teams to risk stratify these patients, but it also provides opportunity for patient education and implementation of interventions that may lower these risks."
PAGE BREAK
More collaboration needed
According to an editorial comment from Joshua D. Lee, MD, MSc, from the department of population health at New York University, and colleagues, the data are a confirmation of the negative effects of cocaine use and a reminder of how little is known about the effects of cannabis consumption on CV health.
"We encourage increasing collaboration among cardiologists and drug use and addiction experts to further advance our understanding of the protentional health consequences and increased cannabis use in the United States," they wrote. – by Dave Quaile
Disclosures: DeFilippis reports no relevant financial disclosures. Lee reports no relevant financial disclosures. Please see the full study and editorial for the other authors' relevant financial disclosures.