Source/Disclosures
Published by:
April 11, 2018
2 min read
Wildfire smoke exposure increases ED visits for CVD, stroke
Source/Disclosures
Published by:
We were unable to process your request. Please try again later. If you continue to have this issue please contact customerservice@slackinc.com.
Older adults who were exposed to smoke during an extensive wildfire season had an increased risk for CV and cerebrovascular ED visits, according to a study published in the Journal of the American Heart Association.
"This is one of the most extensive studies of wildfire health impacts in California to date," Ana Rappold, PhD, statistician with the U.S. Environmental Protection Agency in Durham, North Carolina, said in a press release.
Zachary S. Wettstein, BA, graduating medical student from the University of California, San Francisco, and colleagues analyzed data from 1,196,233 ED visits during the 2015 wildfire season between May 1 and Sept. 30. The researchers documented patients with CV (n = 361,087), cerebrovascular (n = 15,505) or respiratory diagnoses (n = 230,029). Other diagnoses included long-bone fractures (n = 13,473) and acute appendicitis (n = 2,520), which were used as controls.
ED visits occurred in eight air basins in the northern and central regions of California. Smoke plumes from these areas were categorized as light, medium and dense based on visible band satellite imagery.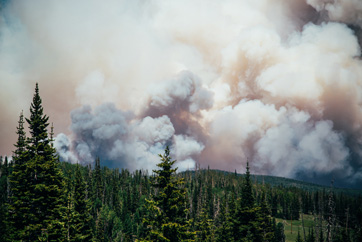 CV endpoints of interest included MI, hypertension, pulmonary embolism, ischemic heart disease, HF, dysrhythmia and conduction disorder, peripheral artery disease and all-cause CV diagnosis. Cerebrovascular and respiratory endpoints of interest were also included in the analysis.
The daily heat index and a combined metric of relative humidity and temperature were calculated for the ZIP codes within the air basins. Researchers calculated RR for smoky dates for lag days 0 to 4.
The greatest increase of all-cause CV ED visits occurred on dense smoke days and in patients aged at least 65 years at lag day 0 (RR = 1.15; 95% CI, 1.09-1.22).
On days with dense smoke levels on lag day 1, all-cause cerebrovascular visits were linked to smoke, particularly in those aged at least 65 years (RR = 1.22; 95% CI, 1-1.49). The rate of respiratory conditions also increased during this time in this patient population (RR = 1.18; 95% CI, 1.08-1.28).
Wildfire smoke density was not associated with acute appendicitis diagnoses.
The risk for individual diagnoses that increased with smoke exposure included ischemic heart disease, MI, dysrhythmia, HF, ischemic stroke, PE and transient ischemic attack.
"These findings, along with others, support the need for clinical research to assess the clinical and public health value of interventions to decrease exposure to particulate matter, and particularly to wildfire smoke, among those at highest risk," Wettstein and colleagues wrote. "As wildfire season intensity and duration is projected to increase in California, understanding adverse health impacts of wildfire smoke and identifying the most susceptible populations is relevant to a broad group of stakeholders, including state and local officials responsible for land and air quality management, environmental scientists, policymakers, public health officials and front-line public health and health care practitioners." – by Darlene Dobkowski
Disclosures: The authors report no relevant financial disclosures.