April 02, 2018
2 min read
Elevated BP increases risk for pregnancy loss in healthy women
We were unable to process your request. Please try again later. If you continue to have this issue please contact customerservice@slackinc.com.
Healthy women with increased BP before conception were more likely to have pregnancy loss compared with those with normal BP, according to a study published in Hypertension.
"The impact of cardiovascular risk factors starts really early in life," Enrique F. Schisterman, PhD, senior investigator and chief of the epidemiology branch of the Eunice Kennedy Shriver National Institute of Child Health and Human Development (NICHD) in Bethesda, Maryland, said in a press release. "Physicians treating women of reproductive age should pay attention to slightly elevated blood pressure because it may have other not well-recognized effects such as adverse pregnancy outcome. Preconception is a previously unrecognized critical window for intervention such as lifestyle changes that can help prevent later heart disease and may also improve reproductive health."
Carrie J. Nobles, PhD, postdoctoral fellow in the epidemiology branch of the NICHD, and colleagues analyzed data from 1,228 women (mean age, 29 years) from the EAGeR trial who were actively trying to conceive, had one or two prior pregnancy losses and up to two prior live births.
Women were assigned 81 mg aspirin and folic acid or placebo with folic acid at the beginning of the first menstrual cycle during follow-up. The treatment was taken for up to six menstrual cycles while attempting pregnancy. Treatment continued if women became pregnant.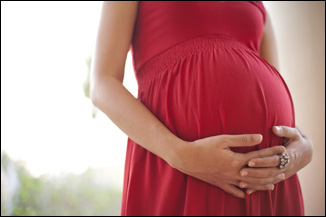 Medical history and demographic questionnaires were completed at baseline, in addition to urine and blood samples and anthropomorphic measures. Preconception BP was measured at baseline and periodically during prenatal care visits. Pregnancy status was assessed through in-clinic and at-home tests for human chorionic gonadotropin.
Mean systolic BP was 111.6 mm Hg and mean diastolic BP was 72.5 mm Hg at baseline.
The risk for pregnancy loss increased with each 10-mm Hg increase in mean arterial pressure (RR = 1.17; 95% CI, 1.02-1.35) and diastolic BP (RR = 1.18; 95% CI, 1.03-1.36) after adjusting for BMI, treatment assignment, age, marital status, race, parity, smoking status and time from last pregnancy loss to enrollment into the study. Similar findings were seen in early pregnancy BP.
Adjusted analyses found that preconception BP was not associated with live birth or fecundability.
"Our findings are particularly important as they describe risk among women with a history of pregnancy loss, who are at higher risk of experiencing a future loss and for whom preventing pregnancy loss is an increased concern," Nobles and colleagues wrote. "Future research is needed to confirm these findings and explore the potential underlying causes of this relationship with the goal of identifying physiological pathways amenable to intervention." – by Darlene Dobkowski
Disclosures: The authors report no relevant financial disclosures.